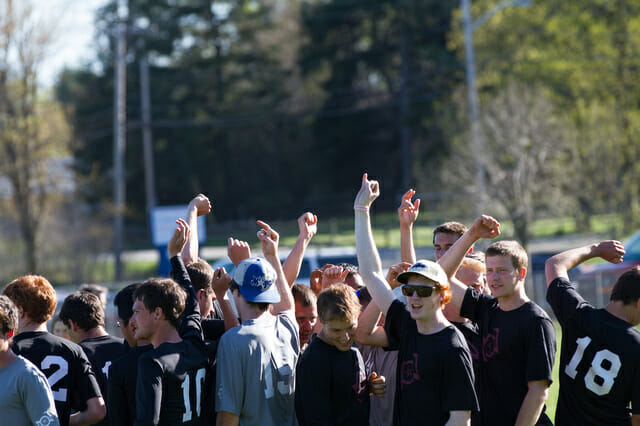 With a 15-8 victory over UNC Wilmington in the finals, UMass Amherst captured the Easterns Qualifier title and a bid into the prestigious Easterns tournament in mid-March.
Massachusetts finished the weekend undefeated, struggling only once in a narrow win over Maryland, 14-13, in the final round of pool play on Sunday morning.
"We haven't played outside at all since the fall," said UMass coach Evan Johnson. "I thought we played pretty well, and played our best game of the weekend in the finals."
The finals, as the score indicates, was not a close game. UMass, using a 1-3-3 zone, stifled Wilmington's disc movement and forced them into bad looks and a lot of turnovers. They attacked quickly after the turn, and, after a 7-3 halftime lead, extended it to 11-3, effectively closing out the contest.
"They have a really good zone defense," said Wilmington coach Greg Vassar. "They have some big players. and they look to stretch the field deep early and often."
Sophomore transfer Jeff Babbitt (Garuda) was outstanding this weekend and is already shaping into one of the New England region's most fearsome playmakers. He was all over the field in the finals and throughout the weekend.
"He played great," said Vassar. "He made a couple big D plays and they put him deep in the endzone whenever they could."
Johnson was no less enthusiastic. "He's going to be a beast this year — one of our main players for sure," he said.
On the offensive side of the disc, Ben Katz was also a consistent cutter for UMass, finding good looks down the field all weekend.
The strong performance not only earned UMass a bid to Easterns, but also valuable strength bid points for New England.
Brown, an in-Conference competitor, was pleased with what they saw:
Big weekend for our conference and region. Great work @ZooDiscUltimate

— Brown Ultimate (@brownultimate) February 23, 2014
Last season, UMass was just a point away from a finals berth at Regionals, but fell to Dartmouth 15-14. They went on to lose to Tufts by two in the game-to-the-game-to-go.
UMass captain Kevin Norton said that the team has improved this year, and feel much more confident after a strong weekend. "We've been working harder," he said.
UNC Wilmington struggled to generate pressure with their man defense — something they had been focusing on improving — so they switched to more zone in the second half, to some success. But Vassar called it a "cop out," as they were hoping to stick with man throughout the contest.
Despite overcoming some adversity earlier in the weekend, Wilmington never had much hope in the finals.
"We had ups and downs this weekend, but we are not handling the downs very well right now," said Vassar. "We don't have the identity established to push through that."
He was encouraged by patches of strong play, but said the team needs to find better consistency.
"When we play at a high level, we're really good," he said.
Massachusetts was better able to stay mentally focused this weekend, and Johnson said that part of the reason they were so successful in the finals was that they remained intense throughout the contest.
Having former Amherst High School coach Tiina Booth as a practice coach and adviser can't hurt.
Booth and Johnson were texting periodically throughout the weekend to consult on strategic adjustments.
"It's really useful for me to be able to bounce ideas off of her," said Johnson.
Both teams have another tune up before they take the field for Easterns. Wilmington is headed to Tally Classic over their spring break; UMass is headed to Terminus.
NOTES
– UNC Wilmington has been getting much better marks as a team that plays with good spirit. Sideline conversations and the comment boards on Ultiworld have been complimentary towards the team's attitude. "It is one of our focuses this year, because getting chippy with teams and being overly physical can be absolutely detrimental to what you want to do," said Vassar. "Without a doubt, we're playing with much more spirit at this point."
– Penn State, with a third place finish, is making things look potentially more interesting in the surprisingly volatile Ohio Valley region. State's only loss came to UNC Wilmington. With Pittsburgh not playing at the level they were last season and Ohio struggling, bubble teams like Penn State and Cincinnati will be hungry for a shot at Nationals.
– The Atlantic Coast is beginning to look like a one bid region. With only #1 UNC racking up quality wins, it's hard to see where another bid would materialize. UNC-Wilmington would need to have a big weekend at Easterns to make that a reality.
– On the contrary, New England is on potentially on a path for three bids, after missing out on three last year. Harvard, Tufts, and Massachusetts have put together resumes that, so far, would be rewarded.