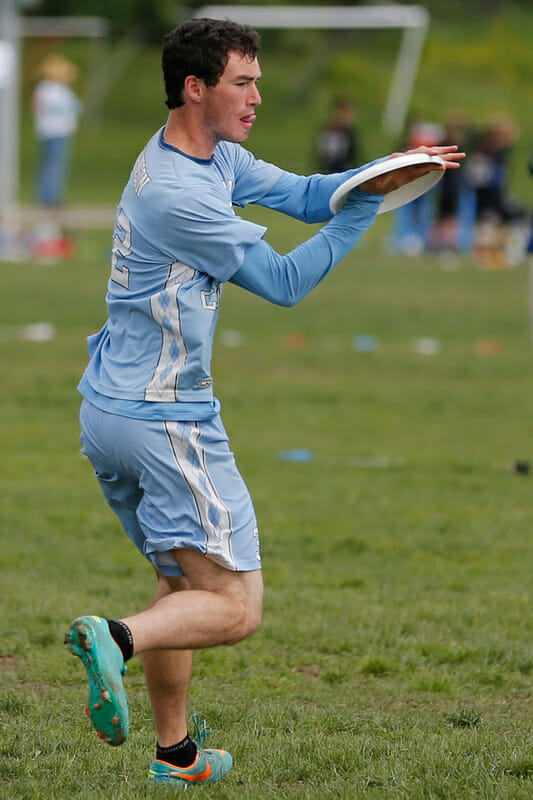 The most important tournament of the college regular season, the Stanford Invite is hotly anticipated this year for more than the usual bid allocation drama. We might get a definitive answer to the question: who is the country's best team?
The top four seeds in California are also the top four ranked teams in the country — #1 North Carolina, #2 Colorado, #3 Texas, and #4 Oregon. Their combined record is an astounding 47-1 this spring, with the only loss falling to Oregon, who went down at the hands of Colorado in the President's Day Invite finals.
Something's gotta give. Only one of these teams — or, of course, one of the 12 other hungry contenders in the Stanford field — can walk away with a title this weekend. Whoever does is very likely to walk away with the #1 ranking heading into the second half of the regular season.
Is North Carolina Ready For Elite Competition?
With the way UNC has been playing, it's hard to rank them anywhere but number one. They are undefeated dating back to the fall, and almost all of their losses last year came to Pittsburgh, the eventual college champion.
But they have a monkey gently clinging to their back — they have yet to face any truly elite competition.
Against ranked opponents, they have had some scares. An early season Pitt team took them to 13-13, before UNC was able to rattle off two late breaks to advance at the ACC Ultimate Championships. #8 Harvard stayed close in the second half of the QCTU finals before succumbing late — and that was a Harvard team that hadn't yet practiced outdoors.
UNC coach Mike DeNardis had this to say after their QCTU win: "I talked to [the team] after the game and said, 'We haven't played a perfect game of ultimate. And especially when we've been challenged, we've tended to play down a little bit.'"
Playing down won't be an option this weekend. Starting with another high profile matchup with Pittsburgh in pool play, they will have the biggest target on their backs — and teams have had plenty of time to scout their O and D looks. Need proof? Check out this tweet from one of Pittsburgh's standout rookies, Jonah Wisch:
Watched enough film of UNC's O-line that I could be their offensive coordinator #darksidegoesdown #notanupset

— Jonah Wisch (@JWisch38) February 27, 2014
UNC is confident, though, that they have the upper hand over Pitt this season. "I think in our first matchup, we had weaker marks," said DeNardis. "Running against a team with a clean system just threw us off a little bit." He emphasized that they have prepared new defensive looks to trouble Pitt's system this time around.
"We have to work on matchups we have strong advantages in, and I think we have a lot this year," he said.
UNC's leadership is ready for some tough battles, and captain Jon Nethercutt made clear after QCTU that they have been focusing on mentally preparing for this weekend's step up in competition. They will be happy to get defensive stopper Charlie Schaffner back this weekend, who is likely to play limited minutes on Saturday but will probably play the full game against Pitt.
If things go to seed, we will get what many have been hoping for: a head-to-head matchup between UNC and Colorado, for all the marbles. It's a fantastic game on paper: the West v. the East, Jimmy Mickle v. Christian Johnson, a battle for the #1 ranking.
Both teams may be focused more squarely on their pool play games for now, but they've been thinking about the potential of their meeting in the final.
DeNardis didn't want to talk much about their defensive plan, but did say that they are prepared with ideas about slowing down their iso-heavy sets and two man game.
The UNC leadership is consistent about one thing, though: the focus has to be on playing their best, not worring about their opponents. "We are our own worst enemy," said DeNardis.
Colorado Steps Into The Spotlight
Has there been a college team in recent memory that more people want to see succeed than this Colorado team? From a legendary program to a carefree attitude to a bona fide superstar in Jimmy Mickle, this team has all the pieces to be America's darling. Just look: Johnny Bravo is selling #MickleMania t-shirts!
It doesn't hurt that they are one of the best teams in the country, and could well cement themselves as #1 going forward with a big weekend. A tournament title would not only make them the favorites in May; it would all but guarantee Mickle — already the big favorite — a Callahan award.
But, like with every team, there are question marks. Can a team go from decent one season to dominant in the next? It's not like Mickle was struggling last year, when they got bounced in prequarters by a UNC-Wilmington team with less talent than them. Or when they lost to Texas at Regionals. Or when they went 3-4 at Stanford Invite.
While they have pared down the size of their roster and really put their best players on the field more often, it's plain hard to go from good to great in one year. Talent is not enough; it takes experience, depth, coaching, and maybe some intangibles. Maybe they have found that mental strength that being the best requires.
Certainly, they have the ponies to be the best. From Mickle to Tim Morrissy to Hidde Snieder, the team is stacked with very experienced players who have shown the ability to play at the very highest level in both college and club.
One thing they cannot afford: more slow starts. In the first round of the President's Day Invite, Northern Arizona nearly scored the upset of the year, putting up 11 points on Colorado in a 13-11 loss.
Colorado spotted Oregon a 3-0 lead in the finals of the same tournament. Back in the fall, they lost to regional rival Texas A&M in the first round of Missouri Loves Company.
There is no room for a warm up against the country's best teams. They get things started against the hottest team in the Southwest, UC San Diego, early Saturday morning at Stanford. Will they come out ready to play?
Texas An Undeserving Underdog
There seems to be a sense that Texas isn't at the level of Colorado in the South Central this year. Don't buy it.
Not only is Texas the reigning South Central champion after beating Colorado 15-12 in the finals of the tournament last season, they also, arguably, have the strongest resume of any of the top teams in the field this weekend.
Texas smashed through competition at Warm Up, never facing a double game point. They clearly bested all three top 10 teams they faced — Florida, Florida State, and Minnesota — and only struggled in a couple of halves all weekend.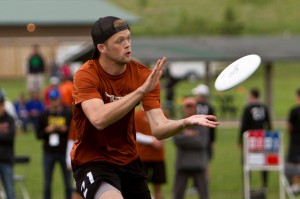 They outright demolished #5 Florida in the finals (VIDEO), handing them their only loss of the weekend. Will Driscoll, the team's presumptive Callahan nominee, shut down Bobby Ley all game long.
A rough Stanford Invite last season was an aberration on an otherwise great season that was ended abruptly by Dartmouth in the prequarters of the College Championships, after Texas nearly got a bye into quarters if it weren't for a 15-13 loss to Pitt.
This is Texas' weekend to show the country that they are the real deal. They will have to start with perhaps the most brutal pool at the tournament: 2013 College Championship finalist Central Florida, a rising Harvard team, and a potentially well-underseeded UC Davis team that made the quarterfinals at Nationals last year.
UCF coach Andrew Roca is looking forward to the matchup with Texas. "I think that game is very winnable," he told Ultiworld. "Their athletes are definitely their strong suit, however we have players that matchup really well: [Jeremy] Langdon with Will [Driscoll] and [John] Best with [Mitchell] Bennett."
Bennett has really been outstanding over the past two years and will prove to be a tough matchup, even for a stellar defender like Best.
Texas also presents another big challenge: they are really tall. With more than a couple 6'3″+ guys, they are a physically imposing team, much like the nearby club team Austin Doublewide.
Coach Calvin Lin told Ultiworld after their Warm Up victory that he doesn't want the team relying too heavily on that athleticism. "We played well, but we need to improve our decision making," he said.
If they do, they could find themselves in a great game with UNC in the semis.
Oregon Looks To Repeat
The Stanford Invite may be held in California, but it's Oregon's turf. Ego is the back-to-back champion of Stanford and has been the dominant regular season force over the past two years.
But the graduation of some key components of Oregon's squad as well as the loss of rising star Aaron Honn to study abroad has Oregon fans a bit concerned for this season. The team played very well at the President's Day Invite, but couldn't secure a title, falling to Colorado by a handful even after opening up an early lead.
2013 Callahan winner and Oregon star Dylan Freechild was upbeat after the tournament, telling Ultiworld that, particularly defensively, there were bright spots.
"We took away a lot of team's first and second options and they would have to beat us with their third," he said. "And late in the season that's not going to be a viable option."
He wasn't, however, as happy with the team's mentality throughout the weekend.
"I feel like we got what we wanted until we took a bad shot," Freechild said. "There was an inkling of thought of being satisfied with second place."
That will not likely be the case in Palo Alto, where the team is eager to return to the top of the rankings and secure a third straight Stanford title. Despite the roster turnover, there are plenty of great athletes ready to take Oregon back to the top, including the serious deep threat Gabe Fruchter and captain Brian Penner.
Their first major challenge may come against a Florida State team that is nipping at their heels at #6 in the Ultiworld Power Rankings. The two teams haven't faced each other before.