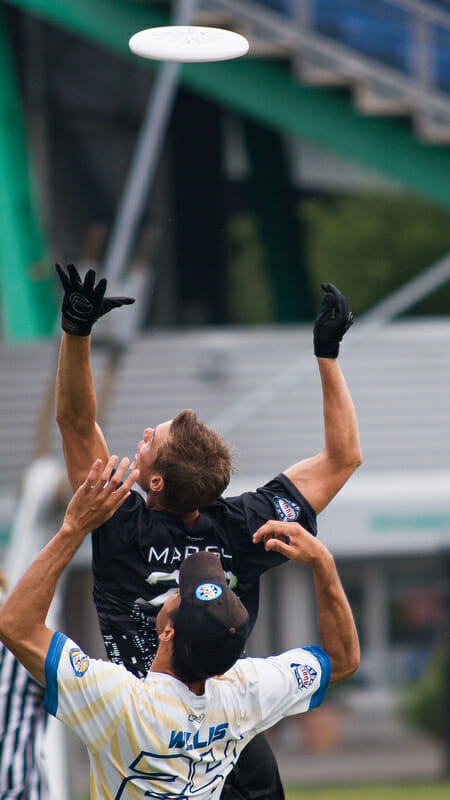 I've been thinking a lot about what my friend Tyler Kinley wrote in his aptly named column (Tyler, the guy, is both Short & Sweet) last week about recent movements in high level men's ultimate. While I agree with much of what he wrote, I take issue with his approach of passively analyzing those movements.
In his piece, Tyler describes growing frustration with USA Ultimate among players and sideline leaders, and how the AUDL and MLU have understandably welcomed these talented individuals with open arms. He closes by wondering whether we have seen the beginning of an exodus of top men's players from the USAU series, and whether a different championship — the Championship of Something –might be on its way to becoming the pinnacle of our sport.
Tyler diplomatically opts not to pass judgment as to whether this outcome would be good or bad. I'll also avoid the question of where it would be best for top-level men's players ("Us/We" if I may put myself in this group) to land. But, I believe that the sooner that this group can land SOMEWHERE, the better. It's the in-between stages that are going to hurt Us the most.
The number one part of Ultimate that I've valued in my time with the sport has been the chances that I've had to compete with and against the top players and teams in the country and world. It's not the only reason; friendships and exercise and cool layout burns on my waistline are also in the mix. But competition is paramount for me.
My loyalties are not to any organizational structure or business model, but to my teammates and my opponents. As long as those people and teams are there, I'd happily play under the umbrella of MLU, the AUDL, USAU, NSA, the WWE, ROFL, or NAFTA.
What might hurt Us are the seasons while these acronyms jockey for position, when our Ultimate priorities are in different places, when our minds are on different championships, and when our bodies are in different stadiums. The sad and beautiful truth about our Ultimate careers is that they are fleeting. There are only so many years when We will be this fast or able to jump this high, and will have the time and freedom and idiocy to spend our weekends playing Ultimate. We are lucky to have this, and it is sweetened 1,000% because there is a community of Us, all working for the same thing. Especially if you are early in your competitive career, you should be worried about the potential of facing five years of uncertainty about which championship means more. This is all interesting for us as onlookers, but they are bad for you as a competitor.
My favorite Ultimate games have been the ones that meant the most to me, against the teams that I knew made up the best that their city or region had to offer. I had a great time playing with the Empire against a talented Toronto Rush team last year in the AUDL, but it wasn't quite what it could have been: New York was split between two pro leagues with some players sitting out until club, and the Rush felt like GOAT-lite. Had each of our cities decided to throw everything we had into that AUDL season, it would have checked 100% of my competitive boxes instead of 80%.
I'm confident that people at each of AUDL, MLU, and USAU would tell you that they are the answer, and that they create the best structure for this competition to thrive. But as players we have a bad vantage point for judging between their different concepts for the sport — I think we can only make semi-informed guesses about who has the best 5-year growth plan or marketing concept. We're left trying to read tea leaves about what might emerge.
And, frankly, these organizations don't need Us. Sure, they would like to have the top players to better showcase athleticism, and they would prefer to have the "big names" from our small pond to help generate interest on the margins. But they are committed to putting a product on the field regardless of what We do, and they'll promote their teams and hype their players all the same even if We all decided to switch to competitive bass fishing.
It's We who needs Us. We need to meet each other in the same competitive structure, on the same field, and with the same championship in mind.
How do we get there? I'm not sure. So far players have done what has made the most sense for them individually. My personal path has been to skip the pros in 2012, playing AUDL and club in 2013, and MLU and club in 2014; I've enjoyed it all, and it has made sense for me personally.
So yes — do what makes sense for you right now. Play with refs in stadiums if you prefer it; play in tournaments around the country if that's what is better. Pay attention to some of the organization spats, and ignore most of them. But do all this mindful about how we need to drive the conversation forward and continue to take part in shaping where this all goes. Let's all get out onto the same field and compete for the Championship of Something.