The Callahan race continues to intensify after a wild weekend at Stanford. See which players are rising and falling in our Callahan watch list and stay on top of which players are performing at the top of the college game.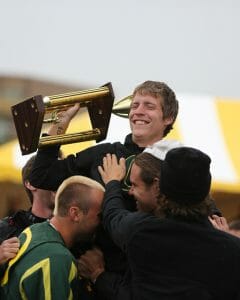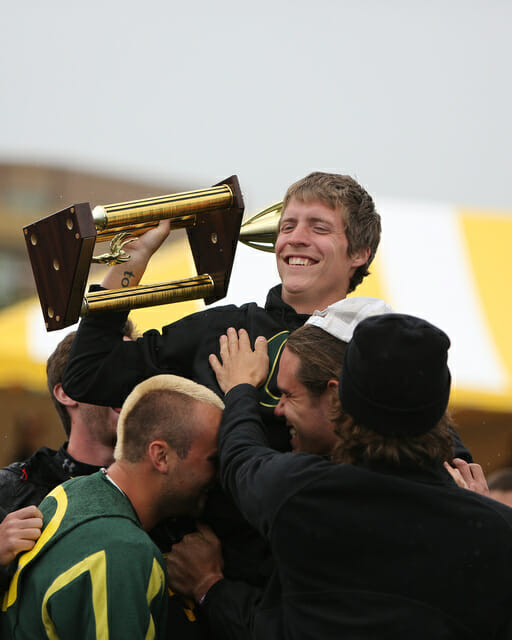 Our previous Callahan rankings with more information on many of the candidates can be found here.
The Callahan Award is the most prestigious annual award in ultimate. Each year, the award is presented, in the words of the award guidelines, "to the [collegiate] man and woman who combine superior athleticism with outstanding sportsmanship, leadership, and dedication to the sport of ultimate. In the eyes of his or her peers, the Callahan winner is the personification of the ideal ultimate player."
With the official Callahan nominations now open, Ultiworld presents the post-Stanford Callahan watch list. These players have distinguished themselves through their play this season and, for many, over the course of their college careers.
Ultiworld will have continual updates to this list over the course of the spring season, as we hope to make it possible for players to make as informed a decision as possible about the quality of play from the nominees this season.
MEN'S DIVISION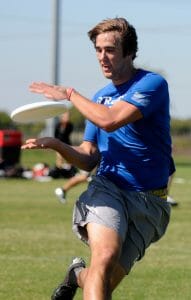 Jimmy Mickle (Colorado)
Although Colorado did not have exactly the weekend they were hoping for, falling to UNC in the quarterfinals and then to Stanford in the 5th place bracket (in what was no doubt a low energy contest for them), Jimmy Mickle maintains an edge — though much slimmer — in the Callahan rankings.
He was directly involved with all but one of Colorado's second half points against UNC and was unstoppable at other points in the weekend, particularly in pool play.
But it wasn't his greatest performance in the biggest game of the season against UNC. He was dominant downfield, but spent much of the game in a less potent role as a handler. Smart defense from UNC turned a few of his throws into turnovers, and his defense was not on the level that we've seen from him in the past.
Colorado will wrap up their regular season at Centex next weekend — that will be Mickle's last opportunity to shine before the Series.
Why He'll Win: He's the shoe-in candidate this year with the most talent in the field.
Why He Won't Win: He didn't really bring it in the team's biggest game of the season.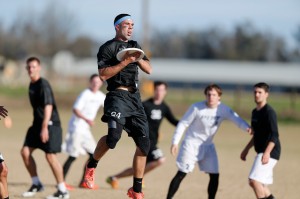 Jonathan Nethercutt (North Carolina)
We suggested it might happen: Christian Johnson has officially fallen out of our Callahan Rankings because his teammate has simply been shining brighter.
Jon Nethercutt, the offensive center handler for the undisputed #1 team in the country, was paramount to their success this weekend. Asked to do the lion's share of distribution, Nethercutt responded ably, except against Pittsburgh in pool play.
Nutt, as he's known to most on his team, is one of the college game's elite handlers. He is steady, creative, and always able to find dump space thanks to great chemistry with his fellow UNC handlers.
It's hard to overstate his importance to this team. Remove him from the O line and things get substantially trickier for the UNC offense. He also crosses over onto defense frequently on big points, a sign of his defensive tenacity.
Credentials: 2013 1st Team All-Region
Why He'll Win: He is the key cog and clear leader of the country's top team.
Why He Won't Win: Too many cooks in the kitchen. It's easy to make a case for Johnson or Ben Snell as the team's Callahan nominee. Will he even get the nod?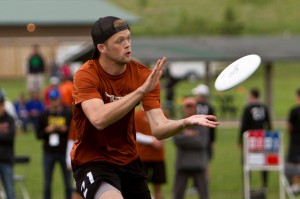 Will Driscoll (Texas)
Will Driscoll was very good for Texas this weekend — when he was on the field. But, whether by coach's choice or for limited minutes purposes, he simply wasn't able to have the impact on the game that he could have given more PT.
Watching Driscoll sit out defensive points down the stretch of the Texas/Wisconsin prequarters game was a strange sight.
When he was on the field, though, Driscoll was doing it all. Getting separation downfield, hitting his cutters in stride despite the wind.
There's no questioning the talent of Driscoll; he's the only player that approaches Mickle in terms of sheer ability. But his impact has been limited.
Why He'll Win: Super consistently great when he's on the field. Unstoppable whether throwing or cutting.
Why He Won't Win: He doesn't have the same game impact as some of his Callahan rivals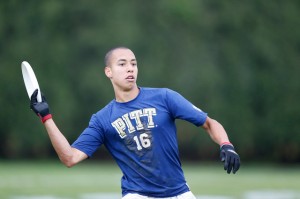 Trent Dillon (Pittsburgh)
Trent Dillon was a force this weekend on the fields in Stevinson, California. Not only did he lead the team to a victory over #1 ranked UNC in pool play, he brought them to the Stanford Invite finals, somewhere Pitt didn't even make it last year in their run to a College Championship.
The best way to describe his play this weekend is poised. He was icy cool in the blustery conditions and was the obvious field marshal, even playing without another key offensive player in Max Thorne. He rarely made mistakes and, though he didn't make flashy plays, did all the little things correctly.
Why He'll Win: His play continues to improve and he has been extremely consistent at a high level of play.
Why He Won't Win: Tends not to be making flashy plays; lacks the cachet of a Mickle or Driscoll.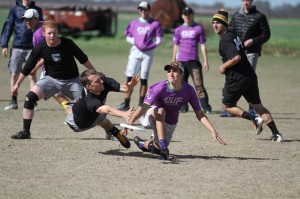 Chris LaRocque (Florida State)
We've had eyes on Chris LaRocque since he did this last year at Warm Up.
Now, he has risen into the Callahan conversation with simply outstanding play for a surprising Florida State team that nearly reached the finals of the Stanford Invite.
LaRocque, aside from being the team's emotional and on-field leader, is a triple threat: he has an arsenal of excellent throws and shouldered much of the responsibility for throwing in the wind for the FSU offense on Saturday, he can jump, and leads by example with physical defense.
He may lack name recognition because of Florida State's sudden rise to prominence over the past two years in the Southeast, but he is a team-first, top quality player.
Credentials: 2013 1st Team All-Region
Why He'll Win: He has a good case for MVP — FSU would not be anywhere near where they are without him
Why He Won't Win: He lacks name recognition and hasn't been a staple in the Callahan discussion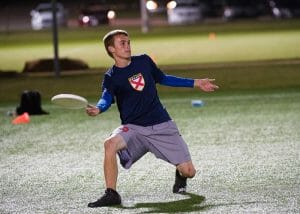 Bobby Ley (Florida)
Florida junior Bobby Ley has already showed us just how important he is for his team, absolutely dominating the field against top-ranked UNC in the fall and carrying them to a finals appearance at Warm Up.
One of the great huckers in the game, Ley can bomb full field backhands and forehands on a dime.
He is a perfect fit for a Florida system that loves to feature its best players on nearly every point and far more than their share of touches. He is one of the biggest difference makers in the Callahan conversation: without him, Florida is merely an average team.
His excellent foot speed makes him tough to stop — it's hard to challenge his throwing lanes while also being prepared for a quick first step on the up line cut.
Florida continues to excel, in large part thanks to his play.
Why He'll Win: A super high impact player, he, like LaRocque, has a case for MVP.
Why He Won't Win: He's not known for great spirit and is abrasive to many outside of Florida's team.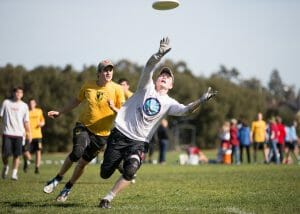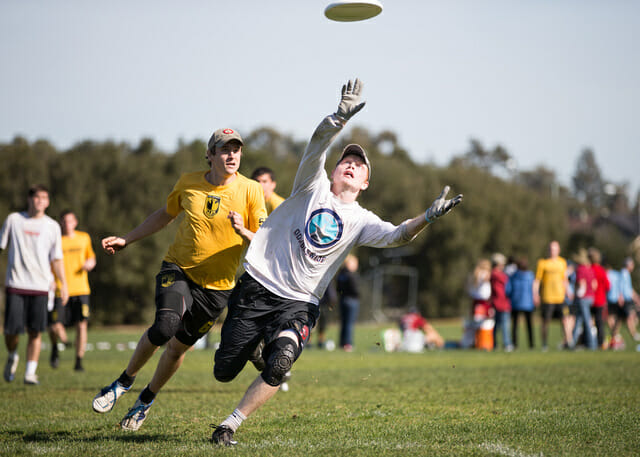 Dalton Smith (Texas A&M)
The heart and soul of Texas A&M, Dalton Smith does it all for Dozen.
After bursting into the national scene with a huge performance for Doublewide after his freshman year with A&M, Smith has developed into more than just an athlete. Playing point after point, he is comfortable beating defenders with short, squirrely cuts near the disc or on streaking deep cuts to the endzone.
Though he doesn't have the same throwing abilities as his partner-in-crime Matt Bennett, Smith is a through-and-through playmaker, finding the big block or sky right when A&M needs it.
In an isolation situation, Smith is an almost impossible cover, finding open space, especially in the endzone.
Why He'll Win: He has really developed into a well-rounded player, not just an athlete
Why He Won't Win: He probably needs another year yet, and is clearly behind Will Driscoll in the South Central alone.
Callahan Post-Stanford Power Rankings
1. Jimmy Mickle
2. Jon Nethercutt
3. Will Driscoll
4. Trent Dillon
5. Chris LaRocque
6. Bobby Ley
7. Dalton Smith
Players To Watch
– Ben Snell (North Carolina)
– Sonny Zaccaro (Las Positas)
– Eli Kerns (UC Davis)
– Josh Klane (Minnesota)
– Jeremy Langdon (Central Florida)
– Christian Johnson (North Carolina)
– Dylan Freechild (Oregon)
WOMEN'S DIVISION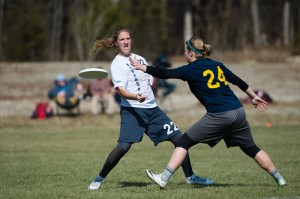 Shellie Cohen (North Carolina)
Pleaides' star handler was in a position to make a run at the award well before her top cutter, Lisa Couper, went down with a ligament injury. Now, Cohen's shouldering an even bigger offensive load, and is helping keep UNC in the mix. As the game's premier power thrower, "ShelCo" is finding ways to use her sizable stable of receivers to pick up Couper's slack.
"Shellie has probably the most beautiful forehand huck I've ever seen. [It] can go the full length of the field, and her pulls go even further," says Soper, who competed for Gold at the U-23 Championships this summer. "She is totally committed to her team and knows how to take over the field."
On the other hand, Cohen's also tackling tougher defensive assignments. She patrols the skies for North Carolina on defense.
While power is her calling card, her intuitive ability to know when to ease off the gas is another strength. Whether it is on her throws — it isn't uncommon to see her dropping blades behind defenses — or in her game management, she's that type of ideal player that makes her teammates better by allowing their strengths to shine.
Cohen is also a well known and documented servant of the ultimate community. She's heavily involved with the thriving Triangle Youth scene and various other ultimate organizations.
Why She'll Win: The loss of Couper means she is even more of an MVP on an already impressive resume
Why She Won't Win: Cohen's UNC team is in a difficult and potentially one bid Atlantic Coast region. Without Couper, it is possible they miss out on nationals for a second straight year. That didn't stop nearby UNC-Wilmington's Claire Chastain from winning last season, but it could be a serious knock to Cohen's candidacy.
Credentials: All-Region 1st team 2012 & 2013, Atlantic Coast FOTY 2011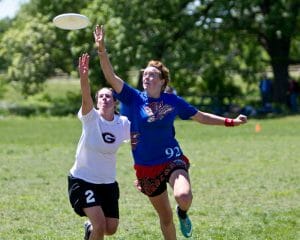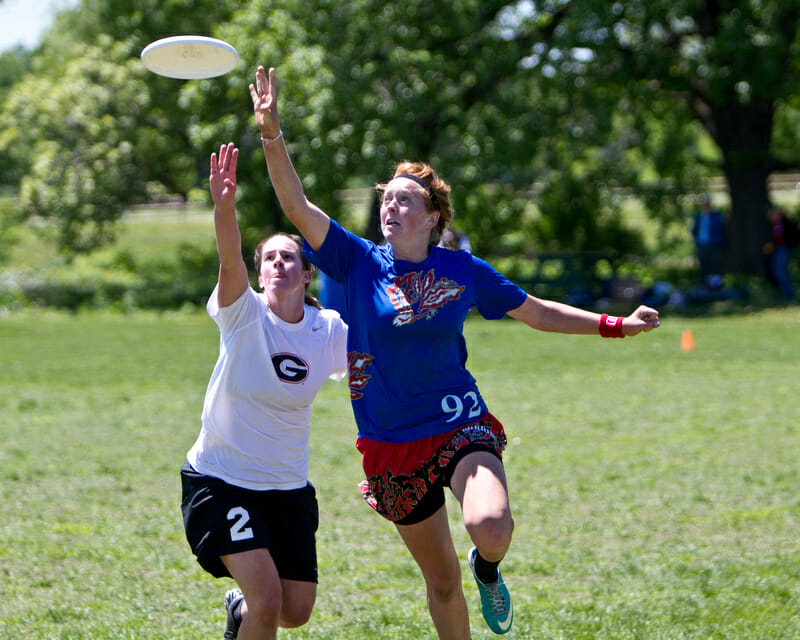 Lisa Pitcaithley (UC-Santa Barbara)
Pitcaithley came into the season already a big name and a shortlister for the Callahan. Her unique combination of size (5'10"), explosiveness, skill, and aggression makes her probably the single most difficult cover in the women's division. A season with San Francisco Fury has only sharpened her cuts and rounded out her skillset.
She's been instrumental in Santa Barbara's biggest wins of the season: a double game point victory over #1 Oregon at Pres Day, a roaring double game point come from behind victory against #3 Central Florida at Stanford Invite, and a double game point victory over rival #12 Stanford in the Santa Barbara Invite final. It was Pitcaithley who punctuated their game against Fugue by scoring the game winner, while throwing the final assist against UCF.
"It is impossible to shut her down, you can only hope to contain her a bit," says Sophie Darch, a senior captain on that Oregon team, as well as Pitcaithley's U-23 Mixed teammate in Toronto last summer. "Even when you put tons of pressure on her she still goes up and makes an incredible play."
Why She'll Win: One of the biggest playmakers and perhaps the most talented in college.
Why She Won't Win: Pitcaithley is the engine that drives the Skirts, but does she make her teammates better or their jobs easier? In our first edition, Pitcaithley's spirit was also called into question. While anonymous criticisms should always be taken with two – or a hundred – grains of salt, public perception is a big part of the award.
Credentials: 1st Team All-Region 2013, Club Championship (Polar Bears – 2012)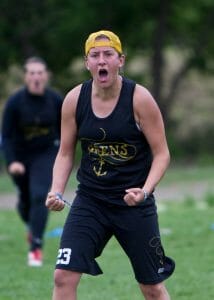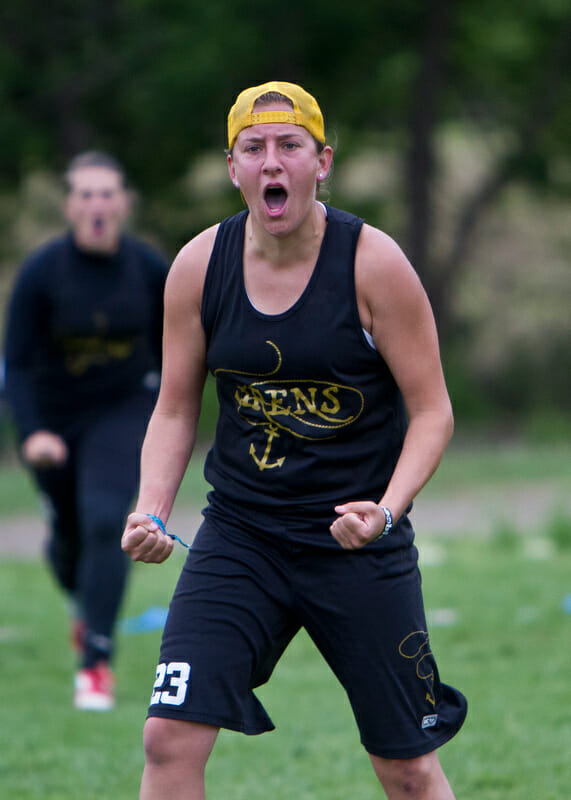 Sunny Harris (Central Florida)
Sonya "Sunny" Harris has an unorthodox approach to the game of Ultimate. Her form doesn't look the same as everyone else's. Her imposing figure doesn't match the typical elite women's player. Her boisterous voice, booming across the field, cuts through the air in a way few other voices can. She played Stanford Invite – and led her team to a 4th place finish – and on ankle most players would probably rest.
Her level of productivity is also unique. In fact, her unusual play style seems to make her even more effective, especially against the mark. Lengthy reach, varying release points, quick snaps, and unreproachable power make her one of the nation's most dangerous college women when she's holding the disc. And for her Sirens, that's often: give and go's, early count resets, and dish cuts are all major parts of Harris's game.
"Sunny is an extremely active and quick handler, always looking for the throw and go," says #3 Ohio State captain Cassie Swafford, who has battled Harris's #4 Central Florida team three times this spring already. "Her athleticism, deliberate movement on the field and ability to take over the flow of the offense make her a formidable player and opponent."
Harris is a gunner: aggressive as a handler, happy to take difficult blades, long shots, and over the top looks. On defense, the 5th year veteran is an opportunist; as soon as an onlooker labels her as lazy, she makes a huge play, like her magnificent layout D against Oregon in the Stanford Invite semifinals.
Why She'll Win: She has incredible toughness and grit combined with big play ability.
Why She Won't Win: Harris may be the heartbeat of UCF, but an non traditional player from a non traditional team may face an uphill battle. Harris's spirit has also been debated.
Credentials: 2nd team All Region 2012, Southeast POTY 2013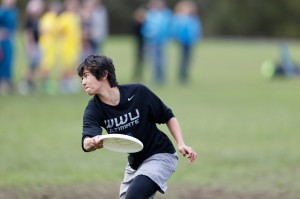 Callie Mah (Western Washington)
Mah casts an unassuming shadow. She's easy going, with lax body language and goofy sense of humor. Inside lurks an intense competitor and impressive player guidon her team to improbable heights.
"When it comes down it, Callie Mah [represents] Chaos," says Western Washington teammate Abbie. "It's obvious how much she means to the team and how much effort she puts in."
There are times when it is hard to tell how Mah is killing you. She hits all the right open looks, throws smart breaks, and does it all without showing how much effort she's expending.
Then there are other times where her huge backhand break hucks, portfolio of forehand breaks, and big skies do nothing to hide that she is taking over. She's highly capable of claiming any offensive possession as her own.
Her fortified roster means she doesn't have to do that as much, but the growing list of victims Western has beaten know and respect what she can do. #2 UC-Santa Barbara, #7 Stanford, and #11 British Columbia all failed to find an answer to Mah.
Why She'll Win: Arguably the MVP of the women's division. Taking an unknown team to national relevance.
Why She Won't Win: Mah's name hasn't really reached far past the Northwest, even after playing with Seattle Riot. Westerns name is similar obscure. She essentially has Stanford Invite and Northwest Challenge to build her brand. The "Callie Han" twitter account is already trying to drum up awareness.
Credentials: 2013 1st Team All-Region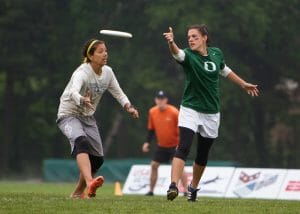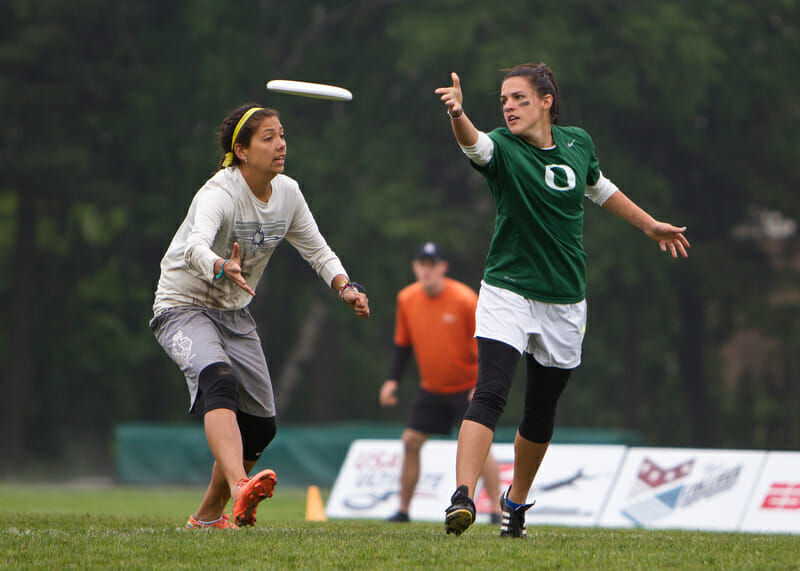 Sophie Darch (Oregon)
An early favorite for the Callahan, Darch's acumen extends past the "best player on the best team" assumptions that may accompany mention of her name. The senior handler is a unique ingredient in Fugue's recipe, the one that ties the bold flavors of their slashing offensive and defensive attacks.
"Sophie is the rock for Oregon that allows everything else to function," says Kyle Weisbrod, coach of regional rival #5 Washington.
What Darch does so exceptionally is make the game easy. Her demeanor is focused and she's a fierce competitor, but all you see when she bombs a forehand that a receiver could catch with their eyes closed is effortlessness. Unrivaled disc control and encompassing field vision make it tough to stop her from granting her offense access to almost every inch of field.
Her defense also continues to improve. She sees lanes and tracks the evolution of an offensive possession, interrupting offensive flow with expert timing and positioning. Darch strikes when the offense least expects it.
And she delivers that play regardless of the stage, as she did at the 2013 College Championships in her fantastic semifinal performance.
"[Sophie's] poised and precise, and steps up her play when the pressure is on," says Weisbrod. And when you're ranked number one and hold the Championships belt, the pressure is always on.
Why She'll Win: She is the frontrunner for the nomination on the best team in the country and she is a proven winner.
Why She Won't Win: Fugue may just be too good. She's got a legit contender on the line with her in Shofner, plus Kaylor and an army of talent. Can she stand out? Do they inflate how good she looks?
Credentials: 1st team All Region 2012 & 2013, 2nd Team All Region 2011, Northwest 2nd Team FOTY 2011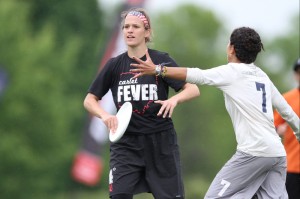 Cassie Swafford (Ohio State)
While Swafford could give Shellie Cohen a run for Most Smiles Per Game by an Elite Player, it is her consistency and versatility that land her on the list. There is no place on the field where she isn't one of the most effective options: using her 5'10″ frame in the air on deep cuts, using her footwork to generate under yardage, using her poise to command an offense from the backfield, or even on the sideline, where she's hyper communicative.
In 2013, Swafford's contributions were ever-so-slightly overshadowed by the Callahan nomination of her teammate, Paige Soper. However, her fifth year may be Cassie's year to take on the spotlight.
"She is so versatile in everything," says Soper, Swafford's long time teammate, including with the women's U-23 team in Toronto, "Cutting in general, being a huge aggressive deep threat, [and] being a fantastic handler."
Whether it is the first game of the Conference Championships against a nearby B-team or an elimination game at the College Championship, Swafford delivers. Her game is steady, defensively and offensively, to the point of being relentless.
Why She'll Win: She's one of the most versatile players in college and brings great spirit to the table.
Why She Won't Win: She's got a Callahan finalist and very strong roster with her, so she suffers from some of the issues that face Oregon and Washington's candidates. She also takes over points with less frequency than other candidates; she's not quite the same highlight maker.
Credentials: 1st team All Region 2011, 2012, & 2013, Ohio Valley FOTY 2010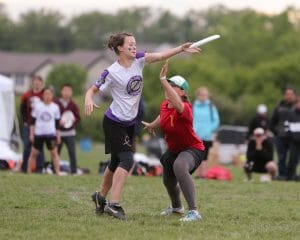 Alysia Letourneau (Washington)
Letourneau's showing at Stanford Invite pushes her up from the Watch List. She was one of the, if not the single, most effective downfield players at the tournament.
Letourneau can do it all as a receiver. She's got a great sense of timing in the air and hidden length. Most of her damage is done through excellently spaced unders, which allows her to maximize yardage gain and field positioning. Her layouts are breathtaking.
Of course, she's also a capable thrower. It isn't always on display, since she creates good separation on many of her cuts, but she's a quick disc mover with a taste for the break side. "Leesh" facilitates offensive movement for Element, whether against zone or man.
Plus she's well versed with the lefty backhand. Voters love a lefty backhand.
Finally, Letourneau is a premier defender. Her mark is oppressive and her downfield play intimidating for all but elite cutters. In a race often dominated by handlers, Letourneau is a dominant cutter and defender.
Why She'll Win: Standing out on a deep Washington roster can turn heads.
Why She Won't Win: You probably already know – just too much talent around her. Will Element even nominate her? Even with their stacked top end, will Washington need more statement wins to boost her candidacy?
Credentials: 2013 2nd Team All-Region, 2012 2nd Team All-Region, 2013 U23 Team USA member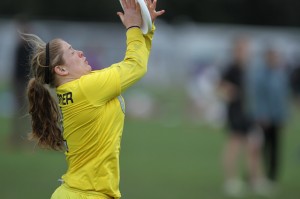 Jesse Shofner (Oregon)
Shofner has gained ground on her teammate and elite competition by turning in very strong work so far this regular season. She's arguably been Oregon's best player through two tournaments.
Shofner has always been capable of filling the highlight reel. She's got bursting layout grabs for days and is able to torque her hucks hefty distances. Playing an excitement brand of ultimate has a side effect of being noticed and Shofner has a penchant for the big play.
What's different is the consistency with which Shofner is putting home runs over the wall when she steps up to the plate. She's seeing the feel better and executing her difficult throwing choices more and more often. She's also been using her devastating quickness to convert numerous red zone possessions into Fugue scores. Reliable end zone threats are not easy to come by.
This improvement has launched Shofner into the conversation. If she can so reliably deliver the high flying antics of her game, she may make enough impact to slide in and add a Callahan win to her extensive highlight reel.
Why She'll Win: Huge playmaking ability and a hot streak of play this season.
Why She Won't Win: You can copy and paste Darch's cons but Shofner adds that she takes on some of the most difficult risks for Fugue. Maintaining this rate of consistency would be remarkable.
Credentials: Team USA Junior Worlds
Callahan Post-Stanford Power Rankings
1. Shellie Cohen
2. Lisa Pitcaithley
3. Sunny Harris
4. Callie Mah
5. Sophie Darch
6. Cassie Swafford
7. Alysia Letorneau
8. Jesse Shofner
Players To Watch
– Alika Johnston (Virginia)
– Paige Soper (Ohio State)
– Monisha White (Stanford)
– Kayla Ramirez (Texas)
– Julia Snyder (Carleton)
– Shira Stern (Washington)
– Meeri Chang (Michigan)