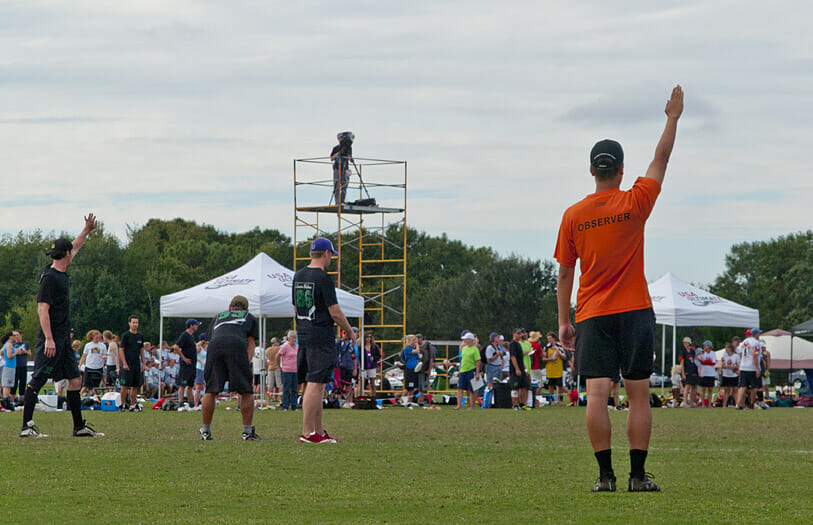 Here's one headline for you coming out of Stanford Invite: "College Ultimate robbed of an ending for what will likely be the best game until Nationals."
For those of you who didn't catch Ultiworld's livestream, the Sunday quarterfinal round saw #2 Colorado Mamabird (12-2) mounting a late comeback on #1 UNC (20-1). But Stanford was experimenting with going straight to hard cap (without the buffer of a soft cap), which, when it came on with the score 13-11 UNC, led to a confusing and anti-climactic ending. As is customary, the two teams played a point that didn't matter (Colorado scored) to wind down a 13-12 game. And it illuminated one of the greatest issues of the game.
Ultimate is both a timed and point driven game – and yet tournaments often are not organized enough to enforce both. In fact, there is a strong argument to be made that the Stanford TDs are the ones who have it right and soft caps should be abandoned all together.
And yet the cap rules are not even standardized. Every tournament uses different rules about how games will finish – I repeat, the rules about how the final score is reached changes from tournament to tournament. That's not innovative or experimental. It's inconsistent and frustrating.
I'll admit my personal bias. I'm a former player that has had his heart broken by a hard cap my team did not know was in effect. I'm a current viewer and reporter of college ultimate that wants to see dramatic games. I have never been nor will I ever be a tournament director.
So what are caps?
Generally, when a tournament director affects soft cap, teams will play to a score two points higher than the leader's score. A 10-9 game will end when a team reaches 12; a 12-3 game will end when a team scores 14.
A hard cap adds only one more point to the game. If the hard cap is reached during a point, the teams will play out that point, then one more point, then the game is over. Some TDs alter this rule to be essentially play out the remaining point and end the game — unless the game is tied after playing the point, at which point you play double game point — next point wins.
Why are these rules in place?
Ultimate is a tournament sport. We jam between three and eight games into a weekend. To make those eight game weekends possible, there must be an enforceable time limit. Without one, teams would finish at different times and scheduling would be a nightmare.
Perhaps more importantly, if weather – particularly wind like we saw at the Stanford Invite – makes a game to 15 almost physically impossible, then the cap works to end a game — otherwise those people are playing through the night.
USAU offers little standardization, leaving much to the discretion of tournament directors; in USAU's scoring rulebook, the only rule that I could decipher was that a winner is declared when one team scores 17 points.1