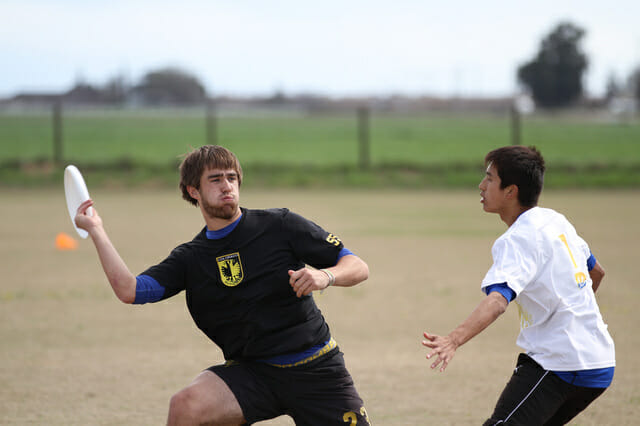 AUSTIN — #2 Colorado Mamabird continued their 2014 success with a dominant performance at Centex culminating in a 15-6 victory over #8 Texas A&M in the finals. It was their second victory over A&M on the weekend, with the earlier a 15-11 win in pool play.
The finals of Centex pitted two of the top teams in the South Central region against each other, but it was A&M taking the place of the expected #6 Texas. A&M mounted a comeback against Oregon after being down as many as four breaks in the first half to sneak into semis, where they beat Northern Iowa to earn a spot in the final. Colorado easily defeated Wisconsin in quarters and LSU in semis to punch their own ticket to finals.
Lead by veteran handler Matt Bennett and the athletic Dalton Smith, A&M came out firing on the first point with a deep huck by Bennett. However, Colorado star Jimmy Mickle came down with the disc, a scene that would repeat itself multiple times throughout the game. After Colorado turned the disc, Dalton Smith threw a poor downwind hammer intended for Bennett that was well out of his teammate's reach. But Smith stepped up, earned the disc back for his team, and threw it in for an A&M score.
Despite the promising start, A&M's good fortunes stopped there.
During the next two points, Jimmy Mickle received the disc on an every other throw basis and moved it at will, tossing cross-field scoobers and flicks, eventually ending the initial point on a backhand to the break side to tie the game at 1-1. On the ensuing point, Bennett and Smith each turned over the disc once and Mickle put it in to the front corner of the endzone to give Colorado a lead it would never relinquish.
Throughout the rest of the first half, Mickle and his fellow handlers carved into the A&M zone defense until A&M finally resorted back to man. Colorado's defense looked exceptional. Mickle ended the game with six d's and junior Stanley Peterson added three more, including a leap backward near the sideline to knock down a pass from Bennett that earned Bennett's praise: "God, he's such a monster!" Others, including Wes Chow and Tim Morrissy, contributed to Colorado's string of big defensive plays.
At the half, Colorado already had a four point advantage when a lower leg injury sidelined A&M's Dalton Smith for the remainder of the game. David Na replaced him as Bennet's sidekick, receiving an increased amount of looks, but they, in addition to handler Ian Smith, couldn't make a dent in Colorado's score.
The second half was not the offensively dominant display Colorado had in the first half, no doubt due to the increasingly frequent gusts that reached 25 miles per hour midway through the second half. Mickle continued his personal quest for dominance as the middle handler for nearly every point, only turning the disc three times in all despite the wind. The Colorado defense kept playing at a high level throughout, creating turnovers and capitalizing on A&M's mistakes as Colorado went on to win 15-6.
While Texas A&M was dominated, they were certainly better throughout the tournament than how they played in finals. "We went into finals with a bad mindset, settling for an already good showing," said Matt Bennett, the ever vocal leader of A&M. "Our O line settled for too many punts. We were tired and that showed, especially after playing six [points] in a row because they kept breaking us." Many times throughout the game, A&M seemed to be making great strides, their handlers and cutters working in unison, only to take questionable deep looks and turn over the disc.
As a whole, A&M seemed proud of the effort they put forth, displaying no disappointment in their two losses to Colorado over the weekend. Texas A&M coach Jose Cespedes gave voice to A&M's visible pleasure with their Centex performance. "It went well," he said. "The only games we lost were against Colorado. We lost Dalton at the end, but we played well."
Before the tournament, Colorado had expressed their expectations for the tournament quite clearly. "I feel like we need to win to make it feel like [Centex] was worth something for us," said Colorado coach Jim Schoettler. "If we don't come through and make it to finals, at least make it to finals, we'd be pretty disappointed." Despite his frequent shouts to his players from the sideline, Schoettler has to be proud of the way Colorado performed this weekend, going undefeated and dominating every game, as well as every aspect of the finals.
Meanwhile, Jimmy Mickle only helped his bid to win the Callahan with a strong play throughout the tournament and a dominating effort in the finals. After a disappointing play finish to the weekend at the Stanford Invite, including in Colorado's high profile loss to #1 North Carolina, Mickle left no doubts that he is, at the very least, the best player in the South Central region.