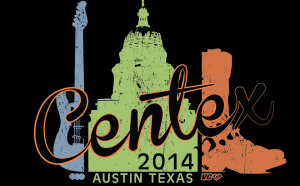 Take the cream of the crop — say 8-9 of the top 20 Women's teams in the country — and add 3 to 4 teams from every region in the country.1 Mix well with developing teams and a dash of Division III, and place the resulting mixture in a tiered structure that encourages broken seeds and fluid inter-bracket movement. Welcome to Centex.
Top teams cleat up to clash against fellow heavyweights; many developing teams travel for the first time to compete in a bigger pond; and every year without fail teams make their debut into the national conversation. Last year Centex was the biggest Women's tournament of the season, with 44 teams from every region except the Metro East. In her recent interview with Charlie Eisenhood, Michelle Ng of Without Limits described the unique character of this tournament:
"We've had some folks approach us about keeping the tournament small, or making it smaller – really just limiting it to the top teams…[Yet] I think there are many teams who have benefited from the tiers at Centex: the ability to come in as not one of those top teams, but who can play well and play up against those top teams, using that as a springboard for future team and program development."
Centex is a clear and brief watermark for college Women's ultimate every year. Dig in the tournament's archives and watch teams like Virginia and Tufts improve and rise from Division II teams to strong championship contenders. The tournament has grown from several pools to several divisions, and it mirrors the strong development of college Women's ultimate over the course of the past 5-7 years. This tournament is important because it's competitive, but I think it's also simply important.
UCSB Burning Skirts have the bid, but need the efficiency…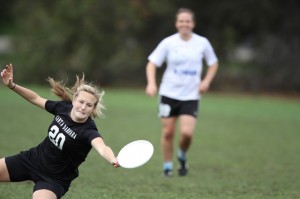 The UCSB Burning Skirts (#4 USAU, #2 UW) have only had two losses this season, and each loss tells a different story: their loss to Oregon in the President's Day Invite finals mattered less in the long run compared to their 15-14 victory the day before, Oregon's only loss so far this season. UCSB can play the big games.
Their other loss to Western Washington (#5 USAU, #6 UW) however, reveals the persistent obstacles of depth and consistency for UCSB: this defeat came after two close games at Stanford Invite that they battled from behind to win. When they faced a rested Western Washington, they couldn't hold on. UCSB can win 9 games out of 10 with dominant players like Lisa Pitcaithley, Kelly Gross, and Noelle Neason, but it only takes one loss to miss out on the game that counts.
This weekend shouldn't be about bids for the Burning Skirts in the Southwest region that's guaranteed at least two bids, but efficiency is a skill, and it's one that they'll want to hone before what promises to be a long post-season for UCSB.
Michigan Flywheel (#15 USAU, #20 UW) probably isn't bid-hunting either: their main concern in April should be winning the games that matter to get to Nationals, but like UCSB they have some wrinkles to iron out. Their 15-3 win over a sleepy Iowa State at Midwest Throwdown was muddied by their gritty close loss 9-11 to Colorado State, and they'll need more consistent play from their full roster this weekend.
University of Kansas Betty (#28 USAU, #18 UW) and Michigan will meet on Saturday after missing each other at Midwest Throwdown: both teams rely heavily on skilled handlers and fluid offensive movement, and their games will move through Kansas' Kat Songer and Flywheel's Meeri Chang.
These teams are similar enough that the win could go either way, but both teams will have to work hard to play up to the height and physicality of the UCSB Burning Skirts. Historically teams like Oregon and Northwestern have implemented a poachy zone with a direct match-up on Pitcaithley to successfully disrupt their momentum.
Central Florida Sirens look strong in a pool of strength-bid hopefuls…
Of the teams attending Centex, the University of Central Florida Sirens (#3 USAU, #3 UW) have only lost to UCSB, on double game point, at Stanford Invite. They have only lost four games this season, and they have yet to lose by more than two points. Sitting at #2 in the USAU rankings, the Sirens are looking untouchable. They play a deep, intelligent game that teams struggle to adjust to. Sunny Harris manages to be part of every equation for Central Florida even when she's playing at less than 100 percent, but with strong players like Mariel Hammond, Erin Goding, and Alexa Wood, Central Florida would be imposing without their likely Callahan nominee.
The comfortable Sirens will face two teams in regions that need a strength bid, badly. University of North Carolina Pleiades (#18 USAU, #17 UW) and Iowa State Woman Scorned (#27 USAU, #24 UW) have both had shaky springs, but their rosters are deep enough that they will rise to challenge the Sirens' dominance.
North Carolina has had a rough season that began with the loss of Lisa Couper to an ACL tear and continued through back-to-back tournament weekends with Sunday defeats at both Queen City Tune-Up and President's Day Invite. Pleiades is still dangerous without Couper: Shellie Cohen is a probable Callahan nominee as North Carolina's star handler, and veteran players Bridget Walsh and Kendall Beadleson can and will step up to make plays. And they have a lot to lose at Centex: this is a last chance for North Carolina and Virginia to earn a second bid for the Atlantic Coast, and they will have a lot to prove in order to justify keeping that bid away from the powerful Northwest region.
Like Pleiades, Iowa State lost their maypole, Cami Nelson, and that was after a disappointing placement at Queen City Tune-Up. But Iowa State looked warmed up and cleaner at Midwest Throwdown, beating Colorado State comfortably with calm handler movement from Sarah Pesch and Sam Sauerbrei. They have a good opportunity to break seed over Pleiades if they can contain Shellie Cohen and limit her downfield options.
Texas stands strong at home, while Atlantic Coast teams duke it out…
University of Texas Melee (#9 USAU, #15 UW) has a lot of reasons to feel confident. They finished 6th at President's Day Invite, they placed 2nd at Music City Mash-Up, and they took UCSB to double-game point. They have won against a wide range of out-of-region opponents such as Whitman, North Carolina, and Wisconsin, and their region is guaranteed at least two bids to Nationals. Oh, and they're on their home turf. This is their pool to lose, but their position on top looks safe.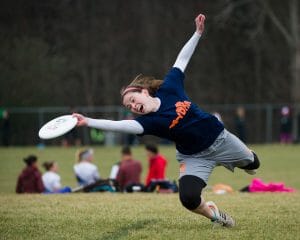 University of Virginia Hydra (#13 USAU, #5 UW) and University of Maryland Helpful Corn (#31 USAU), on the other hand, should be restless. These regional neighbors will face each other in pool play when they probably want games against out-of-region teams, and one of them will probably face Pleiades in their crossover game. This unfortunate structure puts pressure on their other games that nobody needs.
Virginia Hydra has stayed close to home this season, so their record against teams nationwide belies their scrappy and relentless play on-field. Captain Alika Johnston has been discussed as a potential Callahan finalist for her dedicated handling with Hydra, and alongside Tess Warner and Michele DeRieux she will control their offensive movement. They may not face the best circumstances for earning another bid, but they could very well win the region without it.
Northeastern Valkyries have plenty to prove…
Last year Northeastern University Valkyries (#12 USAU, #10 UW) surprised many by taking a second New England bid to Nationals, where they ended up in the vague 17th-place tie with UCF, Georgia, and Texas, despite keeping all their games close. This year they're strong, they're tall, and through handler-captains Lizzie Jones and Melissa Ellis they have the skills necessary to hang out at the big kids' table once again. They proved this at Queen City Tune-Up by reaching the final game against Ohio State Fever, a final game in which nerves may have bested Northeastern who had several drops and rushed decisions.
Centex may not be a bid game for the Valkyries but instead a statement about why they deserve to head one the of top four pools at the biggest tournament of the year. If they can maintain consistent and efficient play from the breadth of their roster against UC-San Diego and Iowa, they'll move forward looking good.
The UC-San Diego Psychos (#20 USAU, #22 UW) have had a season of almosts: they fought their way to the semi-finals of Santa Barbara Invitational only to lose to regional favorite Stanford; they lost in the finals of the Stanford Open 9-13 to Western Washington; and they worked hard for a 7th place finish at President's Day Invite, a placement that involved rolling through Michigan Flywheel 15-7 and Whitman 15-10. They have always been one step behind the most meaningful wins or the games that matter. They can win big games, but they will need a third bid in the Southwest region if they have bigger dreams: UC-San Diego has yet to beat UCSB or Stanford this year.
University of Iowa Saucy Nancy (unranked) has been slow to wake up this season. Their lackluster losses at Midwest Throwdown drop them out of the North Central bid discussion, and even accounting for some key players missing, they still didn't look like the Saucy Nancy of years past. But Iowa could still be dangerous if they tighten up their play and focus, and they may warm up just in time for a post-season in a limited region
Division II Stories
James Madison University Bitchmonkeys had a weak Queen City Tune-Up, but all their losses were against competitive teams. In these games they often fell back upon a just-huck-it strategy that hurts as much as it helps them, and they will have to pull bigger tricks this weekend. On the other hand, Washington University looked clean and composed at Midwest Throwdown with close games against Kansas, Iowa, Minnesota, and Colorado College. They could take the first seed if they utilize their patient handling and scrappy defense.
Northwestern and Illinois will meet for the first time this year: Northwestern badly needs a Great Lakes strength bid while Illinois cares more about winning the regional match-ups. However both teams may be surprised by Ottawa (#19 UW), the returner-heavy Canadian team that flies under the radar every year until they blow out Regionals. Every year.
Neither University of Wisconsin Bella Donna nor University of Minnesota Ninja are in the top 35 USAU-ranked teams, which has to be a disappointing place for both teams after a promising early season.
Colorado College "Strata" looked really good at Midwest Throwdown, a tournament where almost nothing looked good. Pittsburgh has won and lost more competitive games this season, but this game should be close, and Colorado College could very well come out on top.
Colorado State Hell's Belles made noise at Midwest Throwdown where they upset Michigan Flywheel 11-9, but their place at the top of the Division III bracket means that they will only be able to play Division I teams that drop down into the 17th place bracket. It's disappointing that this squad won't be able to test their mettle against stronger teams, but the Hell's Belles will make themselves known in whatever bracket they enter.
Florida State Seminole Ladies (#25 USAU) may be one of Division II's last seeds, but will play some of the most meaningful games. They are at the outermost edge of bid relevance, but already have wins over North Carolina and Maryland. The Southeast region clings to the desperate hope of a strength bid and will be rooting for FSU (and the teams they have competed with this year) to perform well.
---
This year the Northwest region is absent due to the advent of the NW Challenge the following weekend. ↩