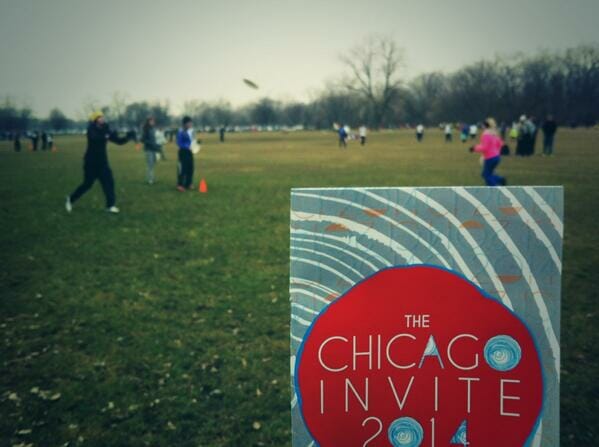 Chicago Invite, the largest tournament in the Midwest, brought 64 open teams and 32 women's teams to the south side of Chicago for one of the last chances to play before the Series. Some teams opted for this to be their year's final tournament. Others hoped to boost their rankings and see what their regional rivals brought to the field. For one team, it was their first outdoor tournament and a chance to finally be ranked by USA Ultimate.
Although the weather on Saturday should have kept spirits down, the addition of hot cocoa and Ramen noodles to the standard tournament food kept the teams and spectators happy. Still, a combination of mud, wind, fatigue, and dropped pulls made the results surprising.
Saturday Pool Play
The rain on Friday brought mud on Saturday. It was muddy enough that one of the tournament golf carts ended up getting stuck, needing an entire team to help drag it out. So it quickly became clear who was not exerting effort based on the cleanliness of their jerseys. The mud also proved difficult to maneuver. Many players had sloppy turnovers or unnecessary drops due to dividing their attention between their footing and catching the disc. Most of the teams started out very slowly, struggling to keep their focus on the game rather than the cold and the wind. Notre Dame kept spirits high by singing Amazing Grace before the start of their games.
The Missouri Mutants struggled early against Kansas, their South Central regional rival. Missouri exploited Kansas's slow transitions between turns to work their way back into the game. They brought the game to double game point before a great defensive effort near their endzone allowed them an easy score. Despite their intense first game, Missouri easily defeated Michigan State and Wright State to secure their spot in the championship bracket.
Case Western Reserve also started the weekend strong, despite a lack of playing experience this season. "Chicago Invite is the first time the Case Western Reserve Fighting Gobies actually played in a tournament during the spring," said Danny Young after his team's opening cheers. Cancellations and postponements of other tournaments due to the weather left the Gobies unranked and left out of the power pools. They only had a couple weeks of practice outside before coming to Chicago Invite. They very easily swept Pool C with their deep game and set themselves up nicely in the championship bracket after defeating Michigan State in the crossover game 13-3.
Washington University in St. Louis also started their pool slowly against Ohio Wesleyan. They gave Contra their biggest competition of the day, as it took Contra a few points to stop their around breaks. Although Contra ultimately swept their pool, the teams they played exposed some of their faults. Notre Dame was exceptional at exposing the holes in their zone defenses, although they would turn it quickly after finding those holes. Wash U easily turned these drops into scores, opening up their deep game with solid hucks from Joseph Marmerstein and Ben Krupp. Notre Dame seemed very fatigued after two rough games against Ohio Wesleyan and Oregon State, which may have contributed to their 13-2 loss against Contra.
Wright State seemed very comfortable in the power pool, losing only to Missouri and pulling out big wins against Michigan State and Kansas. Along with Case Western, Purdue and North Park also proved they belonged in the championship bracket, displacing Oregon State and Ohio Wesleyan, respectively. Michigan State fell out of the championship bracket to Case Western. Although some questioned whether Michigan State actually belonged in the power pools, they came back after a frustrating Saturday to sweep the ninth place bracket. With only a few surprises, the Sunday championship bracket was set.
Sun-day
Where Saturday was cold, windy, and gloomy, Sunday was sunny and warm. Every team seemed rejuvenated by the appearance of the sun. The first round of the championship bracket didn't start until 11:50 AM, allowing teams to sleep in and fully recharge.
The Notre Dame and Kansas quarterfinal was surprising. Kansas couldn't seem to match Notre Dame's aggressiveness. Notre Dame's deep game and solid defense helped them secure a 15-8 win over Kansas, putting them in the semi finals against Missouri. Missouri beat Purdue 13-8 with a combination of up the gut break throws and perfectly placed hucks.
The other two quarterfinal games were won on double game point: Wright State vs. North Park and Washington University vs. Case Western Reserve. WashU had to dig into their bag of creative throws against Case Western – one of their points was a left-handed push pass (Krupp) to a high release backhand (Marmerstein) to a high release flick (Shipan) to a score. Case Western matched Contra's intensity on offense, while also exploiting the holes that Notre Dame exposed in Contra's zone defense on Saturday. The Gobies' deep game made Contra force them under, but with little effect. Case Western's Erik Lindberg and Eli Stoever hucked the disc even under coverage to great success. Their deep shots frustrated Contra. "It was unfortunate Case was so underseeded and we had to face them early Sunday, but that shouldn't stop us from playing our game," WashU Captain Jeremy Davis said.
After taking half 8-4, Case Western looked complacent and lost a bit of their focus. Contra, on the other hand, refocused and worked on ironing out the flaws in their defense. A very aggressive defense, cutting off the Gobies' deep game, and a patient, smooth offense allowed Contra to continually break Case Western to tie the game at 13-13.
Just like in the first half, Case Western hucked it deep for the game winning score. To be upset by a team that wasn't considered part of the power pools stunned Contra. "We know we are a stronger team than this, but you have to experience failure to learn," said Davis. Contra would end up taking 5th place, beating North Park and Kansas. They are looking to retake the Ozarks conference title from Missouri this year.
Semifinals
Wright State began their semifinal against Case Western by handing over a taste of the Gobies' own medicine: great deep shots for scores. After initially getting upset, the Gobies came back and used a series of smooth swings and their own deep game to take half 8-5. "Our offense looked smooth and got great contributions from senior Matt Poole and sophomore Jacob Lunn," Case Western captains told Ultiworld. During half time, the Gobies calmed down and readjusted their strategy, forcing Wright State to drop the disc and making them throw the disc away. They did not allow Wright State to score at all during the second half, winning the game 15-5.
The Notre Dame and Missouri semifinal started with the teams just trading points. While Notre Dame was extremely aggressive during the Kansas game, they didn't seem to transfer that over to this game. The Mutants scored with second-chance bids on discs that Notre Dame initially blocked. Jessie White, #24 on Missouri, led the team both in the sky and on the ground, bidding for discs that almost certainly seemed out of reach. Small injuries plagued Missouri during this game, leaving a touch of concern for the final. Missouri won 14-11. Notre Dame would go on to win third place over Wright State.
The Mutants Against the Fighting Gobies
The championship game started with an early Case Western break. Although Missouri was able to shred the Gobies' zone with ease, Case Western came up with easy D's near the endzone to force the turn. They then utilized their deep game to score on Missouri to take a 2-0 lead. Missouri then scored three points in a row with well thrown hammers from Alex McNamara.
Case Western's senior Jacob Hooks did a respectable job at shutting down Jessie White early on. Hooks generated a number of blocks for Case Western throughout the weekend. After a few frustrating points, White found his stride again after skying his defender for the score. Although White accelerated forward, Missouri standout Jay Froude struggled to get going. "That's extremely unlike him, he normally doesn't miss," said Missouri sophomore Sean Campbell, sidelined with a torn labrum.
The Case Western defensive effort from captain McGoogan kept Froude from being effective. The game quickly became physical, with many fouls called on both teams. Stoever and Lindberg were fouled on many of their hucks, frustrating them and causing them to miss their cutters on the second attempt. Along with all of the foul calls, both teams were issued team misconduct fouls for being too close to the sideline. Players became agitated with the observers as well as with each other. As emotions ran high on the field, every call was deferred to the observers. After a Missouri time out, the game calmed down, albeit fractionally. Froude found his stride after the time out, skying his defender after a full field huck from McNamara. The teams traded points again before Missouri took half 8-6.
After a brief half, Case Western gave up two breaks, unable to stop the combined effort of Froude, White, and McNamara. Case Western's layout attempts left an open handler with free sight of the endzone. Missouri jumped ahead 10-6. The teams continued to trade points, but it was too late for the Gobies to rally. Hard cap went on and Froude scored off of a second chance bid for Missouri to win 14-11.
Overall, Missouri was extremely happy with their performance this weekend. Case Western, though disappointed about the results of the finals, were encouraged as well. "The lack of opportunities to build team cohesion was a point of concern coming in, but we felt that we were able to come together and play very good ultimate, particularly for our first tournament of the season," said captains Matt McGoogan and Terrence Wang.