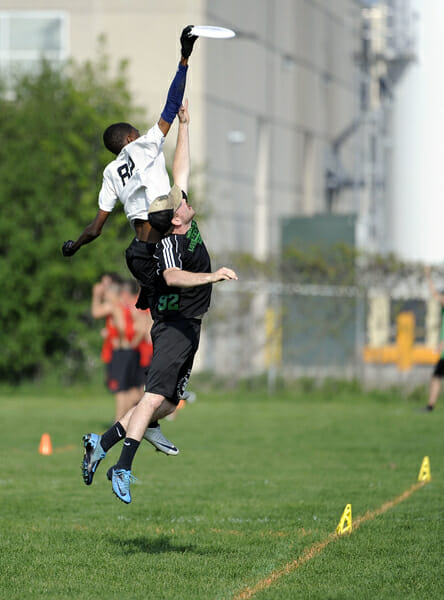 With sky-high hopes coming into the year, the Metro East has had their expectations for 2014 dampened — both by weather and by their performance on the field. Entering the year expecting to earn at least two bids to Nationals, a dismal spring season filled with cancelled tournaments and rain-soaked games has resulted in the region obtaining a lone bid to Nationals.
The tournament, which has been moved from its original location in Pittsgrove, New Jersey, to Oneonta, New York, should be an absolute bloodbath.  Featuring three top twenty teams in Ultiworld's power rankings and several other contenders that were unable to showcase their teams in the regular season, at least half of the teams playing this weekend have a real chance at making Nationals.
Without a second bid to fall back on, there is zero margin for error and whichever team comes out of this crowded region will certainly have earned their trip to Ohio.
Favorites
SUNY Geneseo (UW #10)
The top seed and highest ranked team in the ME-III is SUNY Geneseo Snail. They owe their top spot in the region to an impressive semifinals run at D-III Easterns as well as an undefeated weekend at the Conference Championships that saw them take out Oneonta, Hamilton, and Fredonia en route to the team's first ever Conference title.
Geneseo owes much of their success this year to new coach Bryan Jones, who has brought the team a new level of tactical savvy. He has been a revelation for Geneseo defensively, and the results have been clear on the field. Snail's D-line has been one of the fiercest in the region all year, highlighted by their crucial comeback against Fredonia in the Conference finals. David Abbott and Matt "Micky" Rybak, both starting D-line players for the Rochester Dragons, helped shift Geneseo into another gear on Sunday. Down 3-6 against rival Fredonia, Abbott and Rybak engineered a stunning 6-1 run to take the game on soft cap 9-7.
Perhaps more important than his on-field tinkering has been the stabilizing influence Jones has provided the team. In 2013 Geneseo was a team that suffered from inconsistency, a trait that ultimately hurt them when they came out flat in the semifinals at Regionals. A big part of Jones' effort as a coach has been preparing Geneseo to play to the best of their ability every time they take the field.
The injury bug has been with Snail all season long, and it has taken a toll on Geneseo's roster heading into regionals. Although their top core of players are all good to go this weekend, various maladies have torn through the team's role players and reserves. Geneseo played with a similarly shorthanded roster at Easterns and had success there, but clearly tired down the stretch in their semifinal loss to Richmond. If Snail hopes to earn the one bid in this deep region, they will not be able to afford such lapses and fatigue at the end of the day on Sunday.
Geneseo has showed they have the capability to play excellent ultimate at several points this year. Playing at that level for a whole weekend is a tall task, but will be necessary if Snail want to turn their first every conference title into their first ever regional title.
Stevens Tech (UW #14)
Stevens Tech's regular season was emblematic of much of the struggle that faced the Metro East this year. Coming into 2014 with lofty expectations, cancelled tournaments and sloppy play meant Stevens ended the regular season just outside of the bid picture, and now the 2013 national semifinalists find themselves in a real battle for just the chance to return to Nationals.
However, anyone taking the Ducks lightly because of their sub-par regular season could find themselves surprised; Stevens has not hit their potential as a team yet this year. If they do so this weekend, they have to be considered the favorite to win the bid.
Weather caused the cancellation of Stevens Tech's first tournament and the second day at Garden State, barely allowing Stevens to cover the 10 game minimum. Weather has also hurt their ability to practice, as the team has rarely been able to get outside. The Ducks have shown resilience and determination in the face of suboptimal circumstances, practicing at 7:00 AM three times a week in order to prepare for Regionals. Captain Andrew Misthos believes that Stevens is one of the hardest working teams in the region, and that these brutal early morning practices will pay off Sunday at Regionals.
The formula for Stevens Tech's success hasn't changed much over the past several years, and they will hope to use their experience to help carry them against some of the talented but less seasoned teams they will face.  MLU stud Marques Brownlee, John Lee, and Misthos have produced as expected this year as the leaders on the field for the Ducks. In addition to those three, cutter Zach Smith has really made a name for himself this season, transitioning into a bigger role on the team. A key contributor on the D-line in 2013, Smith has become the Ducks' leading goal scorer and will look to continue his excellent play on both sides of the disc this weekend.
Despite a shaky regular season and a less than dominant performance at Conference Championships, Stevens is still the prohibitive favorite this weekend. Getting Brownlee and Lee back, who missed Conferences, will be a huge boost for the Ducks as they seek to make Nationals for the third consecutive year. Their experience and discipline will be key to their success. The Ducks' game plan may sound simple — efficient turnover-free offense and smart defense — but when it comes to gut-check time on Sunday their practiced methods will be easier to replicate than the more spectacular style of play some of their opponents have exhibited at points over the course of the season.
SUNY Fredonia (UW #20)
2014 has been a season of ups and downs for the Terrifying Turtles of SUNY Fredonia, and they will hope that regionals ends on a high note. The good moments have certainly been there for Fredonia this year, in particular their 12-9 win over Elon at D-III Easterns demonstrated how well the team can play when functioning properly.
In that game, Fred's deep game was imperious. Kevin Quinlan and Greg Wakeman put up some of the best deep balls in the region and Elon had no answer for those two or Fredonia's stable of athletic cutters. With a bevy of pull plays that initiate quick up field action and easy hucks, Fredonia's offense can be seamless when it hits on all cylinders. If the Fredonia that beat Elon shows up this weekend, the rest of the region could be in trouble.
The Turtles have had some problems with composure this year, and have lost a few games that they had in their hands. Early in the season they took North Park to half up 7-2 only to see the game slip away, and in the first place game at Conference Championships they led Geneseo 6-3 before surrendering a 6-1 run that ultimately cost them the game.
The trend of giving away leads should be a point of concern for Fredonia. With virtually no margin for error at Regionals this year, Fredonia will need to nail down games, if for no other reason than to preserve their legs. Closing out games early and keeping Wakeman, Quinlan, as well as the other starters fresh for later games will be very important for this team.
The loss to Geneseo at Conference Championships doesn't hold too much significance, with both teams more focused on a Nationals berth than a Conference title. After all, in 2013 Fredonia lost at Conferences to Geneseo only to rebound at Regionals and stomp their rival in the semifinals. Count on them to be properly motivated to come back and give Geneseo everything they can handle in a rematch this weekend.
It is tricky to predict how Fredonia will fair this weekend because of the all-or-nothing tendencies of their offense. It may come down to how effectively their defense can generate turns if the offense has some hiccups. They will need important role players such as defensive wizard Kurt Knoess, who did an excellent job stymieing Geneseo's handler movement at Conferences, to make timely stops and allow the teams big throwers to have the disc in their hands as much as possible.
Fredonia enters Regionals as one of the favorites to procure a bid for the third year in a row. Losing in the game-to-go last season still stings for many returners on the team, and that memory has them prepared to give everything they have this weekend in an attempt to secure the bid they have been chasing for the past three years.
Contenders
Hartford
A surprise at regionals last season, Lighthouse has reminded the region that they haven't gone anywhere. Taking first at Hudson Valley conferences behind a 5-1 weekend, Hartford earned some big wins in what felt more like a regionals pool than a conferences pool.
Like much of the region, Lighthouse was unable to play any sanctioned tournaments prior to conferences and there were questions about how they would perform in their first real action. Still, they looked well-oiled after an early Saturday loss to Wesleyan.
Lighthouse flows through their handlers, and even if opponents are aware of their point of attack, there's not much that can be done to stop it. Luke DiOrio and Tyler Finkler have been handling together for years and the chemistry and skill of the pair is unmatched in the region. Armed with an arsenal of lefties, high release flicks, and over-the-top throws, DiOrio is a nightmare for defenses.  Pair this with Finkler's quickness and ability to break marks across the field and you're left with frustrated D-lines.
Well coached, Lighthouse cutters know how to work with their elite throwers. They use the break-side well and open up the field for John Naramontas and others to streak deep.
DiOrio understands the gravity of the situation but believes that Lighthouse has taken the right steps to be in a position to succeed: "We are incredibly proud of ourselves for taking 1st in our section. That was just all part of the 'process' that we have been talking about since last Spring. We know regionals is going to be a bloodbath with one bid and four teams that could be at Nationals. It should be one hell of a tournament."
Wesleyan
Conferences was one of the first real chances to see this 2013 National qualifier play this season. Nietzsche came out flat on Saturday, falling to RPI and Vassar behind a strong Vassar crowd- though they did take down Hartford fairly handedly. They were able to shake off the rust come Sunday and dismantled an underrated Skidmore team and a shorthanded Siena to start their day. Their two quick games proved especially beneficial as they would spend at least thirty minutes watching Vassar grind out a universe point win against Connecticut College.
The tired Vassar gave their all in a game-to-go but the fresh legs of Wesleyan were too much for the hosts. Wes would take down Marist 13-10 in a heated consolation game to take second place.
Despite their lack of play this season, Wesleyan is a serious contender going into regionals. With perhaps the best all-around throws of any team in the region, zone defense and tight marks don't faze Nietzsche. Chris McGinnis, David Nam, and John Baierl work behind the disc and find cutters like Adam Bresgi down-field. Ty Holzschuh's long reach and tremendous vertical make him a dual threat as either a handler or deep cutter.
Wesleyan looks to capitalize off of turnovers and isn't afraid to get physical to get the disc on defense. It won't be easy to cut on Sunday against their tough dictating D.
With players like Holzschuh, Baierl, and Nam, their top-level talent is as good as anyone's in the region. However, the losses they suffered Saturday at conferences won't cut it at regionals with just one bid on the line.
Wild Cards
The College of New Jersey
A team that has become something of a stepbrother to Stevens in recent years,  The College of New Jersey Revolution will be looking to break out from the shadow of their intrastate rival. While they don't have the name recognition of some of the other teams in competition this weekend, TCNJ's opponents always remember playing them. Physical man defense and a grinding vertical stack make every point won against this team feel earned.
Running a precise vert stack that is as effective as it is simple, TCNJ rarely does things on the offensive end that surprise their opponents. Utilizing break side flow and power position hucks from upline handler cuts are the bread and butter of TCNJ's offense. Much of the responsibility to create flow will be in the hands of John Irvine, a junior who has stood out as the focal point of Revolution's offense. Though he generally lines up as a cutter, Irvine can throw with the best players in the region and is just as comfortable working in-cuts and continuations throws as he is taking his man deep. Stopping TCNJ starts with slowing down their dynamic dual-threat star player
Revolution is not a particular deep team and the top nine to ten players on the roster see serious minutes. At the end of games and long weekends, those minutes tend to hang heavily on weary players, and TCNJ's mainstays will really have to show some grit if they want to close out games. In recent years, Revolution was able to stay in games against top teams, but have generally been unable to come away with big, signature wins. At Regionals in 2013, TCNJ's three losses, just enough to keep them out of contention, were by a combined 5 points. If they can maintain their intensity and focus late in the game, things could turn out differently for the men from Jersey this year.
Hamilton
Hamilton Hot Saucer continues to prove itself to be a consistent, quality, program, making Regionals every year since the inception of Division III. At conferences this year they gave Geneseo the closest game of pool play, and soundly thumped their neighbors Colgate to lock up a bid to this weekend's contest.
Hamilton's results show the consistency and capability of the team, but also seem to indicate that they lack the top gear of the best teams in the region. While Hot Saucer has taken care of business against lower seeded teams this year, they weren't particularly close to either Geneseo or Fredonia in those matchups at Conferences. If Hamilton hopes to break seed and knock off one of the top teams this weekend, they may have to catch their opponents in a bad game, as they just don't have the horses to match any of the higher seeded teams on a good day.
Part of this problem seems to stem from a lack of top tier talent on the squad. A large, deep team, especially by D-III standards, Hamilton doesn't possess many superstars who can go blow for blow with a DiOrio or Brownlee. Seniors Spencer Olsson and Dan Witte have played consistently well all season, but they will have to raise their games up a level this weekend if Hamilton wants to make any serious noise.
With a deep roster and consistent players, Hamilton should find themselves in a meaningful game come Sunday. If they hope to reach the semifinals or further, they will need to play on a higher level than what they have demonstrated so far this season.
Playing Spoiler
It only takes one big upset for a low seeded team to leave its mark on a tournament and the three teams at the bottom- SUNY Oneonta, Colgate, and Marist- will all be trying to make the knockout bracket on Sunday and get the chance to eliminate one of the top seeded favorites.
Colgate will be seeking to rebound from a disappointing performance at conference championships. Coming into the tournament seeded third, Jabberwock dropped seed and were forced to hold off St. Lawrence on universe point in the game-to-go just to secure Western New York's fifth and final bid. After a promising fall season, the spring has seen Colgate really feel the sting of losing nine seniors from 2013. A rough outing at the muddy Garden State preceded their poor showing at conferences, which was punctuated by the 11-5 drubbing they suffered at the hands of Hamilton in bracket play.
Colgate's man defense has been the rock of their team for years and it is no different now. Aggressive layouts are the norm for this squad, led by defensive standout Brian Chernak. Defensive intensity aside, a smooth offense will be the key to Colgate's success. Their offense was disjointed all weekend at conferences and will need to be much more consistent if Jabberwock hopes to score a big upset.
Returning to Regionals after an absence in 2013 is SUNY Oneonta. SOFA was one of the teams on the bubble at conferences, but were able to win the games they needed in order to snatch up one of the conferences' five bids.
A team that thrives on intensity, SOFA has a tendency to get under their opponent's skin from time to time. This is just how they like it. Rarely crossing the line into poor spirit, Oneonta plays a physical style that can take opponents out of their game. The general philosophy of Oneonta seems to be that if a shoulder-high bid can make your man think more about you than catching the disc, then it is a bid worth taking.
SOFA's offense has been more problematic this season and the decision making of their handlers has sometimes cost them. Ben "Fergie" Lounsbery is an incredible athlete and is good for a handful of goals each game, but SOFA will need to be able to execute a viable Plan B when he cannot get open. Their offense tends to stagnate when he isn't involved, leading to questionable throws and turnovers.
Marist Fox Ultimate won a weak pool with the help of point differential at conferences. This led to a Sunday matchup with a savage Siena squad which FoxU won to take a bid. Lacking the top-level talent they've had in past seasons, Marist doesn't seem equipped to make much noise at regionals. Still, Coach Robbie Kohler will have them playing ultimate within their system.
For a region as deep as the Metro East, a single bid to Nationals is unfortunate for the teams involved. However, it will surely make for a very exciting tournament. With at least five teams that can all make a legitimate case as contenders for the bid, and several more teams capable of pulling out an upset or two, virtually every game this weekend will be meaningful and hotly contested. Look for deep rosters to be key.
Geneseo has had the best year so far, Fredonia seems to have the highest gear, Stevens has the pedigree, and no one knows exactly how Hartford and Wesleyan will fare out of the Hudson Valley. While history suggests that the Stevens Tech Ducks will emerge from the field, several worthy teams will lay it on the field for a trip to Ohio.