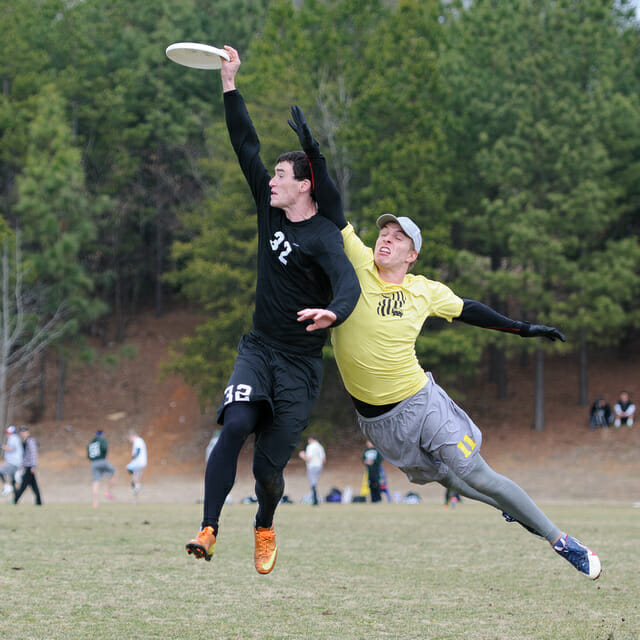 We suffered through the winter on the East Coast this year. Yoyoing temperatures, freakish snows, and badly-timed rain knocked out major tournaments and left many teams with precious few games to play before the Series. With Conference championships behind them, this Regionals field will be be defined by teams that have tested their mettle outside the Atlantic Coast, and broken apart by the sleepers who have yet to prove themselves in high pressure matchups.
Gone To Carolina In Our Minds
It is clear that the favorites this weekend are the teams atop the Carolina Conference — particularly two teams who have made names for themselves on this website in the past two seasons.
Who Will Test Darkside?
UNC Darkside has dropped a mere three games this year, and two of them came at the hands of two-time defending college champion Pittsburgh En Sabah Nur.1 Those losses seemed to have been tied to the elements. It took truly strange conditions at the rainout site in Stanford to rattle UNC, and more wind at Easterns to shake the composure of Darkside.
They are led by names that have already graced the headlines on Ultiworld many times this season: offensive handler Jon Nethercutt, offensive cutter and Callahan nominee Christian Johnson, and defensive handler Ben Snell. Many more names — including defensive stoppers Tim McAllister and Charlie Schaffner — round out a team that has honed its skill-level to a scary degree.
Teams that have scored 10 or more points in a game against UNC Darkside: Pittsburgh (UW #2), Harvard (UW #11), Oregon (UW #6), Colorado (UW #10), Florida State (UW #16), Carleton (UW #22), Minnesota (UW #9), and UNC-Wilmington (UW #15). Only three of those were losses!2 Their record: 24-3.
The team was atop the Ultiworld Power Rankings for much of the season, and defeated current #1 (both Ultiworld and USAU) Colorado Mamabird in the quarterfinals at the Stanford Invite.
They should have little trouble coming away with a bid from Regionals this weekend, but eyes will be on Snell, who dislocated his knee at Easterns in late March. UNC coach Mike DeNardis told Ultiworld last week that he was still in rehab and was unlikely to play at Regionals. He is a hugely important piece for the team, and they will need him at Nationals.
UNC-Wilmington Is Grinding It Out
The UNC Wilmington Seamen may not have seen quite as much fanfare as their neighbors, but their season has been far from poor.
Despite some early misgivings about the departure of major veteran contributors from last year including Tommy Lamar and Mark Evans, a closer look at their regular season and Conferences results reveal a team that is ready to…well…bring it.
Riding the raw athleticism of Robert Goode and the system of coach Greg Vassar, it's difficult to deny UNC-W's hard-earned wins. Their eight losses have also come at the hands teams ranked in the Ultiworld top 25. They fell to a surging Massachusetts team in their last game at Easterns Qualifiers, but have made pretty quick work of the rest of their lower ranked opponents. Despite what their winning percentage suggests, UNC-Wilmington enter the weekend with a staggering amount of experience against highly ranked teams.
The question for UNC-Wilmington is their consistency. They have played up to the moment in big wins over Minnesota, Florida, and Harvard, but also stagnated against Central Florida and UNC. They are no doubt the favorite to take the second bid from the Atlantic Coast, but they won't be able to afford a dip in concentration against the field.
The Rest of the Field: NC State and South Carolina are both strong teams with good regular season showings who will look to pick off some of the more untested teams from the other conferences. Appalachian State, on the back of Justin Allen, may also have some potential to knock off smaller teams. With a first round matchup against South Carolina (who beat them 15-7 at Conferences), Nomads will have their work cut out for them.
Virginia Is For, Untested Contenders?
Virginia gets a whopping six bids to this weekend's contest, and at least the top three teams have had very little outside-the-region experience.
Virginia Tech Takes Top Dog in the Conference
Burn Ultimate's only losses this season have come from outside their conference. With only ACC Ultimate Championships and Easterns Qualifier under their belts, VTech tore through the competition at the Conference Championships. "We got our best games [at Conference Championships] from UVA and JMU," said sophomore captain Will Ward. That game against Virginia was 15-13 in the finals.
Tech will place confidence in their system and the intensity of their D line. Last year, they scored one of the big upsets at any Regionals by taking down UNC-Wilmington 15-14 in the semifinals. They got crushed by UNC in the finals, and again by UNC-Wilmington in the game-to-go. They'll hope to rewrite the script this year.
Players to Watch: Hunter Taylor, Antoine Davis, and "The Savvy Six" — a group of freshman that coach Amiel Bernal said "contribute heavily at starting positions on O and D."
Hellfish, Without the Bonanza
"The spring season has been frustrating for us," said JMU captain and club president Brett Woodward.  "We had to resort to doing so many indoor workouts it started to feel more like a triathlon club rather than an ultimate team."
JMU's home tournament, Hellfish Bonanza, was frozen over in mid-February. Much like their conference fellows UVA and Virginia Tech, this left the team with a pittance of regular season games in comparison to the other top seeds this weekend.
Odds have certainly been stacked against this team, which graduated 12 seniors from the program last year and has looked heavily to its younger players for production.
Players to Watch: Freshmen Torin Porter (Woodside) and Ben Greene (Herndon), and O-line handlers Ryan Ayres, JD Friscia, and Quinn Bergeron.
The Night Train to Axton
Meet another young team from Virginia which is looking to "win with its legs", according to coach Rafe Steinhauer.
UVA suffered from the same regular season woes described above, but it didn't stop them from grinding out victories at ACC, Easterns Qualifier, and the Conference Championships. Yet again, we are faced with a team that has clearly shown it can win, we just don't know against whom and in what conditions.
They have a quality win over Pittsburgh back in January, and a nice win at Easterns Qualifier over Virginia Tech, 15-6.
Players to Watch: Nazzareno Spurio, Jacob Merlin, Evan Sacks, Daniel Hess
The Rest of the Field: VCU, George Mason, and William & Mary. VCU Villains drew Virginia Tech Burn in the first round, an inter-conference matchup that heavily favors Burn. This should make for an exciting second round matchup against the winner of Appalachian State vs. South Carolina.
Ye Ol' Colonial
Guess what happened to the colonial teams this year?3 Weather. Along with Roll Call and Hellfish Bonanza, Garden State was also cancelled, leaving many of the Regionals qualifiers largely unproven.
Maryland's flights to Florida Warm Up were cancelled. American flew to Chicago, only to pick up wins against teams that haven't amounted to much, and everyone else ended up more or less stuck with only a tournament or so to tune up before Conference Championships. George Washington traveled all the way to Trouble in Vegas to play unranked competition, and ended up with only one other regular season game before Conferences. Safe to say, the Colonial Conference competitors didn't see much action to speak of before the series.
Well, all except for one team.
The Wrath of Catholic Justice
Georgetown made it to four competitive tournaments during their regular season, which team leadership considered "fortunate" when reached by email for questions. Given how much of the field has yet to test themselves, having any kind of identity is a huge advantage for Georgetown.
We first got a good look at Catholic Justice in a double game point win over NC State at Queen City Tune Up in early February. Captains Scott Hampton, Charlie Patten, and Coach Alex Laws all met me, somewhat out-of-breath, and exhilarated in the center of the field, minutes before flipping with Harvard to head into the semis. They would go on to give Red Line a solid challenge, and months later, it seems like the experience paid off.
Georgetown played up and down the coast, competing in both the Tally Classic and the New England Open, giving them the most notable big game experience among the Colonial teams. They took their well-traveled squad to the finals of their Conference Championships, and dispatched Maryland 15-12 to take the Conference's top seed.
Look for Catholic Justice to execute their defensive schemes confidently and grind out games with teams carrying a bit more clout headed into the weekend. There could also be an exciting second round rematch of the Queen City Tune Up quarterfinals if NC State and Georgetown meet in the second round on Saturday.
Players to Watch: All nine sophomores. Team leadership is very excited about their youngsters stepping into big roles all over the field.
George Washington On The Rise?
GWU has long been known more for their top player — Chris Kocher (NexGen) — than their on-field results. But a big win over Maryland in the 2nd place game at Conferences, after losing to them 15-11 in pool play, shows that they have the talent to play up to their opponent.
They have a tough first round matchup with Virginia, though. They'll need another strong, across-the-board performance to get out of that game with a W.
Maryland, an Underdog
We don't have a lot to go on from Maryland's season, which was cut-short. Reached for comment on their performance at Conference Championships, Captain Kevin Ludwig said that Space Bastards will look to re-focus on "playing [their] style of game, which [they] strayed from during [Conference Championships]."
Team leadership seems to have buckled down the squad, and were unable to comment about their outlook on the weekend or big contributors. The hope their game plan will prepare them well, as the winner of their first round matchup with the JMU Hellfish has the unfortunate draw of playing the winner of William & Mary vs. UNC — not a good sign for the Space Bastards on Saturday.
The Rest of the Field: Delaware Sideshow drew NC State Wolfpack in the first round, a matchup that will favor the latter of the two coming out of a much stronger conference. American rounds out the Colonial Conference, the keepers of the #15 seed, and will play UNC-W in the first round.
The Last Piece of the Puzzle
After some internal debate and pushback from the field, the final rankings for the weekend were released on Wednesday night. It's no secret that the ranking algorithm needs work, and with a few strong teams getting upset (Maryland, NC State, Virginia) at Conference Championships, tournament leadership needed to do some rehashing.
The full bracket is below:

---
8-10 L to Pitt on Saturday at Stanford Invite; 10-15  to Pitt and 9-11 to Minnesota both on Sunday at Easterns. ↩

They played Pitt the most out of any of these opponents. The teams split their four games evenly. ↩

The people over at ColonialSecs would love to tell you. ↩