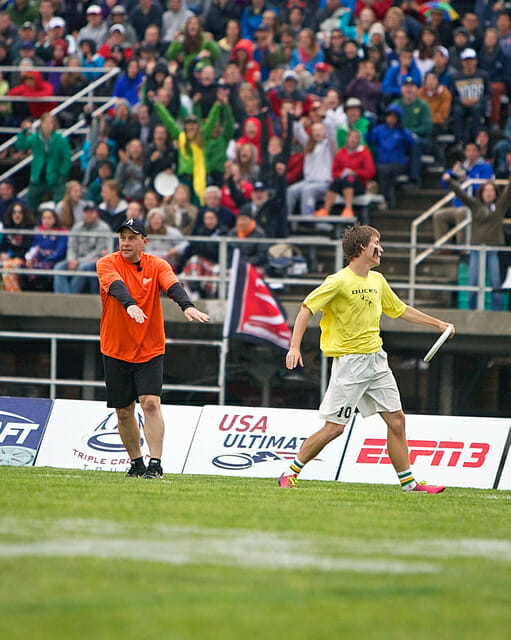 For the first time since the regional restructuring, the Northwest only has one bid to Nationals. With top-seeded Oregon coming off of a regular season in which it lost more games than it had in previous seasons, the teams below them will go into the weekend thinking that this could be their year, and rightfully so.
UBC and Washington are solid, and have lost close games every time they have played Oregon this season. This time around, they'll be pulling out all the stops in their attempt to take down their rivals to the south. Whereas in previous seasons a team might have saved its legs for the 2nd place game, there will be no such strategies in play this year. Once bracket play rolls around, it's win or go home.
The Favorite
Top-seeded Oregon has to be considered the clear favorite coming in, although perhaps by a smaller margin than last year. Ego has not quite lived up to its lofty standards of the last couple seasons. The team has lost more games in the regular season than it did in the past two, combined. This could be the opening that other teams have been waiting for. That being said, Ego is still the team to beat, and it is difficult to picture a scenario that doesn't end with last year's Callahan Award winner Dylan Freechild going to Nationals.
Ego began the regular season with 15 consecutive victories, before Colorado took them out in the finals of President's Day. After the hot start, Oregon did not fare nearly as well at the Stanford Invite, going 3-4 and finishing in 13th place. One plausible explanation is that the high winds of Stevinson took their patented high-release break throws out of play.
Since the Stanford Invite, Oregon has gotten back on track. At Centex, its only losses were to Texas and Texas A&M, two teams ranked in the top 5 nationally – although again, it is worrisome that those losses happened during what was reportedly the windiest part of the weekend.
Oregon survived Conferences unscathed, although some scores were closer than they have been in previous years: they beat Washington 13-11 in pool play and 15-12 in bracket play, and Victoria was able to put up 11 in the semifinals. Oregon's air of invincibility – if such a thing can exist in college ultimate – is no more.
As the team to beat, there is a target on Oregon's back. But this is a team that should be able to handle the pressure. Ego boasts a very deep and athletic roster, led by one of the best all-around players in college ultimate. If they play like they are capable of playing, they could dominate the field and make people question why this preview was even necessary. On the other hand, if wind is indeed a problem for this group, then their fate might not rest as much in their hands as they would like. Oregon is in a tier of its own relative to the region, but the gap is smaller than its players might be used to. A few bad bounces or a windy Sunday could dampen their chances enough for another team to take advantage.
The Second Tier
British Columbia began the season with very good results at the Santa Barbara Invite and President's Day. They went 11-4 at those two tournaments, with all of their losses coming to either Colorado or UC San Diego. In the March 13 edition of the USAU Rankings, UBC sat at #14, comfortably in the running for a strength bid.
Then Centex happened. UBC went 1-6 at Centex, and only two of those losses were particularly close. The poor showing dropped the T-Birds out of the top 20, where they would remain for the remainder of the regular season.
Having not been able to earn a second bid, UBC will need to take down some very good teams if it wants to make Nationals. Although in the past few years, UBC has been overshadowed by Oregon, Washington, and Whitman, this may be the T-Birds' time to make some noise. After going undefeated in pool play at Conferences, UBC lost to Washington 15-14 in the semifinals. For fans of close games, that is the most tantalizing matchup possibility for the upcoming weekend.
UBC boasts a strong roster that has gained good experience playing against top teams over the past few months. Five of their players play for either the Nighthawks or the Riptide. This is a dangerous team that should not be overlooked.
The Sundodgers of Washington have had an unusual regular season, by their standards. They didn't submit a bid to Centex, and they didn't get invited to the Stanford Invite. Normally, Washington would have played in at least one of those tournaments. They were planning to send a team to play in the club circuit's Fools Fest in Santa Cruz, but that tournament was cancelled due to weather.
The result of all this was that Washington didn't play in any tournaments for a nearly two-month stretch between President's Day and the Championship Series. Their early results from the Santa Barbara Invite and President's Day were enough to get them a ranking of 29th overall going into the series, but obviously that was not enough to earn a 2nd bid.
However, having made a habit of stealing bids in recent years, the Sundodgers will be going all-out for that one bid. Standout cutter Ian Hash has been hampered by injury, but plans to play through it to the end of the season. Last year's Northwest Freshman of the Year Khalif El-Salaam has been playing well with the Seattle Rainmakers, and will be counted on to make big plays on both sides of the disc.
Washington's success this weekend could hinge on whether the long dormant period comes into play. The Sundodgers are probably healthier than they otherwise would have been, but with less recent experience playing against other teams, they could have trouble matching the intensity that such an important tournament brings. If they can get back to that quickly, they have the talent to at least make it to the game-to-go. Although Washington has played Oregon close this year, they still have not beaten them in a sanctioned game in recent history.
D-III Schools Making Noise
With the graduation of Jacob Janin, many may have written off Whitman going into 2014. Although this is the first time since 2010 that the Sweets have failed to earn a bid for the Northwest, they do not intend to go away quietly. After losing their first two games at President's Day, Whitman won out against the bottom half of the tournament pool. Against tougher competition at Easterns, the Sweets may have only won one game, but they were never held to single digits and even took half against both Florida and Stanford.
At Big Sky Conferences, Whitman took a loss to BYU in their last pool play game, forcing them to win one extra game on Sunday to secure the top seed out of the conference. Having taken care of business after that, they will go into Regionals as the 5th seed.
This team knows that it has the talent – if not the depth – to hang with any team in the country. However, that lack of depth could be problematic late on Sunday when Whitman is trying to win those last few games.
Puget Sound has had a very good season against D-III competition, with a record of 18-2 going into their first D-I Regionals. The Postmen avenged the first loss – to St. Olaf at D-III Warm Up – later in that same tournament, but might have to avenge the second if it wants to sniff a chance at Nationals – a rematch against Victoria in the quarterfinals could be in store, if pool play goes to seed.
According to captain Daniel Mozell, UPS takes pride in outworking its opponent. A team like that, led by a senior as talented as Eric Hopfenbeck, should be able to win a few games against opponents that look better on paper. Whether they can put it all together for an entire weekend against D-I teams is another matter.
UPS realizes that it is fighting an uphill battle against the perennial powerhouses of the Northwest. Even if it doesn't win, this tournament will be a great experience for a team of many players who have never played Oregon or Washington in a sanctioned game.
The Spoiler
Victoria has had an inconsistent 2014 season. At President's Day, the Vikes lost every game, save for a universe-point win over UCLA. Despite the overall result, that tournament did bring reasons for optimism, like very close losses to Cal and Davis and trading points with Colorado for a half. Versus weaker competition at the PLU BBQ, UVic went 6-0, including a finals win over Puget Sound, to earn its first tournament victory in over five years.
At Conferences, the Vikes performed exactly as the seeding would have predicted, only losing to UBC and Oregon. Although this may not bode well if Victoria hopes to make its first Nationals appearance, this is a good team and it wouldn't be surprising to see them break seed – there is reason to believe that they could take step forward from where they are currently ranked.
Captain and talented handler Luke Charlesworth returns from a serious ankle sprain that had kept him out of every tournament prior to the Championship Series. Adding him to a team that has very come close to beating elite teams could be huge. Although Washington and UBC might wish that this was a three-horse race, that just isn't the case. Sleeping on Victoria would be a mistake.
Scenarios
There are other teams playing in the tournament, but these are the teams with a legitimate shot at making it to the semifinals. Once there, Oregon should be able to take care of Whitman, UPS, or UVic, while UBC and Washington duke it out in the other semi. In the finals, Oregon's depth and speed will be too much for whichever team emerges from the other side.
A real wrench could be thrown into the system in the form of a Saturday upset. If, say, Puget Sound were to beat Washington in pool play, an Oregon-Washington semifinal would be set up. This would give UBC a greater chance of both making and winning the game-to-go. With pool play games being played to 11, something like this is a real possibility.
Although the tiers are pretty set on paper, the separation between them is small enough that something interesting could happen. While still the favorite, Oregon should not be expected to waltz through the weekend without a challenge.