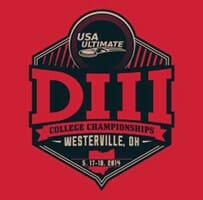 With DIII Nationals quickly approaching, the country's top teams are getting healthy and putting the finishing touches on a season's worth of work. While teams like Cedarville, Richmond, and Elon made names for themselves on the national stage, other DIII contenders quietly earned their spots at the big show and will look to upset the "favorites" this weekend.
Let's take a look at some of the lesser-recognized teams that will be fighting it out in Westerville — in their own words.
Bryant Craze
2014 Season: "In general, our season was excellent. We didn't set any short term goals besides to get better week after week. Our only goal all season has been to make Nationals and obviously that was accomplished, but as far as the season goes we did our best to improve week after week and that allowed us to peak at the right time. At regionals all of our hard work over the last eight month came together…" said the captains.
Regionals: "[Saturday was] the most frustrating day of Ultimate we have ever had. Amherst and us kicked the shit out of each other and we both ended up being too tired for our next games, resulting in losses," the captains explained. "Sunday morning we knew what we had to do: win and win by a lot. We did just that and Bowdoin was the only thing standing in our way."
Playmakers: "As a two year captain of the squad, [Joe] Scully took it upon himself to take this "unknown team" to a National level. He is an outstanding player on offense and defense and it would be hard to find a more consistent player who gives 100% (literally) every point of every tournament. Everything on offense and defense is directed and choreographed by Scully and his team has trusted him all season to lead them to the show.
"Who would think we would be mentioning a freshman here? But [Jacob Garfinkel] is for real. He is undoubtedly a huge reason for the success of the team this season as he has come in and proved he can compete with the top D-III teams as a freshman. Jacob is a great handler on offense who has all the throws to make any mark lose their mind. He also is likely to play every point along with Scully since they both take pride in always being on the line together."
"Tyler 'Snatch' Pardee is one of the toughest players and hardest workers on the team who is a dominant defender when he gets bid-happy. He is also a great deep threat for Scully and Garfinkel on offense with a huge vertical and a 6′ 3″ figure. Snatch never fails to have a highlight or two or three every game and he is only improving."
Why they will succeed: Craze will be one of the most passionate and hungry teams in Westerville this weekend. They are a "team that plays with a lot of passion and plays for each other," the captains explained. "Looking back on it, I feel bad for Bowdoin because they had no idea how badly the team they were playing wanted it. A team who had been counted out all season long finally had their chance, in one game, to show everybody they were for real. No team wanted it more than Bryant and we proved just that."
Kenyon SERF
2014 Season: Captain Max Dugan explained, "The appearance of our season as unsuccessful prior to conferences is due to the fact that most teams improvidently neglect the development aspect of the spring season. We did not win as many games in early-season tournaments because we used those tournaments, which are for all intents and purposes meaningless, to develop the depth of our roster for conferences and sectionals. Consequently, we lost more games. In my opinion, the doubt that others have of early-season losses is well worth it if a team can perform well during the tournaments that matter most."
Regionals: Dugan talked about SERF's game-to-go against Ohio Wesleyan: "It is hard to describe what was the the happiest moment in my Ultimate career. Prior to our four-point run I was certain that we had lost the game, if only because the hard-cap was nearly on. If it hadn't been for the tenacity of our sideline, that yelled until the final catch, we certainly would have given up.
"Somehow we tapped into our last reserves of energy and clawed our way back. Eventually we won, on a awkward throw from Corey [Barber-Bockelman] to myself, but it was the effort of our team, on and off the field, that really won the game. I cannot describe the feeling of winning the game; it was a sense of relief, gratefulness, and love for my team."
Playmakers: "Sam Ross is our main handler, usually drawing the other team's best defender. Piper and Henry Upton carved up defense this year. As our main two cutters they work beautifully together, skying everyone and making cutting look too easy. Ian Kenison does a bit of everything for us and ties our o-line together.
"Corey and Dan Kipp are our two best defenders. They cover the other team's best players in every game, and always do a great job making their lives unpleasant. On the turn, Corey is the captain of our offense."
Why they will succeed: "As a result of the development-focus of our initial tournaments we had a much deeper roster, and our roster was surprisingly healthy come conferences and regionals. Usually, we play our top 14 players into the ground in early tournaments in order to win more games. Instead, this year we developed our 8-17 players so that we could spread the tournament-fatigue over a larger group of people while still performing at a high level. When it came time to win important games during the series, we had a very effective top seven players who were all healthy and rested enough to compete at their peak."
Unfortunately, many of the seniors will miss Saturday due to graduation. If they can salvage Day 1 enough to be playing important games on Sunday, their fresh squad could pull a big upset.
John Brown Ironfist:
2014 Season: "It hasn't been what we expected. After our Nationals success last year, we had a lot of momentum and felt really good about the progress we had achieved as a team. Coming into the year, we wanted to prove that we were still the best in the South Central by earning a bid for our region," President Jacob Moore explained. "For a large portion of the year we were on track for that with good showings at Big D in Little d and Hendrix Ultimate Experience. Then we went to Huck Finn in St. Louis (2-5 with some disappointing losses)…This, deservedly so, bumped us out of the spotlight and left us on the outside looking in for bids."
Still, Moore is proud of the broader results: "Despite not being the team to earn the bid, we still had our goal of reaching Nationals left in front of us. We managed to take care of business at Regionals and so, while it was a bumpy ride, we're proud of our season and proud of what we've accomplished. My freshman year we went 4-18 on the season. Considering we ended this year 23-6, with 5 of our losses coming with a shorthanded roster, we feel proud of the progress we've made as a team in recent years."
Regionals: "This is a memory I will never forget. We blew through all of our competition. Aside from an early 2-4 deficit to Air Force before we turned on the jets (pun intended) and beat them, we were never behind. That is, not until the second half of the Truman game," explained Moore. "We were facing a 13-9 deficit with our season on the line. Our star players were hurting and thought that their seasons and careers were over. Our sidelines really came through for us in that game, though. They were rushing the field after every point, whether we scored or not. Ironically, when our season was on the line, it was not the older players who kept the team believing and led. We may have been doing most of the playing, but it was younger players who never lost faith and pushed our older players to keep moving forward…It was only fitting that when [Chris] Genheimer overthrew [Andrew] Goode on the last point, Drew Taylor, a sophomore, was there hunting it down."
Moore continued, "One (player) almost passed out after the game, and I was legitimately worried he was going to have a stroke. Another of our players was diagnosed with strep throat and a fever by a doctor the next day. Another player played all but two points on a knee that he could barely walk on the next day. I only tell you all this so I can tell you that it was not our superior talent that won the game, although talent helped. It was guts."
Playmakers: "Some heavy hitters on O [are] Andrew Goode, Chris Genheimer, Jacob Moore, and the four other guys on the O-line who will be better than us seniors very soon if they aren't already.
"Heavy hitters on D: Ethan Penner, Justin Riepma, and Clayton Rowe"
Why they will succeed: "We are a much deeper team this year than last. Last year we ran about a ten-man rotation at Nationals. It was grueling and didn't work. We were up late in all of our games (12-10 on Claremont before losing 15-12, and 10-8 on Wesleyan before losing 12-10). That proves that we were too reliant on too few players. We were experiencing cramps, we had guys hurting, and we tried to push through it. We couldn't do it, which left a bitter taste in our mouth.
This year, we've made it clear to younger players that we need them. We have gone from a ten deep rotation to playing our top fourteen to sixteen guys consistently. That is an amazing difference. We actually have something resembling true O and D lines this year. Having guys being able to play one point and then get a sub makes us a much different team than last year."
Olivet Nazarene Black Penguins:
2014 Season: Captain Reece Storey: "We started off the season getting fifteen new freshman by recruiting through Facebook over the summer. We officially had our first tryouts for the team ever with the amount of people we had interested. The season was definitely something I expected of us. I knew if it was going to be any year that we would go to Nationals, I knew it was going to be this year.
Our younger guys have stepped up tremendously from the fall semester until now and we have quite a few freshman starters as well. Our record may not have shown our true potential as a team. The tournaments this year just weren't that great due to weather and finally for regionals we had good weather which led to us being able to show our true potential."
Regionals: "Well, to be honest we didn't expect to take the region so easily. We knew it would be a hard road to win out for the weekend, but we played the best we've played all season on those two days. Everything just went our way the two days of regionals.
"I think a big change from the rest of the season to the day of regionals was the fact that our D-line had so many breaks that we couldn't even count them all anymore. They were the main reason we were able to succeed so well that weekend. I remember, personally, being an O-line starter that I didn't even have to go in for two to three points sometimes in the championship game against Wheaton because our D-line would just dominate."
Playmakers: "Some of our stand-outs are Nick Geever (senior), a starting D-Line handler. We call him the monster D for our team. He is the one person you can count on for at least five D's a game. Myself, Reece Storey (senior), starting O-line in cutter. The offense is ran through me and Zac Carlton (junior), starting O-line handler, for the most part. But like I said earlier, everyone else on those starting lines is just as vital for us to be able to compete with other teams. Everyone is able to step up on our starting lines at any random time."
Why they will succeed: "We run O-lines and D-lines which is a first for our team because of the number of people we have on our team. I think what makes us different from any team is our depth. We have two full solid lines that are our O and D lines, half of which are freshman. We only have four seniors on our team this year. That being said, a lot of work is done through them on both the O-line and D-line, but the other guys are just as vital to the lines working as well as they do."