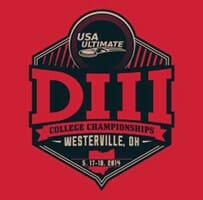 Today, I'm taking a look at Pools B and C. Riddled by injuries and absences due to graduation, don't expect chalk out of these groups.
Pool B
Despite St. John's impressive regionals performance, Lehigh is still the favorite in Pool B. They've taken down BAM twice this season (at unsanctioned, yet still high-intensity tournaments) and they've shown from Day 1 until Nationals that they're talented and ready. With Bentley's short Saturday roster, Lehigh is Vegas' pick to win the tournament.
 Moreover, they're unaffected by injuries or graduation, two things that not every team in this pool can say.
Second-seeded Geneseo will be missing around 11 of a 24-man roster and a handful of their top 10 because of graduation. This doesn't include the loss of POTY candidate Dave Abbott who will try to play lefty with a cast on his broken right arm, but his status looks grim.
Third-seeded St. John's had graduation this past weekend, but captain Dan Cahill will not be in attendance on Sunday to accept a senior award on campus.
Fourth-seeded Brandeis will be missing star handler Max Zaslove (also may try lefty) to injury and Justin Lesser to graduation. Lefty playmaker Nadav Pearl will be missing graduation to play both days.
With Geneseo's depleted roster, this pool feels like it splits at a pretty clean break. St. John's essentially jumps Geneseo in the pool and will fight it out with Lehigh for the top spot, while the Metro East champs will have to fend off Brandeis for third in the pool.
The Geneseo-Brandeis matchup will come down to the performance of role players in more prominent positions. With the absence of Snail's top players, everyone on the roster is asked to do more. Without Zaslove and Lesser, Elan Kane and Hansen Yang will have to fill in playing big points behind the disc.
Watch how Geneseo manages their tournament. They may go all-out at 9:00 AM against Brandeis and then play reserved against BAM and Lehigh in order to be prepared for their crossover. Lehigh and St. John's face off at 9:00 AM as well, so the direction of this pool should be clear early on.
Brandeis was 2-0 against St. John's at Warmup but this is a much different BAM team. Pat Kunkel is mostly healthy and they're finally clicking in typical St. John's fashion. I think that Brandeis gives St. John's and Lehigh good games nonetheless.
The battle for 1st and 2nd will be one to follow. Lehigh's Nick "Falcore" Mathison and St. John's' Nihal Bhakta will likely draw each other on defense. The two cutters are huge, physical, and great in the air. They're both integral parts of their respective offenses and whichever big-man can limit his counterpart will put his team in a position to succeed.
Pool C
Claremont comes into Pool C seeded first but still a relative mystery to many around the country. The Braineaters might be very good. They looked strong at Warmup and played San Diego State to within two. They also might come out flat. This team hasn't played a Nationals-level opponent in three months and they were 10 minutes away from not making the Championships. Do warm weather teams peak too early?
What we know for sure is that the game between the Braineaters and Elon will be a good one. Elon is seeded 6th after falling to Richmond at Regionals but they're widely considered a tournament favorite. In conversations with captains around the country, Elon seems to be a team universally seen going pretty far.
Still, it starts with Claremont.
These teams are very similar. Talented across the board, neither relies on a single superstar to move the disc. They both rely on high percentage throws and favor the unders in order to soften up the deep game. Andrew Rodgers and Peter Bostancic do a lot of the heavy lifting for Elon as do Alex Gruver and Jimmy Bright Dumm for Claremont.
The two teams face off at 2:45 on Saturday, giving Claremont ample time to collect themselves before the big game.
Bryant and Kenyon will have a tough time cracking the top two in this pool. Kenyon will be without their seniors on Saturday and Bryant doesn't seem like a mature enough team to match the experience of the top two seeds.
Though it's rumored that SERF may book it to Westerville after graduation to catch the Bryant game or prequarters, without the likes of Max Dugan, Corey Barber-Bockelman, and others, they may struggle as they did early in the season.
Bryant seems to rely too heavily on captain Joe Scully- a senior who plays every single point for this team. Without question Scully is talented, but the rest of the Craze roster may not be equipped to play with Claremont and Elon. Also getting a lot of touches will be Jacob Garfinkel, a freshman handler. Watch how Garfinkel handles himself against experienced competition.
The 2:45 game between the two teams may decide who finishes 3rd in the pool.
The third-place finisher will be rewarded with a spot in prequarters but punished with their opponent. The 3C crossover will likely find the St. John's or Lehigh waiting for them- a very tough draw for any team at the tournament.
The second-place finisher however, has it a bit easier. Brandeis and Geneseo are quality teams but given their circumstances (particularly Geneseo's), the 2B-3C crossover might not be as grueling as many of the other prequarters matchups.