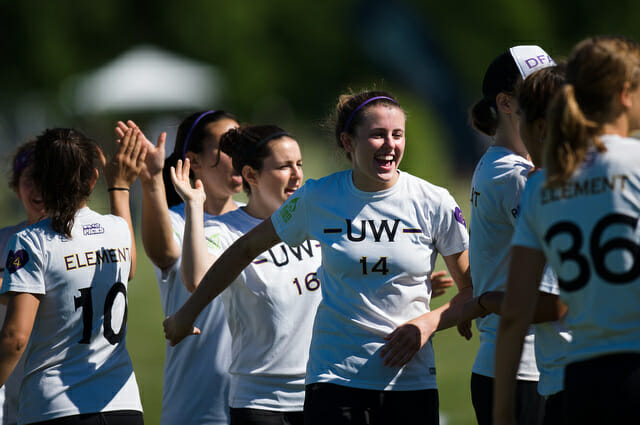 Day one of the College Championships is in the books and we're starting to get our first impressions of who is for real and who isn't. Teams are already making cases for byes to quarters or being essentially eliminated from prequarters contention. With so much action Friday, here are some the main storylines coming out of the first act of Nationals weekend, along with a look at tomorrow's action.
Top Seeds Not Perfect, But A Cut Above
It seems the favorites coming in this weekend were all heavy favorites – particularly Ohio State, Oregon, and Central Florida – and day one revealed both flaws, but also that these teams look a step above the competition.
UCF began their day very late and against stiff competition: 6th seeded Carleton Syzygy, the second team in their pool. The third overall seeded Sirens wasted no time in establishing their Pool C dominance, staking out a first half lead they would never relinquish. They let Carleton hang around in the game, giving hope for a comeback, but eventually claimed their win, 15-9.
Their second game against Colorado also featured hiccups. The first half was tight, with UCF a little sluggish after their late game inefficiencies against Syzygy, and Colorado fired up. The Central Florida zone had troubled with a fast moving Kali handler group. The second half was a blowout, showing just how much stronger the Sirens' were, and they won handily, 15-7.
The story isn't much different for Oregon and Ohio State.
Oregon took a while to get their legs underneath them in their morning game against Colorado College. Their pool five seed stayed with them most of the way – a run in the back end of the first half accounted for most to the lead – and their offense was sloppy. Fugue found Lisi Lohre a problematic matchup and never seemed to find a groove on their way to the 15-10 victory.
They later got all they could handle from a strong Stanford team. Superfly had shown they could compete with Oregon at Stanford Invite, and confirmed that today in an 15-13 loss. The NW champs looked good in the second half, but had to fight for it. The performance lacked the flavor of dominance we've all come to expect from Fugue.
Ohio State's challenge came in the form of their tournament opener against Michigan. Fever's start, similar to Oregon's, was rather sloppy, and a solid team like the Great Lakes winner refused to look the other way when OSU made mistakes. Meeri Chang and company got as close as 10-9 before Fever powered away and took it 15-9.
To see each of the top three teams going 2-0 is no surprise, and to see them dominate at points is expected, but to see each of them bare their flaws on day one was noteworthy. How the teams – or even another surprise team – take advantage of those cracks in the dam is another story altogether.
Pool D Within Washington's Grasp
The four and five overall seeds each had claim to the top of Pool D and were 1-0 when they tangled on the showcase field Friday afternoon. After Washington's impressive first half comeback and second half stranglehold, it was Element that remained atop the pool and in position to win a bye into Quarterfinals on Saturday.
Washington went in with a plan to expose Santa Barbara's shallow roster and reliance on stars and found a lot of success. They poached lanes, mixed defensive looks, and picked smart matchups; UCSB failed to adjust. Coming off their easy game against Cornell, they had every reason to take that line when UC-Santa Barbara tired themselves out against UCLA.
The second was mostly Element's, with the Burning Skirts only making a run late in the game, with the final buzzer approaching. The final was 15-11.
For Washington, who hadn't put together a lot of strong performances against elite competition, to play clean and intelligent Ultimate on day one of nationals portends a team in contention. The rest of their pool games look very winnable and they may have paved a path to the semifinals.
Conversely, Santa Barbara didn't deliver on the promise of their season in day one. Their poor start against UCLA not only could be cause for concern it its own right – although UCLA has played their regional champ tightly in their three other matchups – but it also appears to have blend into their Washington loss. In their second game of day one, the gas tank shouldn't approach E; there's a lot of weekend left.
Northwest Region Off to Inauspicious Start
There was four upsets during Friday's pool play rounds and all four were against Northwest Region team. The row of three seeds each found themselves falling behind a lower seeded team: Victoria was decimated by Virginia, Whitman narrowly bested by UCLA, Western Washington went 0-2 against the two lower seeds in Pool B, and British Columbia was edged by Northeastern.
After locking up a record six total bids to the College Championship, much was made of the Northwest Region's strength. With two of the top performing teams at the tournament – Oregon and Washington – still looking strong, the NW is far from weak. However, this disappointing start may deflate the zealous masses of the region's fans.
Western and UBC were too of the more surprising losses, at each had shown during the regular season that they could push top tier teams. WWU has not recaptured that form since their breakout tournament, in part because Callahan nominee Callie Mah is rarely healthy; Mah is out with what a hamstring issue, as of the last report on twitter. British Columbia also seemed poised for a big tournament, underseeded because of a loss at Regionals, but failed to contain the height of Northeastern.
Looking Forward to Saturday
In Pool A, things appear settled with Ohio State, Michigan, and Virginia at the top. The only thing that could make waves is a Victoria upset over Michigan at 12:30 PM.
Pool B depends on how far Colorado College could really go. They play both Stanford and Tufts tomorrow, and a win against either would land them in prequarters.
It is wide open in Pool C, as predicted based on the pool's parity. Colorado still has upset potential, and all the other three teams are talented. UBC and Carleton will be a critical pool play battle.
Pool D also seems fairly settled, with Washington, UC-Santa Barbara, and UCLA looking like they'll advance into the bracket. Cornell has been outclassed and Whitman has a tough road ahead of them.