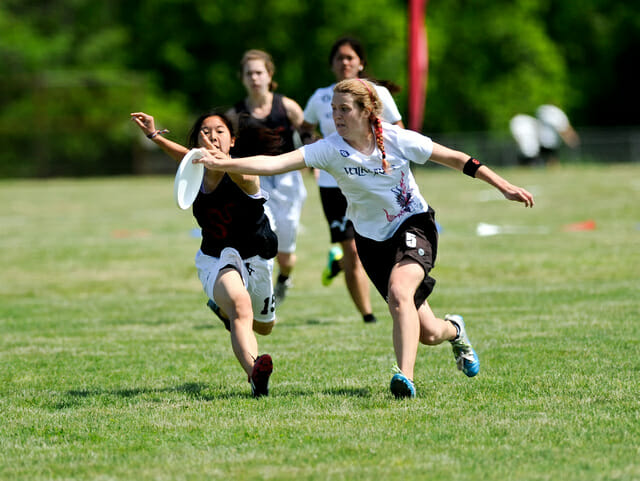 The Central Florida Sirens held their throne today with a pair of capable wins over Carleton College (15-9) and Colorado (15-9). Sunny Harris was Sunny Harris, and the Sirens took care of business with ease.
That was the only easy part of Pool C today.
Many agreed that Northeastern was under-seeded, but they proved it in spades today with a close match against Carleton and a well-deserved upset over British Columbia. Their upset over UBC only moved them temporarily into the 3-seed, but a win like this in a pool this dangerous essentially shuffles the deck.
Northeastern took the first point in their game against Carleton, and then they set their notorious zone in light wind against Carleton's handlers. Kirstie Barton, Julia Snyder, and Lucia Childs-Walker had the throws to find windows through the Valkyries' tall zone, but 50/50 shots from both teams made points long and the score close.
Northeastern has an effective pattern, and they always hold true: put a terrifyingly tall zone on your opponent, and off a turn look deep to the same tall Valkyries who are able to snag even the worst passes. Again, Lizzie Jones and Hannah Walter anchored the backfield with big throws and ready resets; again Jenni Ladutko had sticky hands deep; and again Kate Flood was a formidable force on offense and defense, throwing her body with abandon into her team's cause.
Northeastern stayed close with Carleton, fighting each point like it was the last battle, but Carleton's well-practiced offense took them into half 8-6. The game was discipline versus guts, and both teams executed such aggressive, close defense that points stretched into oblivion. Nevertheless, Carleton held the lead with experience and control, and they held a 2 or 3 point margin throughout the second half, holding Northeastern at arm's length away from a lead.
Syzygy emerged from the long and well-battled game with a 15-10 win, but Northeastern's fearless play showed that they're ready to hang with any team that lines up against them.
Northeastern carried this energy into their game against the 3-seed British Columbia, grabbing a break early so that UBC was perpetually on serve. British Columbia had the talent to stay in the game: Mira Donaldson was dangerous whenever she was on the field, and she was on the field a lot. Their handlers found the sly passes through Northeastern's zone, but any small turn was immediately punted deep, and caught, by Lizzie Jones and her huge receivers.
British Columbia strained for the break, but the Valkyries never released their grip on the game, and UBC didn't have the defense to stop Northeastern's arsenal of options. They held close until the game was 13-13, and Northeastern grabbed the win 14-13.
Pool C is up for grabs: Carleton and UBC, an even match, have yet to play. Northeastern will have to hold their place by beating the capable 5-seed Colorado, and they will rematch their Centex final opponent, Central Florida. Central Florida will emerge on top, relatively blemish-free. Colorado may end their pool play as they ended their Regionals, barely scraping by. But there's a lot of wiggle room in the middle, and Northeastern is looking to grow.