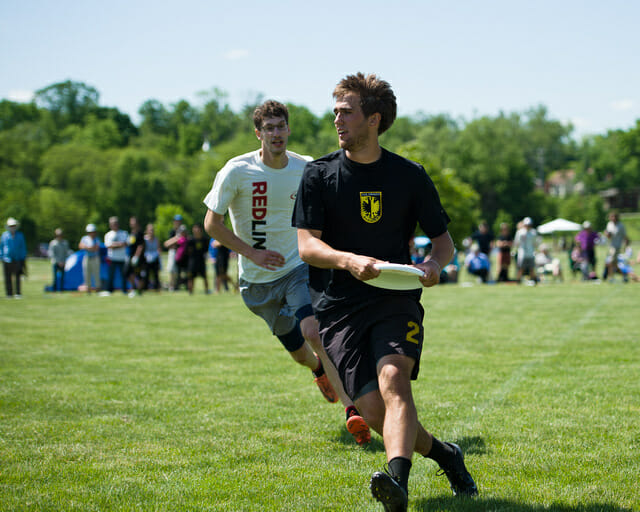 All five of the games in Pool A may have gone to seed on Friday, but there was a lot more to learn by watching them play out.
Perhaps the biggest surprise may have come in the form of Wisconsin's quietly excellent day. Sure, one would likely expect them to take care of Eastern Michigan and UC San Diego, but such an assumption downplays how well the Hodags did today.
Their distribution on offense could rival any team, as eleven different people scored in their 15-7 trouncing of UCSD. More importantly, for a team with a Nexgen baller and an athletic 6'6" cutter in Colin Camp who draws a lot of attention, they function frighteningly well as an essentially faceless unit.
No one or two people run their offense or dominate the cutting. They do a superb job of moving the disc and themselves, constantly opening up new lanes and making it difficult for opponents to know where the disc is on the field.
Coach Hector Valdivia's confidence in his team and their legs for days may be well warranted. Their two hardest match-ups — Colorado and Harvard — come tomorrow and will be the first true tests of whether or not the Hodags will be a sleeper quarters team.
Standing in their way is the dangerous Red Line. Harvard's game against UCSD may have been closer than they would have liked — and they in no way controlled that game at any point — but on some level a win is a win. Even if it is on double game point.
What makes that match reflect a bit better on Red Line, other than the necessary credit due to an Air Squids team that played terrific for most of the contest, is their level of play against Mamabird.
Hanging with the #1 seed and only letting it slip away at the end might just say more than the 15-11 final score. Considering that Colorado and Pitt currently look like the only two teams on another level right now, any team that can give them a real game should receive a certain amount of attention.
Red Line's game against Hodags tomorrow is sure to be the most exciting of the pool's remaining games and will likely decide who earns the second seed and an (ostensibly) easier pull for prequarters at the end of the day.
Unless UCSD and EMU play out of their mind tomorrow, it's likely that they'll both be dropped to the consolation bracket, despite their often outstanding play today.
The Air Squids may have tanked against the Hodags, but their grudge match with Red Line proved they challenge anyone when they're executing. It's pretty unlikely that they'll be able to best a soaring Mamabird, but if the latter sleep on the Air Squids then they might be for a closer game than they might have hoped.
Similarly, though EMU too remains 0-2 after Friday, their peaks were scary high. Johnny Bansfield and James Highsmith are among the best and most athletic cutters at the tournament, when they can catch a breath in between just about every point.
If the Fighting Hellfish can string together a full game, or two, they have a legitimate chance to upset the Air Squids and Red Line and sneak into prequarters. They'll just have to figure out how to be efficient on offense and secure a few breaks on D.
It would be a surprise, but it's not impossible.
What wouldn't be a surprise is if Colorado cleaned up the rest of their pool and take it to Wisconsin and UCSD. Such opponents aren't exactly out of Mamabird's league, but it would take an extraordinary, unprecedented performance by the two in order for them to have a shot at taking down the clear favorite.
All Mamabird would have to do to secure a bye into quarters would be to play as well as they already have. Even if they slip a little, there's still very little likelihood that they will find themselves at anything other than 4-0 by tomorrow afternoon.
Much of the drama on Saturday will come down to the placement of the second and third seeds, wherein the Round 3 match-up between Wisconsin and Harvard probably serving as the deciding factor.