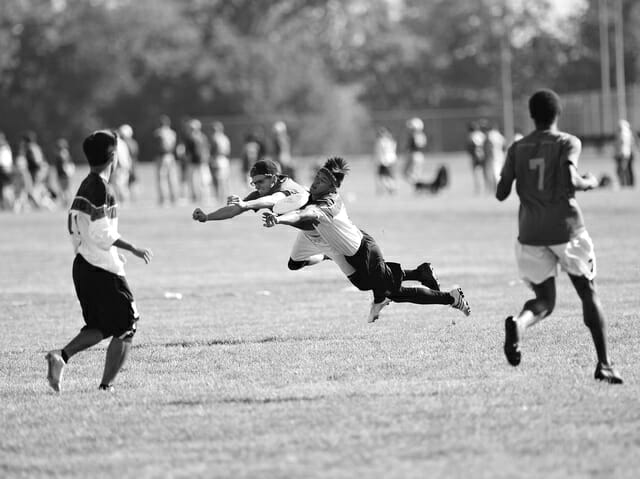 Here's a recap of the 7th round games (10:30 AM EST) at the 2014 College Championships.
MEN'S
Pittsburgh (#2) v. Michigan (#11)
Pittsburgh dominated Michigan wire-to-wire in a rematch of the 2014 Easterns final, closing out a dominant 15-8 win and putting themselves one step closer to a pool victory.
The defending National Champions came out hot, with two quick breaks, taking advantage of a short field drop and a throwaway from the Michigan offense. After Michigan held on offense to make it 2-1, Pitt scored four straight, opening up a 6-1 lead that basically sealed the game.
Pitt used a combination of "kill" lines designed to get breaks and more typical defensive lines throughout the first half. Though Michigan got two breaks back with their junk zone creating some Pittsburgh execution mistakes, they still trailed 8-5 at the break.
Pitt came out strong in the second half thanks to strong play from Pat Earles and the entire defensive line. After Pitt extended the lead back to six, both teams emptied their benches as the game wound down in garbage time.
Pitt has yet to face a challenge this weekend, and will likely play UCF for the pool this afternoon.
Texas A&M (#7) v. Dartmouth (#18)
Texas A&M finally gets into the win column with a 15-12 effort over Dartmouth, further muddying the waters of Pool B.
When you distill the game down there are some distinct factors that favored Dozen.
There's less wind today, which takes some of the teeth out of Dartmouth's fierce zone. A&M went 0-2 yesterday and had the luxury of playing with reckless abandon.
Oh yeah, Matt Bennett also threw 11 goals. Yeah. 11.
That kind of stuff doesn't even happen at summer league. It doesn't happen at pickup. Yet, here A&M is, runnin' and gunnin' with Matt Bennett. To throw 11 goals in a game, against elite college competition, you have to play a lot of points. Bennett has certainly done that.
"Yesterday he took a couple points off," said Dozen head coach Jose Cespedes. "I always talk to him and see how he's feeling. If he's good, he'll play."
A&M played yesterday without standout Dalton Smith, who is dealing with a hamstring injury. Smith was available for light duty but not nearly at full speed against Dartmouth. Robert Lewis (#9) and Thomas Slack (#23) have also stepped up for Dozen on both sides of the disc.
With a lot of late game layout D's and the ever-present "anything can happen" aura in the air, Dartmouth and A&M put on a great show. Dartmouth cutters took Dozen defenders up line at will. Bennett tortured Pain Train with break scoobers that got defenders talking to themselves, including two 35 yarders. Really fun to watch.
Keys to the Game
Dartmouth has some great players but they don't have a Matt Bennett. The dude threw 11 goals. That's unreal.
"That's how he always plays," Cespedes added when asked if this is the Matt Bennett A&M always gets. "Throws a lot of goals. We're lucky to have him."
Other Notes
– Another great game within the game in this one as Bennett and Dartmouth's Spencer Diamond squared off. Two similarly built, squirrely All-Region talents.
– A&M is having fun. Teams like that can be dangerous.
– If the wind picks up like it did yesterday, Dartmouth can play with anyone at this tournament.
– Teams have insisted on forcing Bennett backhand at different points this entire tournament. It gives him his best huck and his best set of breaks. It's a mistake.
North Carolina (#6) v. Massachusetts (#19)
Texas (#3) v. Florida State (#11)
In round two of Pool C, the top two seeds stayed true to their high-skill form. UNC was able to beat a tired UMass team 15-6, while Texas took care of business against Florida State with a 15-10 win. Texas had contributions from big men Driscoll and Cunningham, who threw through DUF zones for most of the second half.
This eliminates FSU from championship bracket play and locks in the top 3 seeds of Pool C. Advancing will be Tufts, UNC, and Texas. The order of the pool will be decided in the last round matchup between Texas and Tufts. Seeding from this pool is extremely important, and UNC can lock up a bye into quarters with a win over FSU.
WOMEN'S
Central Florida (#3) vs. British Columbia (#10)
Central Florida locked up the bye to quarterfinals with a win over British Columbia in the second round of Saturday, 15-10. Central Florida rolled in the end of each half, with runs from UBC occurring between, but never really losing control.
The game was a classic show of the Sirens' strengths: stifling zone defense and blistering transition offense. From the get go, British Columbia made it clear that they were going to try to use their disc skills to attack. Unfortunately for the Thunderbirds, that manifested in high throws and over the top shots that are difficult to complete against athletic defenders or in light breezes, and particularly against both at the same time.
Once the Sirens wised up to the hammers and blades and began contesting them, they were in position to rush the other way with their signature combination of dish throws and deep shots. UCF star and Callahan nominee Sunny Harris showed off an arsenal of break throws. Meanwhile, UBC's Mira Donaldson struggled mightily, throwing six turnovers in the first half, including a Callahan.
Central Florida came out of the first half with an 8-4 lead, but with Donaldson stepping up her play, the Canadian group fought back. They connected more consistently against the zone and set one of their own, helping them climb back to as close as 9-10.
The Sirens responded, clamping down defensively and returning to their usual strategies. They seized momentum and rolled away as UBC fell back into bad habits with turnovers on difficult looks and disorganization on offense.
UCF's victory gets them the victory in Pool C, while British Columbia will need help to make prequarters: if Central Florida beats Northeastern, UBC is in. Otherwise, they'll need to win their game against Carleton and the point differential to qualify.
UC-Santa Barbara (#5) vs. Cornell (#20)
Santa Barbara had no trouble putting away Cornell, winning their second game of the weekend, 15-5.
The teams traded early, before the Burning Skirts ran away, opening up an 8-3 lead at the half with a five point run. In the second half, the final seed only registered two goals.
UCSB had contributions from all of their big four, with Lisa Pitcaithley, Noelle Neason, and Kelly Gross lighting up the score columns. The game is a far cry from their struggle to start to Friday against UCLA and could save their legs for an important game against Whitman.
Oregon (#2) vs. Western Washington (#11)
Oregon Fugue polished off a regional matchup against Western Washington in the second round, winning 15-8. Fugue threw a big zone on Chaos, forcing more of their roster to take risky looks and to make 50/50 throws.
Western's offense found Alea Clymer again and again during their game against Oregon. They saw her twice to score in the first half, but for every point that Western worked up and won, Oregon was able to quickly score. Fugue took a four point run to reach half, 8-3, and then scored again out of half.
Oregon's aggressive and disciplined play continued through the second half, and for every point that Western secured, Fugue was able to answer with a fast score. Crymer continued to ball for Western with big ups for the score, 7-13, but Fugue nevertheless rolled through for the win.
Carleton (#6) vs. Colorado (#19)
After a sloppier Friday for both teams, Carleton and Colorado duked it out in a well-matched game that Syzygy was able to run away with, 15-9. Kali entered the game on a high from a double game point win over Northeastern, and they held with Syzygy early, matching their scores and their zone, 4-4. Colorado and Carleton both rely on fluid offense through their heavy decks of handlers and skilled cutters: Kirstie Barton, Julia Snyder, and Emily Buckner ran the Carleton O-line while Meagan Cousins, Christina Mickle, and Stephanie Frost anchored the Kali O-line.
Syzygy was able to secure half 8-6, but as a slight crosswind picked up in the second half, Syzygy's zone generated the turns they wanted to create key separation, scoring 4 points out of half. Colorado's offense tightened up as they rediscovered their quick breaks, but Syzygy remained dominant through the end, winning 15-9.
Stanford (#7) vs. Colorado College (#18)
Colorado College continued their streak of upsets with a huge win over Stanford Superfly, 12-9. A deadly combination of overthrows, missed connections, and cautious play made Superfly look drastically different from the team that beat Tufts yesterday.
Strata came out hot against Superfly's man defense with several deep looks from Lisi Lohre, and for the rest of the game Stanford adjusted to play a zone-and-one against Lohre. They managed to take her out of some plays, but with little wind the other Strata handlers were able to easily put up hammers and cross-field swings that created crucial space.
Strata was on fire in the first half, going up 7-4 on big looks from Chloё Rowse to the freshman Annie Brewster. Superfly earned back a point on a long zone point, but Strata took half 8-5 after burning through Stanford's zone. Virginia Hill was huge in the zone and in the endzone for Strata, with well-timed midfield cuts and sticky hands that earned her handfuls of points.
Stanford fought back to get close, 9-10, but by the time soft cap was called, Strata surged ahead to find Hill for the final two points, and a massive layout bid to earn them the upset, 12-9.