Thanks to a dominant performance from likely Callahan finalist Sophie Darch, Oregon pulled out a 15-13 victory over Virginia in the quarterfinals.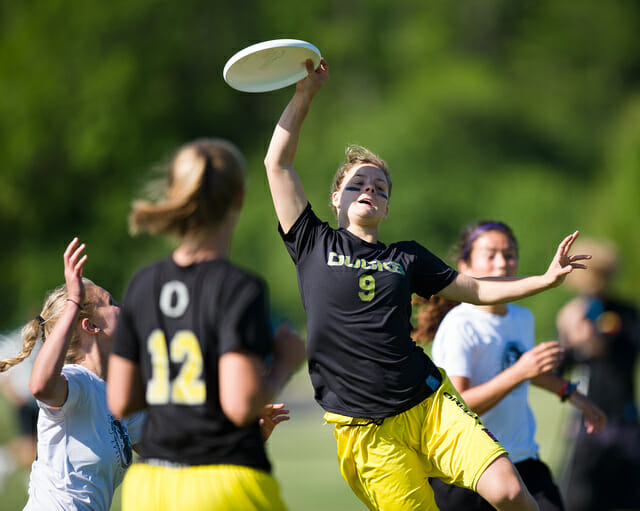 Oregon and Virginia, two of the nation's most consistent programs, battled it out for a spot in the semifinals. Virginia was the heavy, if comfortable, underdog, and gave Oregon their biggest scare of the tournament. Oregon was able to finish off the game in exciting fashion, behind a dominant performance from likely Callahan finalist Sophie Darch, and pulled out a 15-13 victory.
As anticipated, the two teams opened the game with volleys of trading, but Oregon seemed in control of the tone. A number of Oregon points ideal for Fugue: quick goals powered by isolation sets and big hucks from Darch. However, two of those goals came on multiple possessions, courtesy of Virginia drops.
Virginia turned to their star, Alika Johnston, who's quick resets and breaks throws went undefended for most of the game. Johnston had only two assists in the first half, but set up a number of Virginia's other scores. One of the only times Oregon answered Johnston was at 3-3, when freshman Gabrielle Aufderheide point blocked her in an Oregon junk set. Hayley Wahlroos hauled in the first break of the game.
Once Virginia tied it up at 4-4, the game got surprisingly clean, with only one more turnover in the first half. Darch added two assists, giving her three in the first half and helping Oregon take half 8-6.
All game, Virginia struggled to take away Oregon's huge backhand breakside hucks; Fugue calls them "wrong shoulder" throws. The Northwest champs had a lot of success with the strategy, which Jesse Shofner called Oregon's "bread and butter."
"That's something we practice. That's just something we like to do," said Darch after the game. Darch and Shofner in particular launched numerous of those throws, often to senior cutter Adrienne Bovee, who finished with a game-leading six goals.
"The difference was Sophie Darch's backhand huck. And Adrienne Bovee is really good in the air and made some plays," said Virginia Coach David Allison, "We had some people in position on those backhand hucks, but she's just bigger and got up higher."
Oregon jumped out to a three point lead to start the second half, but Hydra responded, battling back to one multiple times. Both defenses ratcheted up the pressure and both offenses responded with clean points and patient possessions. At 13-11, they made their stand, following another Darch backhand huck to Bovee. Johnston scored to make it 13-12, and while Darch went to the big backhand well again, it was just out of Bovee's reach. Hydra went the other way, and Johnston put up a flick to a streaking Theresa Hackett. The senior bid into the end zone and got her hand on the disc, but it escaped her grasp.
Shofner soon fired the bread and butter throw to Bovee, who went up over Johnston as she closed in from out of position, and came down with the score. Virginia held and took a timeout.
"If we make them throw a lot of throws, then they're going to turn it," Coach Allison told him team in the huddle.
The final point was a thrilling one, with each team turning the disc over more than they had at any other point in the game. An Alex Ode huck bladed over, with Sarah Hansen getting a D on Darch. The senior star responded with a huge layout on an Hansen under cut. Hansen got the next one on a Darch upline look, but Ode returned the favor with a layout D of her own. Ashley Young lost the disc while faking and a Virginia misthrow trailed harmlessly out of the side of the end zone.
Finally, Oregon got what they were looking for: another Darch backhand to the back breakside corner of the end zone. Olivia Bartruff tracked it down, but an in/out dispute sent the disc back. Once the disc was in, Shofner beat her defender up the line, then tossed up a jump ball IO. In heroic fashion, Bovee went up and over a pack of players to haul in the game winner.
"I'll throw 50-50 hucks to Adrienne Bovee all day. The girl is resilient," Shofner said with a smile following the game.
Shofner had a huge impact, with two goals and four assists. Darch finished the game a goal, five assists, and a D. Johnston recorded a goal and five assists as well for Virginia. Sarah Hansen three goals and three Ds.
Virginia came a long way to make it this far, another quarterfinal exit. They came all the way from the 13th overall seed, an unlikely team to finish in the top 8 and nearly topple the reigning champions. The team plays with a chip on their shoulder and has a lot of heart. They're earning the respect they think they deserve.
"We belong. We fought all year to show that," said Allison. "I said last night in the meeting that the team that gives 100% is going to win, and I think we gave 99.5 and they gave 99.9…There's not many teams that could do what we just did, even though we lost."
Oregon showed a lot of respect for the talent Virginia possesses, but will move on with expectations for bigger and better things. What was once a projected showdown with Central Florida with title hopes on the line is now a reality. Both teams have been thinking about it for months. Now it is all on the line.