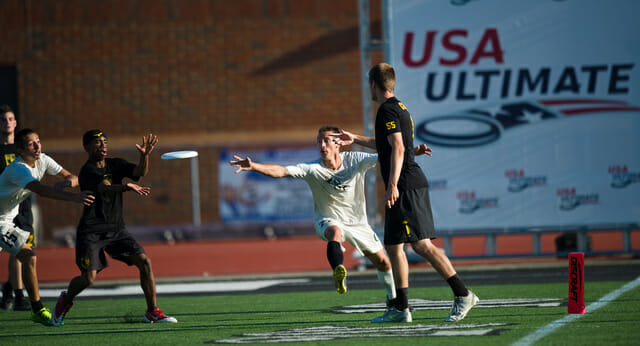 The first semifinal of the Men's College Championships featured a matchup between number one seed Colorado Mamabird and number four seed Oregon Ego. Just over an hour before, Jimmy Mickle of Mamabird was crowned the 2014 Callahan Award Winner for best college player, thus pitting the past two winners (Dylan Freechild 2013) against each other.
From the get go, it was downhill for Oregon, who gave up two straight breaks and Gabe Fruchter go down with an injury, en route to a 15-8 loss.
"I think it was a mental blow," said Oregon coach Jay Janin, speaking of the Fruchter loss early in the contest. "It's really hard to see a teammate like that go down." Oregon needed help in the deep game early, and with Fruchter going out during the first point on a terrible injury, Ego lost their 6'4'' defender. Also a huge offensive piece, Fruchter going down disrupted the entire Oregon game plan.
"If our offense doesn't convert, we really go downhill from there," said Janin. "And it wasn't a string of three or four, it was the whole game."
The desperation of the game quickly began to show on the faces of the Ego sideline and the body language of leaders. The offensive miscues snowballed, totaling in a massive 15 turns during the game. Oregon was able to get the disc back after turns all weekend, but only did it half the time against Mamabird, allowing seven breaks. While this all can't be credited to the loss of a great cutter in Fruchter, the change in intensity was clear from the moment of the injury.
Besides the personnel changes for Oregon, the obvious question for both teams was: how do you stop the opponent's star? From the very beginning, Colorado remained unpredictable in their answer. To neutralize Freechild and the other Ego standouts, Colorado used three different strategies.
1. Rotation, Rotation, Rotation – Freechild never knew who was going to run down and pick him up, which threw him for a loop. Rather than getting keyed in on his defender's weakness, he saw different looks throughout the game. As soon as he had an idea, someone new was on him. Colorado deployed Dennison Bechis, Stanley Peterson, Jeremy Harker, Mark Rauls, and, of course, Jimmy Mickle.
2. Upline Offline – The Oregon mantra is small ball short game, which utilizes the upline cut from the dump. To stop that, the Mamabird marks recognized the approaching cut and left the thrower to cover the dump. The defender covering the cutter then switched to the mark. This small pause in the Ego flow made Oregon think twice about their gameplan.
3. Offense Plugged Up – When Oregon fell into a high stall situation (above 5) the Colorado marks rotated to stop the around resets. Likewise, the dump defender moved in cohesion to prevent the upline. From anywhere on the field this made backfield resets difficult, and the offense stagnant. When Oregon couldn't get its resets, they threw deep. Needless to say, Colorado dominated the deep game.
These three systems disrupted the Ego offense to no end. And on offense, Colorado only gave Oregon four chances to try to catch up. Four moments to catch up after a 4-1 start by Mamabird. This morning, Oregon had nine chances against Texas, and converted seven of them. But Texas was a different animal, one that in no way prepared them for the textbook execution of Colarado. Oregon would break only once on their four chances. Once was not enough, and Mamabird won 15-8.
Needless to say Colorado's gameplan went almost perfectly to plan. "We really wanted to come out and play how we knew we could play. We know they would be afraid of us going deep so we took a lot of unders and just tried to work it efficiently down the field and take care of business," said Mamabird's Jimmy Mickle.
Mickle finished with only three assists, but it wasn't for a lack of talent. Colarado let everyone watching know that they weren't a one horse show.
Colorado had big performances from Senior Dennison Bechis and Junior Stanley Peterson. Bechis finished with four assists and three goals, including the deep score to take half 8-4. When asked about such spread involvement, Mamabird CoachJim Schoettler said, "We took a smaller team this year and everybody on the team pretty much plays in every game." And with no stage bigger, thats what it might take.
***
In our interview with Ego coach Jay Janin, Janin didn't shy away from letting us know how far this team had come. "Three weeks ago, four weeks ago, I never really guessed we would have gotten this far," he said. "And in some ways I think it was an advantage to us to come in as a bit of an underdog. We played better at this tournament than we have all year."
Freechild declined an interview request.