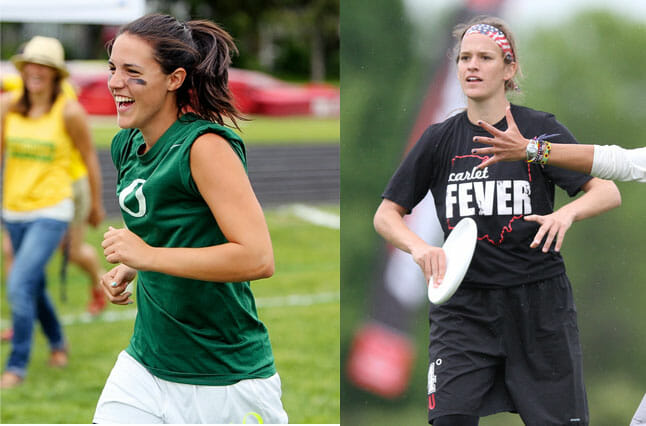 A lot of adjectives have been attached to Ohio State and Oregon, but few apply to both teams. Oregon is physical, fast, aggressive, and forceful. Ohio State is deliberate, methodical, and disciplined. These styles will collide today in the College Championships final, and Oregon will be hungry for revenge.
"It's the rematch we've been wanting ever since Northwest Challenge, so we're ready to go. We're ready to fight," said captain Sophie Darch after their close victory over Central Florida.
Ohio State and Oregon, the first seed and second seed respectively, will meet today after knocking out the other top four seeds in the tournament. Ohio State's semifinal game fell in line alongside all of their games this season: they took a lead and they held it relentlessly. Meanwhile Oregon had a pit fight against a feisty Central Florida that demanded a double game point win out of Fugue.
The final game of the season is a story of the country's two powerhouses clashing one last time. One of their records will earn one closing green box.
Origin Stories
Oregon Fugue has been tagged as one of college women ultimate's dynasties, but before 2008, their presence at Nationals was spotty at best. The introduction of Lou Burruss' coaching discipline elevated their game, however, and since 2008 they have attended nationals every year, working into the bracket consistently and winning the title in 2010 and 2013. Their program has become one of the most reliable win factories in the business.
Last year they laid down the law against Carleton Syzygy, making them a dread-inducing team that most opponents hate to face. They rose fast and they rose far, so that few ultimate teams today remember an era in which Fugue wasn't a legitimate contender.
Ohio State's rise has been characteristically more subtle, appearing on the national landscape in 2011 after four years of steady development under the tutelage of DeAnna Ball. They tied for 17th in their first year, but they reached 5th the next year, and they tied for 3rd the next. Their gradual ascension developed patience and chemistry in Fever's offense, and their 2014 season proved to be their best yet.
Oregon may be "the establishment" in the final game, but both teams made it this far through expert coaching from Lou Burruss and DeAnna Ball respectively, and both teams have honed their ability to step up in the games that matter. Ohio State can implement their game at a moment's notice while Oregon will wear teams down and emerge in the second half with the win.
If Fugue wins the title, they defend a legacy in the making. If Fever wins, they cap a fairy tale season saturated with wins.
On The Previous Episode
The one other meeting between Ohio State and Oregon was one of the regular season's most important games. With both teams undefeated at the Northwest Challenge, it was the de facto final of the unusually formatted tournament. At the time it was played, the pair had lost only three games all season and to some of the division's best teams. For all intents in purposes, Fever and Fugue lined up across each other to play for the number one seed at nationals.
Spoiler alert: Ohio State reigned supreme.
RELATED: Video Breakdown Of Oregon v. OSU at Northwest Challenge
Fever was on their game, forcing Oregon to make plays on offense and absconding with breaks when Fugue couldn't. Paige Soper, Cassie Swafford, and Stephanie Miller delivered for their team with strong play behind the disc and in the red zone. They were able to force Oregon out of their comfort zone and into the corner, winning 15-11. It was the worst defeat Fugue's been handed since nationals in 2012.
The Oregon stars certainly made an impact. Sophie Darch formed a defensive barrier between Soper and her teammates, while adding some field-opening crossfield assists. Bethany Kaylor was everywhere, including a brilliant inside out backhand huck assist. Hayley Wahlroos was heavily involved on D and Jesse Shofner made some big plays to atone for turnovers. On the whole, however, Ohio State's deep roster outplayed Oregon's.
Ohio State entered the post season with a 26-2 record and is currently on a 41 game winning streak. Oregon finished the regular season 23-2 and has won their last 7.
"We Have to Play Our Game"
This gem of a sports cliche is something we hear a lot in our conversations with players and coaches, but in this case, it's apt. Each of these teams has a distinct style of play and a well established identity. Neither team is accustomed to being knocked off their tracks and the two will play a game of chicken, with intents on a head on collision. One of them will be forced to budge and will find themselves playing a game they don't know how to win.
Ohio State's semifinal performance against Washington was not their strongest performance or a special game. That game was horrifyingly average for Fever in many ways; the horror comes from how little they ever deviate from that high level of play. Teams at every level strive to become so even, avoiding the lulls that force most teams to scramble out of a hole they dug themselves. Instead, Fever steadily advances on their opponent, as if they were the scary movie villain marching after the fleeing teenagers, whose demise is inevitable.
By contrast, Oregon's gameplan is all about going big; if OSU is a team of contact hitters, Oregon is a crew of sluggers that aim to blast it into the cheap seats. The high flying Fugue act goes above their opponents', forcing teams to fight to keep their head above water against the onslaught. Oregon trades with teams all the time before a frantic burst of aggressive play opens up the game and their fast pace leaves teams gasping for air.
Fever has done a lot of work to shore up areas of weakness since their last game against Oregon. Their man defense, especially downfield, has become more constricting and oppressive. They have an athletic roster with a lot of speedy role players to trot out each point. Offensively, their spacing and disc movement have both improved. Clogging around the disc is a rarity, and the Columbus women generate a lot of high value space in the middle of the field. They're holding the disc less and switching fields more, forcing defenses to play sideline to sideline.
For their part, Oregon's personnel changes might be the biggest difference from that fateful day in Seattle. While Bethany Kaylor is gone, Adrienne Bovee has return, along with freshman Gabrielle Aufderheide. Bovee has been a woman on a mission since rejoining Fugue, ruling the skies, and making big plays in the most clutch moments. Bovee's 17 goals (2.8/game) lead Oregon and tie her for 4th overall at the tournament. Aufderheide isn't big on the scoresheet, but is in wingspan and is a great handler defense, helping contain UCF's Sunny Harris in Oregon's semifinal win.
Unfortunately, Kaylor may not the only star the reigning champs are without: junior Jesse Shofner is doubtful for the final, with a lower body injury sustained in the semifinals. Her absence would have a gaping hole in the Fugue attack on both offense and defense. Shofner leads the team in scoring plays with 11 goals and 20 assists at nationals, and her physicality and reaction time make her a potent defender.
One area Ohio State will need to key in on is Oregon's deep game. Sophie Darch, Jesse Shofner, and Hayley Wahlroos have made a habit of throwing big throws. The cutters headed towards the end zone know that their throwers favor the backhand huck, especially on the break side, and set up their cut accordingly. Between their incredible deep shots and athletic receivers, defenders rarely even have a chance to break up the connection.
Fever did an excellent job shutting down the deep game of Oregon's rival, Washington, in their semifinal. Oftentimes, Washington's hucks would go up to what was an isolated cutter, only to find two or three Ohio State defenders closing in on her. OSU's emphasis on help defense and downfield attentiveness paid off and will be an important weapon against Fugue's favorite method of attack.
Potential Key Matchups
Adrienne Bovee vs. Katie Backus
Both Bovee and Backus lead their teams in goals scored, with 17 and 13 respectively. Bovee has been the Oregon hero, bailing her offense out when they put up 50/50, or even lower percentage, shots. Backus rarely loses battles in the air and might be the only player besides Swafford herself who can compete with her in that arena. Expect to see Fever sending Backus Bovee's way on their D points.
Andrea Fontenot vs. Stephanie Miller
Miller gave Fugue fits are the Northwest Challenge and Fontenot is one of the best defenders Oregon can place on her. Fontenot has incredible footwork, giving her great recovery time and she's willing to get physical. Miller does a bit of everything for Fever, with 12 goals and 4 assists.
Ashley Young/Gabrielle Aufderheide vs. Cassie Swafford
Putting strides on strides, Ashley Young and Cassie Swafford can play smart and close on long points. Swafford is dangerous deep and with the disc in her hands, and her versatility is one of the reasons she won the Callahan. Swafford is one of the most central elements to the Ohio State offense. Young will be able set an imposing mark while also reading her deep. Oregon will also probably try Gabriella Aufderheide on Swafford. Aufderheide played incredibly well against Sunny Harris yesterday, matching her physicality and using her length to challenge the tall handler's break throws.
Sophie Darch vs. Paige Soper
Reviving a matchup from Northwest Challenge, both Darch and Soper are key playmakers in the backfield who know that if they can take each other out of the equation, both teams' game will change. Forcing Soper into the cutting lanes, like they did at NW Challenge, will pressure her to get creative. The risk is that, if the other handlers do their job, Soper can get the disc upfield with Darch trailing, give her free reign to bomb big hucks or attack the break side. Darch is one of the only players in the country with the game IQ and composure to defend Soper.