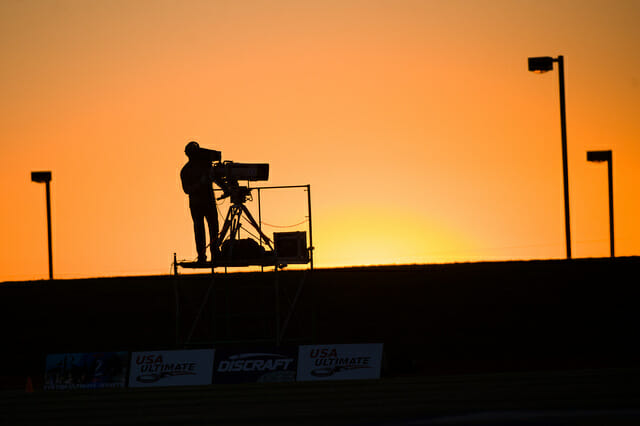 The 2014 College Championships offered the possibility of potentially unprecedented live video coverage for fans of Ultimate following along at home. Both NexGen and ESPN3 were lined up and scheduled to live stream a combined 14 games.
Those best-laid plans did not turn out ideally, however, as both video providers ran into technical issues, causing frustration for fans. Most NexGen users were unable to access most of Friday's streams, with the situation improving for Saturday's NexGen coverage.
The ESPN3 coverage was also a mixed bag: Problems with the ESPN3 servers took down broadcasts of all sports (not just Ultimate). Users were able to watch the Women's final by tuning into a mislabeled baseball game, with word quickly spreading on social media. But the ESPN server crash capped a weekend that had already been tough for fans who had been promised live coverage. Both organizations were able to make on-demand coverage available soon after the actual events. NexGen coverage became available almost immediately during the following week, and ESPNU aired edited coverage of the semis, finals, and some highlights on Wednesday evening.
As Ultiworld can attest to as an organization that provides video, live streaming is a technological challenge and significant undertaking, particularly at isolated field sites without hardwired internet and no protection from the elements. A mistake with any one variable can derail a stream while also being difficult to isolate and troubleshoot. Since the Championships, Ultiworld has reached out to all organizations involved to see if there is any new information about the issues in Cincinnati and the prognosis for USAU streams going forward.
NexGen's Kevin Minderhout
The difficulties experienced on Friday were primarily related to new hardware not operating in the manner that I expected and my inability to adequately troubleshoot it onsite. Despite huge commitments of time and money to ensure that uptime reliability would be very secure I failed to achieve that last weekend and no one is more disappointed by that than myself. It was extremely frustrating having worked so hard, only to run into issues in the field.

The good news is these issues were primarily gaps in my knowledge and not an inherent failure of equipment or the site. I'm very proud of the broadcasts the new equipment allows my crew to create and, despite the shortcomings at the College Championships, I'm confident that the long-term benefits for the Ultimate viewing community are well worth it. I expect NGN to be stable, excellent, and full of amazing games as we enter the 2014 club season.
USAU's Andy Lee, Director of Marketing and Communications
When did USAU become aware of the ESPN livetream issue? Was the situation explained clearly?
We were made aware that the stream was having complications after the start of the second men's semifinal game between North Carolina and UNC-Wilmington on Sunday evening.
What exactly was explained to USAU — did ESPN make any estimates about when they'd be able to fix the problem?
It was explained that there was a network outage that was affecting all WatchESPN.com programming, including USA Ultimate, the French Open, the NCAA Lacrosse Championships, NCAA baseball & softball, AFL football, international soccer, boxing, cricket and more – literally hundreds of live and on-demand events – and that Disney was working to identify the problem and restore service as quickly as possible, and that updates would be provided to us as they became available. Some initial estimates were provided, but we were also cautioned that it would be difficult to specify an exact timeframe for the restoration of service until the specific problem was identified and a plan put in place to address it. Later we learned that the issue required the replacement of some hardware at the Disney server farm that hosts all ESPN3 programming. Identifying that problem and resolving it on a Sunday afternoon and into Memorial Day presented some obvious challenges.
Has USAU received direct complaints from members since the issue?
We have not received any direct complaints regarding the stream after the event concluded on Monday. Understandably, and because of the large audience attempting to watch the live coverage, there were complaints circulating on social media during the event which were addressed with multiple public statements and updates from both USA Ultimate and ESPN.
What has the overall response been to the broadcast?
The response to the broadcast itself – both the ESPNU programs and the ESPN3 productions – has been phenomenal. We continue to receive a lot of positive feedback about various elements of the broadcast from the commentary and graphics to little touches like putting mics on the observers in order to highlight an intriguing, entertaining and unique element of ultimate. Overall, people have really been pleased with both the production quality that ESPN brings and the visibility it provides for our sport. Some fans have also offered suggestions on how to improve the production with little refinements here and there, which is always welcome and helpful information. ESPN also continues to be impressed with ultimate, featuring three clips from the college championships on SportsCenter's Top 10 list on four consecutive days.
Is USAU at all concerned about livestreams at the US Open?
No, not at all.