Four United States-based mixed teams are headed to Lecco for the World Club Championships. See how they're preparing.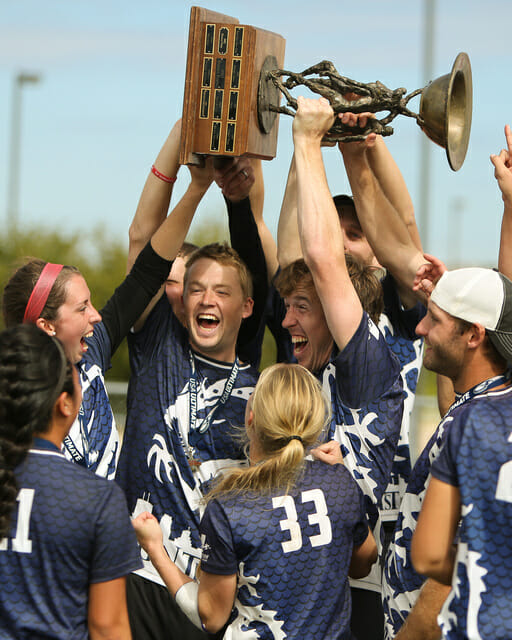 The double peak — maybe one of the most difficult accomplishments and physical challenges in sports.
But for the top American club Ultimate teams, double peaking is both a reality and opportunity in 2014. Teams in each division will compete and look to win at the WFDF World Club Championships in Lecco, Italy, in early August and then the USA Ultimate National Championship in October.
It's not easy, but it has been done before. As recently as 2010, Revolver and Fury captured both titles on the Open and Women's side. Will this year see an American team capture this Double Crown in the sport of ultimate?
In the first of three articles, we examine the Mixed Division.
Polar Bears Rawr
The team from the Bay Area is no stranger to success; they have had victories both on a national stage and against international opponents. Captain Greg Marliave believes his team can go all the way. "We recognize that there will be a lot of great teams competing at Worlds," he says, "but we do have confidence that if we play to our potential we are capable of winning the tournament."
However, there are challenges ahead for PBR.
After capturing the national title in 2010, the Bears have fallen in the finals three years running. Last year's loss to Drag'n Thrust qualifies them for Worlds, but they will have to work hard to reach the podium. Several of the core members of the 2010 champion squad are gone, many to open teams; this year Eli Kerns and Simon Higgins, both formerly of PBR, will play for Revolver.
The Polar Bears also have pro competition to deal with."We have a significant number of players playing in the pro leagues," Marliave said. "We expect all our pro players to make PB a priority when asked, but we do our best to ensure the schedule conflicts as little as possible."
The focus will be primarily on Worlds, similar to most teams headed to Lecco. PBR hasn't significantly altered their timeline, starting only slightly earlier. The talent pool, as it often does in a Worlds year, did see a bump, which should help strengthen the team's roster — or at least hedge against some of the notable losses.
The Polar Bears declined to go into specific strategies concerning their prep for the season; still, expect the Bay Area team to employ its crisp disc movement and precision throwing to great effect. Alex Nord, arguably one of the greatest veterans of the international stage within the sport, will also be making plays and leading the team.
It will be a tough road, especially with the current U.S. Champions in their path.
Minneapolis Drag'n Thrust
Last year, the team from Minnesota broke the West Coast dominance by capturing the national title. They expect to do that and more in 2014.
"Our goal for the season is to double peak: first at WUCC and again at Nationals," said team General Manager Josh Hemmesch.
"We are excited for WUCC because there will be a lot of teams we have never seen before," said captain Patty King, "and hope it will help prepare us for the familiar talent we'll face during the Triple Crown Tour regular season."
Drag'n has started the preparation early. "Everyone has spent the off-season trying to get in the best physical shape possible," Hemmesch explains. "We have spent a lot of time training with Acceleration MN to increase our speed and agility…Many of our athletes also participated in the Ultimate Athlete Project for Ultimate-focused strength workouts during the off-season."
The squad kept the same tryout process as any other year, although offered a roster spot to all 2013 returners who helped them get to Worlds. This year they have also added star Robyn Wiseman and a few others from a very competitive tryout pool.
"Leading into the season," said captain James Hron, "we realized that we would have the challenge of dealing with two rosters. Though largely similar, we are still managing, essentially, two teams built from the same foundation and occupying the same space. Practices, strategy, tournaments, tryouts, hanging out — they are all affected by these two different, yet similar teams."
Drag'n Thrust also has a close relationship to Minnesota Windchill, with about 10 men playing on both teams, and the team believes that further experience will only aid their players.
An interesting addition to the team is a General Manager. "Knowing that we would have more than double the logistical details to figure out," Hemmesch explains, "we decided to add a General Manager role to the team as well. The main goal of this is to allow the captains and coach to focus more directly on strategy, rostering decisions, practices, and tournaments. The GM is then working with the rest of the team on more of the administrative details such as sponsorships and financials."
Team leaders expect big things moving forward. "We know coming into WUCC and the Triple Crown Tour as reigning National Champs there will be teams out to beat us," King says. "We are excited for the challenge to defend our title. Most importantly, we want to continue building the Drag'n Thrust dynasty."
Boston's The Ghosts
After finishing 3rd at the Club Championships last fall, The Ghosts head to Lecco to take on the world's best. However, with only 17 players from their 2013 roster, this isn't exactly the same team we saw in Frisco.
"We will be missing some of our biggest names (Jeff Graham, Ben Faust, Brian Stout), but I think we've done a great job adding new players into the mix," said coach Jason Adams.
Their additions on the men's side include John Korber (Dark or Light) and Jeff Smith (Slow White). "[Korber] is someone a lot of us played against when he was leading D5 and having him with us will make a huge difference. Smith is a player that has given us problems for years and he fits great into the flow of our game," explained Adams.
The additions on the women's side are equally impressive and especially vital for a Ghosts team that utilizes their women to the fullest. Claudia Tajima, Jackie Booth, Courtney Verhaalen, and Sophia Herscu will be joining The Ghosts in Leeco.
Preparation has changed little for this experienced team leading up to Worlds. "We have been trying to get some additional early season conditioning in, but other than that we are pretty much business as usual. We competed at Mixed Easterns a couple weeks back and will play Boston Invite this coming weekend before traveling to US Open in July," explained Adams. "Being a primarily veteran team that doesn't have many team events, everyone is just expected to get themselves in shape and be ready to go when we hit the ground in Italy."
The Ghosts are internally-focused heading into the tournament "We don't game plan all that much for anyone, so we'll certainly do some scouting when the tournament gets going, but our focus is always just on us," said Adams.
He knows that the tournament will be a great opportunity for his group to grow as a unit. "I think we are going to come together a lot as a team over the course of the Worlds tournament and therefore our energy is going to be focused more on ourselves than any of our opponents," he said.
One of the major surprises of the Club Championships, Boston Wild Card is retooled and ready for international competition.
"We have 10 new players this year owing to the fact that we're still a new team. This is our third year, and last year we were the youngest team at Nationals," Captain Ian Engler said. "I think that bodes well for us, as we have a very high ceiling. After winning Mixed Easterns three weeks ago, we're way ahead of where we were last season."
The question then, for Wild Card, becomes playing their best ultimate at the right time. "This season will be a new challenge for us as we try to peak at Worlds, Regionals, Nationals, and a number of the high level tournaments in between," said Engler. "We have yet to figure out how we'll accomplish that mentally and from a training perspective, but it's a good problem to have."
The additions for Worlds and the coming season have been notable for Wild Card. On the men's side, they'll be adding Adrian Banerji and Seth Reinhardt of Ironside along with a number of Northeast college players. For women, they'll be adding Hailey Alm and Lauren Nelson of Brute Squad along with Callahan runner-up Shellie Cohen.
Priding themselves on their youth, Wild Card will now have five Team USA U23 players.
The sky is the limit for a Wild Card team that continues to develop and they'll have a chance to show that off in Lecco. "We're incredibly excited about our team this year. But despite our potential and our success last year, we won't take anything for granted and know we'll have to work for everything this season," Engler said.