This year's US Open brings together the most competitive women's field in the tournament's brief history, and with WUCC looming, the competition should be fiercer than ever. See what each team brings to the table in our tournament preview for the Women's division.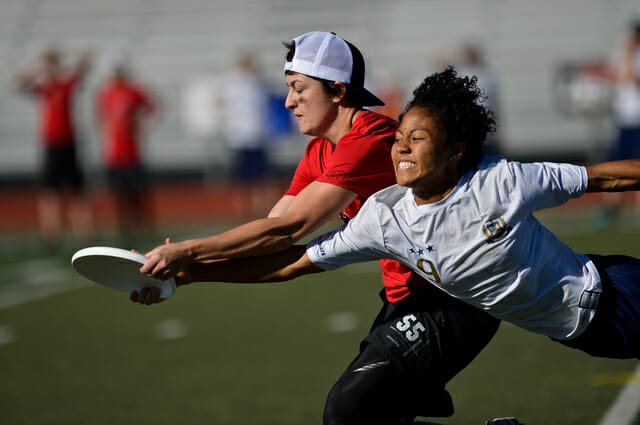 The US Open has promised some of the strongest competition in the world on a grand stage for years now. The 2014 edition seems to be getting closer and closer to delivering on that declaration. An impressive line-up composed of USAU Championship semifinalists, one of the buzziest teams in the women's division, and top international crews indicates this US Open will be the most competitive yet.
There is no clear favorite. Scandal, Fury, and Riot are the names on everyone's lips, but the hyper talented Brute Squad, consistent play of Traffic, and mysterious championship allure of Iceni and Bamboo make the pool play matchups intriguing in nearly every round.
Another factor in this year's US Open isn't in the US at all; it's the World Ultimate Club Championships (WUCC) in Lecco, Italy. Teams have pushed their schedules up, finalizing rosters earlier and beginning practice sooner in order to prepare for the event. That means early season sloppiness will be in decline and teams will have higher expectations for themselves than in US Opens past.
Washington DC Scandal
Scandal begins their title defense campaign at the US Open, but alas, that isn't their focus in Minnesota. The DC women are working on their first world championship as a follow up.
Most of the bodies that filled out Scandal's roster at last year's tournament in Raleigh will rejoin them; 17 of the 22 that will cleat up did so in 2013. The stars you know: Opi Payne, Sandy Jorgensen, and Alicia White will be filling up the stat sheet all weekend long. But the experience up and down the roster means they will be capable of managing the unusual schedule, the varying strategies of the opposition, and inherent challenges of the early season.
DC's strength comes from their gameplan and level of execution. An early season affair such as the US Open typically sees teams lacking in those areas – including Scandal last year – but this year could be different. Scandal's wealth of returners combined with the accelerated Worlds schedule might allow their greatest strength to shine.
That's not the only changes for Scandal at the US Open. They won't have Worlds pickup Raha Mozaffari, who is playing with AMP, but they do have Maddy Frey, a veteran downfielder capable of delivering Scandal-quality offense. They also won't have Payne and Jorgensen running back and forth for Team USA engagements.
After an appearance in the tournament final last year, the team expects success. Them and everybody else.

Bay Area Fury
The US Open begins the USAU regular season, but the majority of teams are looking outside of our fair nation to Lecco. And while Fury is no longer the USAU champion, they are the World Club champion. They are the reigning US Open champion, too. More than that, they are still Fury.
Opponents will still have to contend with stopping the throws of Alex Snyder, Lauren Casey, Ness Fajardo, Carolyn Finney, and the other Fury handlers. They'll still have Claire Desmond, Maggie Ruden, Cree Howard, and Kaela Jorgenson victimizing downfield defenders.  Anna Nazarov, Lakshmi Narayan, and Castle Sinicrope will be making the same types of defensive plays as ever. Matty Tsang remains their steadfast helmsman.
Added to that proven and effective core are names that slot in so naturally you'll forget they were new: VY Chow, Liz Duffy, and Andrea Romano. Fury won't be helping introduce anyone to elite level competition or international challenges, save the younger players with a season or more under their belt.
Fury also brings with them something new to them: something to prove. Scandal is the returning champ and hype is surrounding Riot and Brute Squad. The Bay Area squad can reestablish themselves as the dominant favorite they've so long been with a strong showing this weekend.
Seattle Riot
In many ways, we never saw a Riot as complete as the one we may see at US Open. Back are healthy versions of Alyssa Weatherford, Rohre Titcomb, Sarah Davis, and Charlie Mercer. Bailey Zahniser has returned to the fold, as well. The return of Weatherford and Titcomb, in particular, will bolster their handler core and allow them to get their top offensive threats more touches in valuable areas.
That may mean we see a more aggressive Seattle team than last year. They've never been a team to shy away from attacking, particularly with athletes like Sarah Griffith, Calise Cardenas, and Katey Craley. Now Kelly Johnson (formerly of Nemesis) is donning her Riot gear to add even more power. Expect the gas pedal to stay pressed down all weekend long.
Like some of the other top teams, Riot is heavy on returners, and their seasoned roster and early start to the season should serve to increase their level of play in Blaine, MN. Last year, Riot was excellent in pool play, outmuscling Scandal 15-8, handling Japan's MUD and Showdown, and giving Fury a good hard game. They failed to repeat that in the bracket, falling to a fiery Scandal team.
Riot has spent too many tournaments and too many seasons as the bridesmaid to remain satisfied. There is no doubt they will be one of the strongest teams at the US Open, WUCC's, and USAU Championships. But it all starts here and their progress in relation to their rivals will be important to see at this early juncture.

Vancouver Traffic
Traffic may be a bit overshadowed in a field of powerhouse names, but the Canadian representative has a chance to make some early noise in the US Open. It is an opportunity they weren't afforded last year, when their first high level showing was an incomplete roster sent to a rained-out Terminus. An invite to the US Open is likely to prove good for both the USAU and Traffic.
The West Coast powerhouse has been in the shadows of Fury and Riot in many ways for years, but continues to field one of the best teams in the country year in and year out. Like the US semis teams, they are in the throws of WUCC prep, meaning we can expect a bit more hum in their offense than we saw last year at the Pro-Elite Challenge.
Kira Frew and Catherine Hui are certainly world class talents, capable of succeeding at the international level; Hui played with Team Canada at the World Games. Eva Cham, Laura Mason, Rachel Moens, and the big air plays of Ashlee Davison are other consistencies to be expected from Traffic. They are no strangers to representing their country, as they will at the Open, nor playing the likes of Riot and Fury.
However, they are some missing pieces. Hui's Team Canada & 2013 Traffic teammates Danielle Fortin and Mira Donaldson won't be taking the field for Traffic in Minnesota. Stud cutter Jen Kwok is also not on the roster. They'll leave good sized holes for players like Carolyn Churchland and Katie Berezan to step into.
How Traffic handles the changing roles will be interesting to see, as they are a bit of a wild card in both the USAU mix and WUCC context. They're expected to compete for a semifinals spot this year and a strong showing at the Open would be a huge step towards that.

London Iceni
When you're the reigning five time European Champions, and the 2014 Windmill Windup and UK Tour 1 Champions already, there aren't many new ways to prepare except to go West.
London Iceni will play in the U.S. Open this weekend against America's best, and they bring the best resumé out of the United Kingdom. They're only bringing 14 players from their full 23-woman roster, so the U.S. Open will be an exercise in both mental and physical toughness for Iceni, an exercise they hope will prepare them for the rigor of WUCC. London Iceni's power stems from experience and trust: every handler and cutter can make the run or release the throw, and they all know it. Many of their veterans have played together for half a decade through either Iceni or Team Great Britain, so their offense will be intuitive and fast-paced.
Despite their limited roster, Jackie Verralls and Fran Scarampi will have a big impact offensively for Iceni this weekend. They know how to create movement downfield for Iceni, and they are reliable in the midfield wherever they are. Issy Burke and Captain Sonia Komenda have and will generate turns for the UK team; both women were dominant in their final victory at Windmill Windup, and they thrive on the big plays.
Iceni won't face any easy opponents this weekend. Between their first game against Brute Squad and their final pool play game against Fury, they'll get a lot out of their trip across the pond, especially playing a long weekend with a small squad. Beating any team at the US Open would be an impressive introduction for this UK powerhouse; and they're ready for it.
Bogotá Bamboo
Colombian teams have emerged on the international Ultimate scene over the past few years as a fiercely spirited and skilled hotbed for Elite teams: the Colombian Girls' National Team won Junior Worlds in 2012, and the Junior Men's team took 2nd. This spring, elite teams from the U.S. traveled to Medellin to compete with Colombia's best Club teams, and Medellin Revolution won the Women's Elite division. Colombian Ultimate isn't just emerging internationally; it's catching fire.
Last year Revolution attended the U.S. Open, upsetting Phoenix and gaining invaluable experience. This year, it's Bogotá Bamboo's turn. Bamboo lost in the Colombian National final last year to Revolution, and they're coming to the U.S. Open to not only get better but to develop into, they hope, one of the strongest teams in the Pan-American region.
Bamboo already faced some of the competition they will see this weekend: Scandal and Showdown both traveled to TEP in April. Bamboo will be hungry for rematches as well as a chance to sharpen their skills against the country's best.
Texas Showdown
Showdown will flex their new roster this weekend, throwing a lot of raw ingredients into a mixing bowl to stir and structure. While veterans like Katey Forth and Christina Contreras will guide Showdown's game, they will rely on their team's high level of talent to earn points that chemistry will earn later in the season. Showdown will be missing their biggest threats from 2013 in Cara Crouch and Sarah Blyth, two players who force opponents to tailor their defense. They will have both women back for WUCC, but this weekend Showdown debuts a new slice of Texas.
New might not be so bad: at the 2013 US Open, Showdown made semis, but failed to notch a win against any of the other semis teams, including three blowout losses. And those were with Crouch.
Elite club rookies like Mariel Hammond and Sunny Harris get to test their mettle early against Club legends like Riot's Gwen Ambler, Shannon O'Malley, and Alyssa Weatherford. Next up will be Opi Payne, Sandy Jorgensen, and Alicia White with DC Scandal. Like I said. Legends. Showdown will use their characteristic speed, defensive intensity, and grit to give the greats a run for their money in their early games.
With two years of deep runs at Club Championships and a spot at WUCC this summer, expectations for Showdown will be high. When you ride with the big stars, you're supposed to shine. Showdown has all the pieces to build a masterpiece again this season: at the US Open, watch them lay the groundwork.
Boston Brute Squad
If we were all collecting Pokemon cards in the off-season, then Boston Brute Squad wins.
Yet again Brute Squad adds a bevy of new players, and yet again they reset their timer that inexorably ticks down until Nationals. Despite having plenty of new names on the roster, Boston has hit the ground running with an aggressive early tournament schedule and wins the record book. They won the Boston Invite several weeks ago, beating the Canadian team QUB 15-11 after losing to them  in the crossover.
This top-heavy tournament schedule will allow Brute Squad to build chemistry and iron out any potential execution errors before the Pro Flight Finale in August. Their O-line will look the most different, but few players this weekend will line up across from Becky Malinowski, Liên Hoffmann, and Chelsea Witte-Garcia, and be able to relax. Then add Hoffmann's wonder twin, Kami Groom, as well as Flywheel royalty Paula Seville and Vicky Chang to the game, and…oh, wait, and Scandal's Kirsten Unfried, and Qxhna Titcomb… you begin to understand why Brute Squad has had the most roster hype this year.
But it's all talk until they line up along the endzone this weekend against their fiercest competition yet. Brute Squad gets to be a case study for what a nearly all-star line can do with a season. Their new roster will have to contend with the dangerous precision of DC Scandal, the depth of Riot, and the talent of Fury. It's time for Brute Squad to fulfill the hype.