The 2014 US Open finishes up pool play tomorrow, but the final round isn't likely to change the outcome: the top four seeds advancing to semifinals. Now that every top contender has taken a loss, it's anyone's tournament.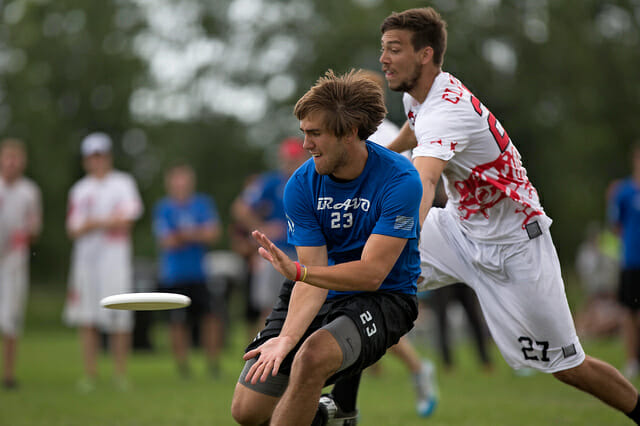 When the cleats had all come off at the end of day two at the U.S. Open in Blaine, Minnesota, the wackiness of Thursday had leveled off and relative sanity returned. More or less.
San Francisco Revolver, Boston Ironside, and Seattle Sockeye all showed that they remain the Nationals semis contenders they were, and are. Denver Johnny Bravo still looked scary good, but not invincible. And Minneapolis Sub Zero and Vancouver Furious George, while still impressive, still sit a step or two below the heights of the country's greatest teams.
For now.
Unless the combination of a number of huge upsets converge—like Sub Zero over Sockeye, Clapham over Revolver, and Evolution over Ironside—the top four seeds will make the semis, albeit with a little rearranging.
Yet, there was much to learn and see Friday, if only as reminders of just how skilled the truly elite programs can be.
Here's a look at Friday's action in the Men's Division.
Sockeye and Ironside Surge Back
It's quite a turnaround for the national runners-up to go from a 1-2 Thursday where they gave up a 5-0 run at the end of their first game to a 3-0 Friday where they bested two red hot teams, including one that had previously looked unstoppable.
Hello, Sockeye.
Their extraordinary run began against the then-undefeated Johnny Bravo. The teams mostly traded to half, but a strong run by Sockeye coming out of the break gave them the momentum they needed to ride to a victory. Denver committed a handful of mistakes, and Seattle capitalized on enough of them to create a gap Bravo would never close.
Much of the credit for the win could be attributed to their energy, which they carried into their next game against Ironside.
In the windiest round of the day, Sockeye came out fiery and jumped to an early 4-2 lead. A focused Ironside, however, would go on a 3-0 run to tie it up at 7s.
But Seattle would break twice out of half to give them the advantage as the wind began to pick up even more and tensions rise. The game became a little chippy, but nothing too dramatic.
Boston would earn two breaks in the second half, and give one back, as they couldn't seem to hold that energy. Despite a few chances to climb back in, they couldn't convert. Sockeye would end on a downwind score in the cap to make it 14-11.
The match concluded with an inspiring spirit circle with lots of smiles and a forceful cheer of "Coasts!".
Seattle would then cruise in their final game of the day against Evolution, 13-9.
All day, the signature small ball and slashing cuts of Sockeye wreaked havoc on defenses. When they're on, it's tough to know how to stop their frenetic movement and great chemistry.
Should the Seattle squad of Friday show up for bracket play tomorrow, the fish have a legitimate shot at claiming the US Open crown.
Despite their loss to Sockeye, Ironside indicated throughout the day that they are bent on making 2014 the year they break the streak of just putting up "great showings" at Nationals and finally walk away with a title.
Their two losses so far this tournament were to the two hottest teams, and in both matches they stayed well within the game the entire duration. Their O line looks as crafty as ever, with Danny Clark racking up the goals, Brandon Malecek notching assist after assist, and George Stubbs doing just about everything.
Boston's opening match against Minneapolis began as an offensive showcase on each side, with both teams essentially trading to 9s. A Sub Zero turn on a tough crossfield swing led an Ironside upwind break at 11-9, which proved to be the turning point.
It was tough to say whether the pesky wind, tightening Boston defense, or just plain poor execution for Minneapolis prevented them from gaining their steam from yesterday back. Their O line, though still a pleasure to watch, looked much more fallible, particularly when they tried to make tough resets across the field through the gusts.
Ironside gave them plenty of chances, but Sub Zero couldn't manage to score upwind, particularly on defense. As a result, when the Boston offensive attack on both lines slipped up, they would eventually put the pieces together before Minneapolis made them pay for their errors.
Boston would sail to a 15-12 victory.
Captain Russell Wallack attributed their win to a shift in defense that focused on better positioning and forced Sub Zero to throw difficult swings into the wind. He also noted his team's versatility on offense.
"We have a lot of creative throwers, and we're able to get it to the break side," Wallack said. "We can bail ourselves out with our throws."
This was particularly evident in Boston's game against San Francisco in the last round of the day.
Coming off their rough loss to Sockeye, Ironside entered their match against Revolver looking clean and efficient. But even when things weren't going quite as planned, they'd often find a way to get the job done.
Case in point: With the game tied at 12s, Stubbs overthrew a wide open Clark deep, but got it back with a spectacular layout D on Beau Kittredge. Then, on the ensuing offensive attack, and with the stall count nearing ten, Stubbs put up a bailout high-release flick away pass that landed right in the hands of Malecek.
In a game that remained largely on serve for most of the duration, plays like that came in very handy.
An early break by Revolver was offset shortly after by an Ironside response, and the teams traded to and through half. Offenses looked mostly patient and found little trouble taking care of their duties.
Ironside had only two turns in the second half. Revolver, three.
That third one, however, proved to be terribly costly.
At 14-13, with Revolver on O downwind, Marcelo Sanchez overthrew a huck to a streaking Simon Higgins. Ironside marched it up and took a timeout about 10 yards from the flick sideline and roughly 20 from the goal.
In one throw it was over.
John Stubbs, George's younger brother and new Boston recruit, made a nasty double move on his defender and Jack Hatchett hit him with a smooth outside-in flick for the game-winner.
Much like Sockeye, Ironside look fearsome when they have the execution down and convert their break opportunities.
Since the top four seeds have essentially locked up their spot in semis—and all look to be within each other's leagues—bracket play tomorrow should make for great games.
Revolver and Johnny Bravo Level Out
It might not seem like it given their close loss to Ironside, close win over Sockeye, and blowout loss to Johnny Bravo, but Revolver are in about the position they want to be in this early in the season.
Talking to Coach Mike Payne, Revolver doesn't seem worried about their results so far or how they look for Worlds or the rest of the season. They're a veteran program, and they know it's about process.
Payne said that part of what they're using U.S. Open for is not only to mesh as a team, but also to instill good fundamentals into their habits such as good footwork and dwindling separation on defense. That way, it'll be second nature come October. Or August.
"We need to build the muscle memory of leaving very little cushion," Payne said. "You need that default to fall back on."
This emphasis proved to not only be crucial, but improving over the course of the day. San Francisco's game against Minneapolis only remained close through 6s, until Revolver's defensive pressure overwhelmed Sub Zero.
After rolling through the bottom seeds on Thursday, Sub Zero wasn't quite ready for the defensive intensity of a team like Revolver. Their handlers started putting up riskier hucks and tougher crossfield resets that just didn't work a good amount of the time.
And when San Francisco forced those turns, they were calculated in their approach to valuing them. Payne also talked about how he wanted his team to start using the width of the field more on offense.
It showed.
While Sub Zero struggled to find their game amidst the gusts, Revolver notched numerous upwind scores, many of them with fundamental dump-swing-break chains that took advantage of defenders no longer in good positions.
The match was over in a flash, on the back of San Francisco's 9-2 run to end the game and Minneapolis' chances at qualifying for semis, barring all but the most improbable of scenarios.
Many of these key fundamentals carried over into Revolver's game against Ironside. The key difference was simply that Boston didn't really give San Francisco many chances to take the game back.
Revolver played fundamental defense, but Ironside managed to find holes and hit them with precision. San Francisco often stretched the field laterally, but without enough breaks or generated turnovers in general, there's only so much the offense can do.
Even the final play wasn't a total failure. The Revolver defender respected the in-cut on an upwind possession for Ironside, leaving a small window for the throw. Hatchett completed it anyway.
The game as a whole seemed like one team playing well, and their opponent simply playing better.
Similar sentiments could be said of Johnny Bravo's lone loss on the weekend to Sockeye.
It's not necessarily that Denver choked or fell apart. Seattle just played better and capitalized on more opportunities.
Bravo's O line still looks like the most dangerous of any this weekend, but even the most skilled and intuitive teams are going to make mistakes.
The game got sloppy on both sides, with each team in double digits for turnovers. Sockeye's energy carried them through, however.
Much like how Revolver took great looks in their game against Bravo but just came up short on a handful of hucks, so too did Denver in their game against Seattle.
When one, or both, teams can't seem to find their marks, often the victory simply goes to the squad that can find it first. This time it was Sockeye. Saturday and Sunday's bracket play might tell a different story — especially if Bravo's cleaner handling of Clapham and Sub Zero are any indication.
Sub Zero and Furious George Fall Back to Earth
Minneapolis had their chances.
Both Revolver and Ironside gave them opportunities, but the confident offensive game of Thursday didn't look quite so breezy when they had to face up to tougher defenses and stronger winds.
Handlers Eric Johnson, Simon Montague, and Grant Lindsley still played well as a whole. They missed their fair share of looks, but nothing too debilitating.
The offense as a unit, however, just struggled to find enough separation and flow to muster much momentum, particularly upwind.
A large number of their deep shots came on rushed or telegraphed rips to Nick Stuart who, despite his size and jumping ability, can't come down with everything, especially in double or triple coverage.
Defenders began locking down on the unders and open side cuts. Then, when the regular dump sets weren't working and they tried riskier looks, crossfield swings sailed out of bounds.
Sub Zero put up great fights against Bravo and Ironside in particular, but without a healthy crop of upwind scores and break conversions, they were only ever holding or losing ground.
Similarly, though Furious George remained more impressive than their 14th place finish at last year's Nationals might have led one to predict, they just couldn't hang with the top seeds.
Young playmakers like Gagan Chatha—the only player to be in the top four in goals and assists so far this weekend—continue to make names for themselves and earn back some of the respect Vancouver has lost over the past few years. But it just wasn't enough.
It's early in the season, and they might be feeling a little winded from all the semi-pro action, so it's tough to tell where they really stand. Especially when one considers that the top four seeds might still be the top four in the nation right now.
Furious George might very well be in the top ten and need only play the rest of the elite field to prove it.
Lucky for them, there's a lot of ultimate left to play.