Minneapolis Drag'N Thrust and San Francisco Polar Bears will face off in the finals of the US Open, a rematch of the 2013 National Championship game.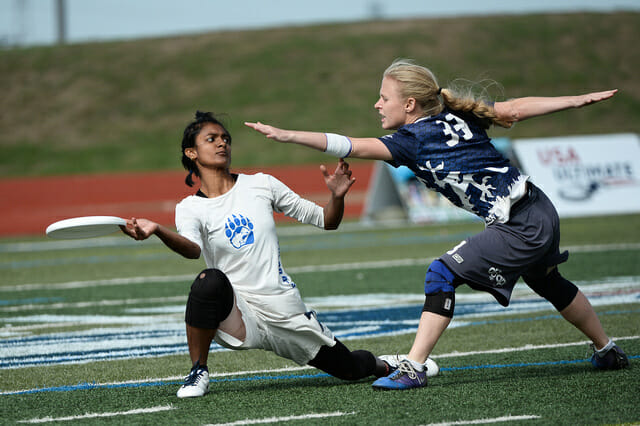 As the only rematch of last year's National title game occurring in the finals of the U.S. Open in Blaine, Minnesota, the meeting of Minneapolis Drag'n Thrust and San Francisco Polar Bears serves as the lone repeat showing of 2013's top teams in the division least known for consistency.
Last year, though starting off slow, including a semifinals exit in the U.S. Open at the hands of Montréal Odyssée, Polar Bears gained momentum over the course of the season. They handily won the Pro Flight Finale and cruised through the Nationals competition, besting every opponent by three or more points until running into Drag'n Thrust in the championship match.
The game was hard fought and featured a few key momentum shifts, but Minneapolis managed to secure a lead and hold onto it through the second half despite a surging San Francisco.
Polar Bears have had almost nine months to ruminate on the loss, their third straight defeat in the Nationals championship game since winning it all in their first year in 2010.
They got that chance in the third round on Thursday, but after hanging with them to 9-8, Drag'n Thrust pulled away with a 6-1 run and walked away with the 15-9 victory.
San Francisco played a number of close games after that, only losing to the always dangerous Boston Wild Card.
Despite being up 10-4 on Toronto Union in the last game of pool play Saturday, they nearly blew their massive lead and were only bailed out by the hard cap, winning 14-13. Had they lost that game, they would have dropped to fifth place and missed semis.
They must have taken the scare to heart.
For, though Ames Chad Larson Experience made a run at Polar Bears near the end of their semis match—almost going up 12-10, had only a diving CLX player held onto the disc after hitting the ground on a huge layout bid in the endzone—San Francisco displayed the veteran poise that has made them the most consistently exceptional squad in the mixed division over the past five years.
They would respond with a 3-0 run to close out on CLX and advance to the finals for another chance at revenge.
"We took advantage of our match-ups really well toward the end of the game," Polar Bears Captain Greg Marliave said. "We kept grinding and playing hard D, and managed to put it in at the end."
Drag'n Thrust, on the other hand, largely coasted through their early games, going 7-0 in pool play, despite close calls with Wild Card and Philadelphia's Amp.
With great chemistry and inspired play from Jordan Hupp, Austin Lien, Sarah Meckstroth, and Mike Clark in particular, they left little room for doubt that last year's championship run was no fluke.
And if anything, they've only gotten better.
Though their semifinals match against Wild Card proved to be terribly sloppy on both sides due to the wind—wherein they amassed a whopping 29 turnovers, luckily surpassed by Boston's 31—Minneapolis managed to overcome an early two-break deficit and fight back for the 10-8 victory.
Though conditions look to be a bit warmer and might potentially be interspersed with showers, the wind forecast appears to be much milder and should make for a more exciting match between the two squads.
Drag'n Thrust will need to find a way to be crisper with their passes and re-find their once-superior hucking game if they expect to amass separation from Polar Bears once again.
On the flip side, San Francisco will need to maintain a certain level of discipline and bring back the defensive pressure they exerted near the end of their semifinals game against CLX if they want to take the U.S. Open crown away from the often stingy Minneapolis team.
With both squads hungry for an early tournament win to elevate their spirits going into Worlds, one can surely anticipate a heated match between what currently remain the two best mixed teams in the country — and quite possibly the world.