Undefeated Riot will take the field against Brute, their toughest opponent of the tournament. Riot could assert dominance, but Brute Squad has proven scrappy and could announce their candidacy as a title contender. Find out all the details in our Final preview.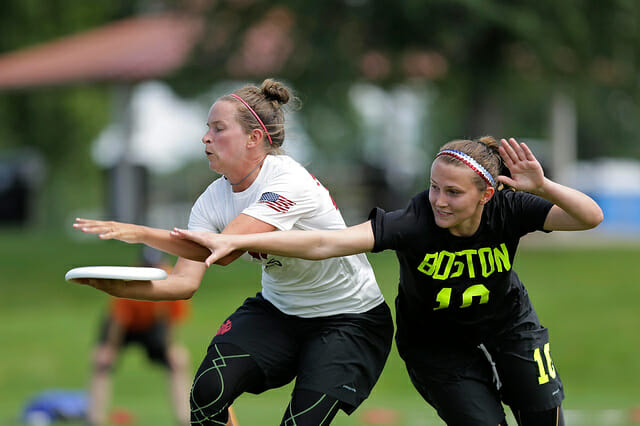 MINNEAPOLIS — It has been an exciting couple of days at the National Sports Center, filled with intrigue, upsets, and big plays. But in the end, it is understandably the two teams that have consistently played the best that will do battle for the title in front of the ESPN cameras. Riot, still undefeated at the tournament, faces off with Brute Squad, the team that played them closest.
Seattle has been heads above the field so far at the US Open. Maybe they have a time machine, but they look like they've been practicing a month or two more than any other team here. Their offense demonstrates an impressive amount of finish and they seem like they are all on the same page. Few teams have been able to consistently make their opponents pay for mistakes, but Riot routinely hurts their opponent when they get the disc. It is why they've yet to lose a game.
Brute Squad has won a lot less cleanly, but knows how to grind for the win. They were tested in the semifinals by Traffic, forced to comeback from a two point halftime deficit. The game was filled with long points and Boston found a way to dig a number of them out.
Riot hasn't been challenged much, but their 15-12 pool play victory over Boston was the most they've been pushed. It was as close as 11-10 in the second, and Brute actually scored the final point to make it 14-12 in the cap. Brute was able to create enough pressure to force Riot turns even in key points in the game.
Both teams have seen very impressive performances from their handler cores.
Seattle's has been reunited, since both Rohre Titcomb and Alyssa Weatherford missed much of last season with injuries. Titcomb has been a stud, not only reliably available for the reset and able to punish the mark, but also playing excellent defense. Weatherford's a versatile thrower able to manipulate marks. The duo benefits from help from Shannon O'Malley, Shannon McDowell, Shira Stern, Gwen Ambler and Angelica Boyden.
Meanwhile, Emily Baecher and Claudia Tajima have been the lynchpins of the Brute offense. Both are gutsy handlers who aren't afraid to attack with hucks, hammers, blades, or other items from their toolkits. Rookie Qxhna Titcomb – younger sister of the Riot captain – has been outstanding, showing off a huge backhand for the past couple of days, and Shira Klane, Paula Seville, and Angela Zhu have turned in good work.
Baecher and Tajima have also been two of Brute Squad's best defenders, proving especially effective against handlers. Baecher is a lethal dump defender, applying good footwork and physical pressure. Tajima is more of a big play defender, able to generate turns with timely layouts.
Of course, these teams are more than a few throwers. Surge Griffith, Calise Cardenas, and Katy Craley headline a Riot cutting group with plenty of speed and know-how. Hana Kawai has been adept at moving the disc, getting separation as a cutter and playing aggressively once she has the disc.
Brute Squad's roster features some new star cutters in Lien Hoffmann and Kami Groom. But the lesser known names, like Chelsea Witte-Garcia, Becca Ludford, Kirsten Unfriend, and Chelsea Murphy have stepped up and delivered. Along with established Boston studs like Becky Malinowski and Laura Bitterman, they form a formidable crew.
One challenge Brute Squad may not be prepared for is a lack of depth in the handler spot. Leila Tunnell and Dory Ziperstein are not in attendance, and Baecher and Tajima have logged a lot of points. Boston's been in longer and tougher games than Riot, who has a much deeper stock of handlers to throw out point after point. How Brute manages substitutions and if they can avoid long points will be an important element to keep an eye on them.
Expect to Riot to do what they've done all tournament long: get to the break side. The Seattle women have the insides and arounds to make defenders pick their poison, and their downfield cutters often break off straight unders with enough timing to get their thrower both windows. Throwers use good fakes to move marks and, at their best, the disc rarely stays in any player's hands for long.
Both teams have their strengths, but Riot has been able to coax their strengths out of their personnel more easily and more often. Brute Squad's edge is that they've had practice doing it with their backs against the wall. That isn't the ideal situation for Boston, but is perhaps a possible, if not likely, scenario.