San Francisco Revolver again showed they are the class of the Men's Division with a 14-12 victory over Denver Johnny Bravo in the finals of the 2014 US Open.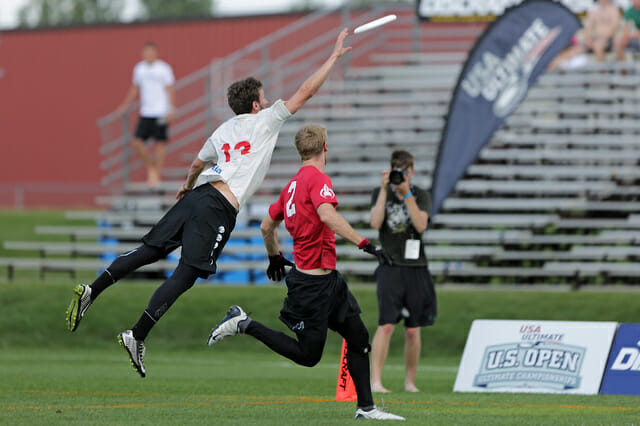 MINNEAPOLIS — Sometimes no matter how much you stir it, the cream will still rise to the top.
Despite their mercurial performance in pool play, San Francisco Revolver left little doubt that they remain the top program in the country, beating Denver's Johnny Bravo 14-12 in the finals of the U.S. Open in Blaine, Minnesota, on Sunday.
The defending national champions came out focused and determined to avenge their only unresolved loss of the weekend after their convincing 15-11 defeat of Boston Ironside in the semifinals erased the only other one.
Bravo clobbered Revolver 15-8 in their pool play match-up Thursday. Though most of their errors came on execution mistakes rather than poor decisions, San Francisco nevertheless collapsed in that contest, with Denver taking advantage of just about every slip-up and closing out on a 9-2 run.
It looked like there might be a new head atop the totem pole.
But a team doesn't make it to five straight national title games, let alone emerge victorious in three of them, for no reason.
While it's still much too early in the season to be convinced of any permanent hierarchy when it comes to which teams are the best, Revolver nevertheless proved why they continue to be one of the most veteran and disciplined programs in the nation.
Only a truly premier foundation and a superior set of core values would enable a squad to bounce back from a shaky start and best a squad as talented and athletic across the board as Johnny Bravo in the span of a few days.
Yet, what's perhaps most impressive is that Revolver accomplished all this while still maintaining the emphasis they set out to focus on for this tournament: developing chemistry and getting plenty of high-level experience for their newcomers.
Captain Ryo Kawaoka expressed great pride in his team's ability to achieve such a goal.
"I think our depth has been one of the key factors this whole tournament. And we're going to utilize that entire roster," Kawaoka said. "If you go back and watch the tape [from the weekend], the ball is in our rookies and second-year players' hands all the time."
Indeed, it was. Even in the finals, when Revolver could have easily relied on its trademark strengths like putting it up to Beau Kittredge deep or letting veteran handlers like Cassidy Rasmussen and Robbie Cahill dominate the game, they rarely did so.
Instead, they gave plenty of playing time to their new recruits and sophomores.
Take the final point, for example.
Last year at the same tournament, when the match came down to double game point, Rasmussen caught the disc near the backhand sideline just short midfield and opted to rip a huck to Kittredge, despite the poach help coming from the break side in the form of Boston's Peter Prial. Kittredge came down with it anyway, but the decision remains an important one.
This time, in a similar situation with the score at 13-12 in a game to 14, Rasmussen once again received a pass near the backhand sideline at about midfield and once again chose to put the game on the line with a deep ball.
In this scenario, however, the receiver was first-year pick-up Simon Higgins, hauling in the final grab past a bidding Bravo defender.
One could certainly make the point that even in 2013, Revolver sought to incorporate their newcomers at early tournaments like U.S. Open just as they had this weekend.
But it's one thing to do so when convenient and with little at stake but a handful of possessions in the middle of pool play matches, while still putting double game point lines out there when it comes down to crunch time. It's another thing to not only play rookies in pivotal moments, but to have the faith to put it up to your rookies in game-deciding situations.
"We have absolute trust in [our new players'] decisions and execution," Kawaoka said. "And if they succeed in executing, we learn from it. And if the fail to execute, we learn from it."
In both scenarios, 2013 and 2014, the Revolver receiver came down with the disc, and San Francisco won the contest. But perhaps this year's incarnation holds an even greater significance and points to an alarming idea.
If Revolver are this good this early in the season, when their primary focus is developing chemistry, who knows how good they'll be by the end of the season, after they've had months to gel and compete in plenty of high-pressure situations.
What's also curious is that, based on the start of the finals match, one might have guessed the logical conclusion alluded to by Bravo's stellar play all weekend: another crushing of the defending champions.
Denver jumped out to a quick 3-1 lead, made all the more impressive by the fact that they accomplished this largely with patient working of the disc, rather than simply putting it deep to their athletic receivers like they often had all weekend.
The sight of a team that stacked exerting the kind of discipline usually reserved for rosters with much less firepower seemed frightening.
But San Francisco didn't lose their cool.
They marched down the field on the ensuing O point and converted on the following one when Bravo's Bart Watson dropped a routine pass.
Though the next point would be the most grueling of the game, with each squad turning it over four times and players looking fatigued by the end, the next set of possessions for each team would be clean and efficient. They traded to 6s.
A terribly acrobatic sky and toeing of the line by Bravo's Sean Keegan would be erased by an errant throw by Owen Westbrook. Revolver rookie Eli Kerns would make a sweet double move to break free deep, and Ashlin Joye put up a well-placed outside-in flick to give San Francisco a key break downwind to make it 7-6.
Another miscommunication on a swing pass gave Revolver a shot at a pivotal second break upwind, which they would convert thanks to a great grab by Russell Wynne. San Francisco would take half 8-6 receiving downwind.
Those two breaks would prove to be the deciding factor.
An offensive hold by Revolver out of halftime gave them the 9-6 lead, which they would not relinquish.
San Francisco would go on to commit seven turnovers in the second half, but Denver only managed to punish one.
Bravo Captain Jack McShane said that although his team succeeded in stopping Revolver's pull plays and made them work for each score with multiple passes—as well as containing Kittredge's deep game and forcing him to cut under—in the end, San Francisco just plain played better when it counted.
"Their execution in the wind was a lot better than ours," McShane said. "Their O and D were moving the disc quickly and not getting it stuck on the sideline. We weren't moving the disc fast enough and let the stall count get too high."
Most points toward the end were simply offensive holds, with the occasional turnover popping up here and there. D lines struggled to convert them though, often due to the strengthening gusts.
Such wind could be seen as part of the reason Bravo failed to climb back in the game.
Though they managed a downwind break to make it 10-9, thanks to a Cahill turf near San Francisco's own endzone, Denver simply couldn't retain possession of the disc long enough to hit the open cuts in crucial situations, particularly on defense.
"We need to work on the discipline in our resets and discipline in general," McShane said.
This was indeed evident. For, though they found ways to connect on a large portion of their deep shots, the majority of Bravo's turnovers came on resets and other short passes.
McShane attributed part of this to San Francisco's dump defense.
"That was the tightest dump defense we've seen all weekend," he said.
Kawaoka noted that this has been one of his team's strengths for quite some time. He also said that, in contrast, Revolver's handlers did a good job of playing possession offense, often exerting good fundamentals to keep the disc in their hands while cuts developed.
Though Denver's O line attracted the most notoriety all weekend for its many dangerous weapons, and rightly so, it was San Francisco's offense that proved to be the most adept at navigating the conditions and their opponent's defense.
While such an early match will hardly stand as the definitive statement in 2014, as the two powerhouses are sure to meet again a number of times in the year, for now Revolver remain the top team in the land.
As Bravo captain Ryan Farrell noted on Thursday after his team's victory over Revolver in pool play: "They're the world champions until someone proves otherwise."
Luckily for the ultimate community, the world will only have to wait another month to see if anyone steps up to the challenge.