No team emerged from Pool B on Saturday unscathed, and three teams still have a shot at the semis heading into the final round of pool play. Here's the recap of today's action.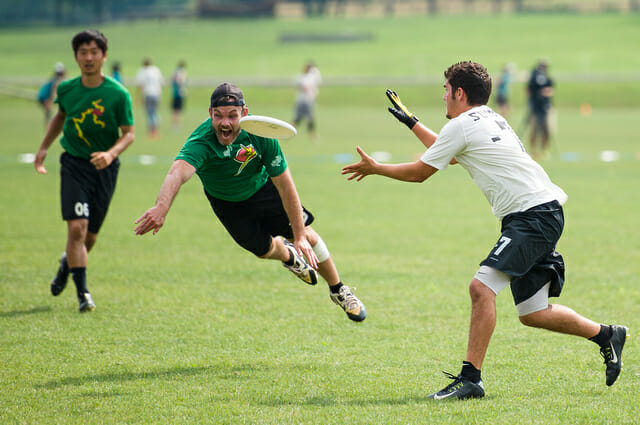 It took 20 minutes, a pen, and the back of a tournament packet to understand the result of Saturday Pool Play on the Men's side of the 2014 Chesapeake Invite. Six games between the two pools were decided by a single point or less, with five of those games coming from Pool B. Of those four, DC's Truck Stop won two, pushing them to a 3-1 and one record heading into the last round of pool play Sunday morning. Truck was only bested by Chain, who made three appearances on double game point.
Machine Starting to Click
A first round matchup against Minnesota Sub Zero may have drawn more attention beforehand than the game itself warranted for Chicago Machine (2nd overall). With an impressive performance in the US Open, much was expected of the Minneapolis squad — even without Nick Stuart, Simon Montague, Grant Lindsley, and a number of other starters. But a thin roster that dwindled due to injuries over the course of the day was not up to the challenge of a tough Pool B.
Machine matched Sub Zero's penchant for energized small ball, with the added benefit of a big target in Pat Shriwise, and Chicago played to win from the beginning. A 13-9 finish with time to spare in the rather short rounds left Machine a decisive winner.
Chicago finished Round 1 confident and Round 2 somewhat stunned. The scoreboard read 13-7 as the men in red slapped hands with Atlanta's Chain Lightning, who came out guns blazing after a surprising first round loss. Where Chain connected on their deep shots, Machine had execution errors and short field turns, spurring their southern opponents to a fast-paced loss that also ended with some time to spare. Despite some heroic efforts trying to sneak dump passes into small spaces from Walden Nelson, round two would end in disappointment.
When the field location switched for Machine's second two games, however, so did their rhythm. Against lower seeded Florida United and High Five, Machine closed out two dominating wins, 13-5 and 13-7 respectively. "We can't complain," said Captain Kevin Kelly during cool down stretching at the end of the day. "We've only had two legitimate practices together as a team because of the AUDL," he noted, although much of the team has spent time gelling with the Chicago franchise, Wildfire.
The reps certainly showed at times, as Machine was able to execute some zone-to-half-field looks off of the pull, and successfully transition into man, their sideline yelling in unison to count each of their opponents' throws. Shriwise, a recent transfer from Madison, was a force to be reckoned with, and few teams other than chain could match his or Kelly's height in the air.
Sitting at 3-1 to heading into Sunday's last round of Pool Play, Chicago should feel pretty good. That said, the loss to Chain could cause some problems. We've gone to our high-tech flowchart system to detail the possible bracketbusting, here.
Chain Lightning Strikes Thrice
Well, nearly.
Atlanta's Chain Lightning (3rd overall) found themselves in three double game point situations. If told you beforehand that those games were played against DC Truck Stop (9th overall), Minneapolis Sub Zero (6th overall), and Michigan High Five (11th overall), what would you say their record was?
Leave it to Truck to gum up your guess and put the Atlanta squad at 2-1 in those scenarios. But hey, it was early.
Chain's long ball-focused game left spectators no shortage of excitement, and those DGP games got tossed in with their surprise drubbing of the otherwise strong Chicago Machine in the second round. A huck-centric offense is always high risk/high reward, and the loss to DC featured the Chain offense turning and gunning it in the right scenarios, but having their throws float and not connect. When asked about the adjustments they made to defeat Machine in the following round, Captain Frank Wooten's solution was simple: "Throw 'em farther."
You have to hand it to a team that has a philosophy and sticks to it. If "Chicks dig the longball" is really the mantra for Atlanta, they adhered to their game plan, trusted in rock solid players like Michael Spear, Trenton Spinks, and Tyler Conger, and ground out the wins when it counted. It may not have been pretty all the time, but Chain place themselves in a good position to make the semis tomorrow, and have shown that they can hang (and beat) the best teams in their pool.
Truck Wins the Second Half
Though this weekend remains a tryout tournament for DC Truck Stop, all eyes were on MLU standout Alan Kolick heading into the weekend. Though the multi-faceted Kolick had his game clicking throughout the morning, the even lines orchestrated by coach Will Smolinksi made him a spectator in the afternoon against Sub Zero and Florida United. "We had three handler pods and three cutter pods," said Smolinksi when asked about his subbing. Each of those pods would be linked during a game to create lines, allowing for different combinations of players to create and work together on the field.
In Kolick's absence, Markham Shofner and Jonathan Neeley were both standouts in the DC backfield, with Shofner connecting on impressive hucks, and Neeley basically running the show after the turn in Kolick's absence. The core players' time spent with the Current has surely benefitted the team, as Truck Stop itself has not had a rostered practice as a team (they held linked tryouts with Medicine Men in June and are making finals cuts following the Invite).
"Our real objective is not to win games — it's to start unrolling and playing around with our offensive and defense roles," said Smolinksi. Each of Truck's first half performances (excepting the one against Sub Zero) featured lines that didn't connect right away. Truck had impressive come-from-behind wins against Chain and Florida at the beginning and end of the day, both of which began in the second half. At least in the case of DC, time spent in the MLU seemed to provide some more ineffable qualities to the Truck squad, who stayed calm and won both their DGP games starting on defense.
Truck have situated themselves well to sneak into the semis tomorrow, but one has to wonder if that will really be at the top of their to-do list with the DC Current set for their MLU Championship game against the Vancouver Nighthawks next weekend.
What's Left?
Florida United are an interesting position tomorrow heading into their last pool play game. Their early successes against Michigan High Five and Minneapolis Sub Zero are notable wins, but it'll take a lot to get them there. Despite heroics from Jason Silverman, James Dahl, Chris LaRocque, and Andrew Roca, Florida United were pummeled by Machine, and allowed Truck to stay close. They'll have to nearly bagel Chain Lightning to make it into the semis; that's not going to happen.