PoNY and Ring of Fire stood out in Pool A, but neither escaped the day without a loss. See the big stories from Pool A in our Saturday recap.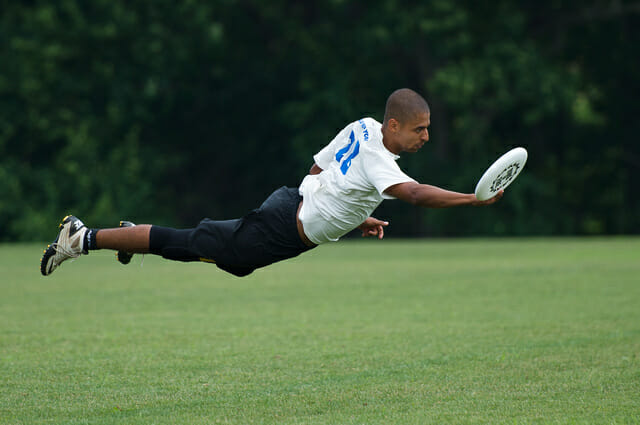 BALTIMORE — Although Pool A's top performing teams from Saturday will likely advance to the semifinals on Saturday, no team truly dominated the field, making for an interesting set of results after day one at the Chesapeake Invite. Here's a look at the big stories.
Consistent Inconsistency
Not a single team in Pool A (or at the tournament, for that matter) escaped Saturday at the Chesapeake Invite without a loss. While a similar late season result might suggest a high degree of parity, today's results are more a sign that the top teams still lack consistency and are getting their legs underneath them.
There has been a clear divide between Ring of Fire and PoNY from the rest of the pool. That's not to take away from Madcow, who played a smart, high-energy game against PoNY to beat them handily in the third round, but PoNY struggled with exectuion more than Madcow dominated them defensively.
It wasn't just PoNY that had a lapse at some point during the day. GOAT was awful against Boost FC. Doublewide was awful against PoNY. Ring's offense was struggling against PoNY. Boost lost 13-3 to Ring. Madcow blew a great chance against GOAT and lost on double game point.
But the quality has really shone through from PoNY and Ring. I expect we'll see them in the semis.
The Pro Effect
Two teams in Pool A — New York PoNY and Toronto GOAT — have a significant number of players on their rosters that have been playing in the MLU or AUDL over the past two months. Both teams saw that fact affect their play on Saturday.
For GOAT, it was a hindrance. They had to split their roster nearly in half in order to field a team for their Toronto Rush game versus the Philadelphia Phoenix. Although they will get nine reinforcements today, including team captain and best player Mark Lloyd, it's too late. Their 1-3 result yesterday leaves them out of contention for the bracket today.
For PoNY, the pro experience has been a clear benefit. Players are conditioned and tuned up. They jumped all over Doublewide yesterday first thing in the morning, looking crisper and simply faster. They kept that energy up against Ring.
One of the first things Doublewide captain Jerrod Wolfe told Ultiworld yesterday in an interview about the day was how much better prepared PoNY was for the first time. He suggested the pro game might have helped them on that front.
Notably, PoNY struggled a lot more after those first two games and a bye when they spotted Madcow a 6-1 lead to begin the third round. Perhaps they are still getting accustomed to the tournament format again. Machine's Jonathan "Goose" Helton — who has been playing with the AUDL's Chicago Wildfire since April — tweeted yesterday, "[To be honest], my legs weren't totally ready for this tournament."
Madcow Belongs
They may not be on their way to semis, but Columbus Madcow had a good showing against top competition this weekend, walloping PoNY and narrowly losing to a fresh GOAT team. Justin Baumann was particularly impressive, using his elite-level speed and good length to make great plays all day.
Madcow is a young, energetic team that, if they learn to build and sustain leads against elite competition, will be able to challenge most teams in the country. They seem to play well when they're in an underdog role — they outworked PoNY for the entire first half.
The team is likely to continue to be a step behind Machine in the Great Lakes region, but given their results this weekend, they may still be a favorite against Michigan High Five.