The 2014 Chesapeake Invite is this year's site for the Pro-Elite Challenge, bringing together a collection of perennial Nationals qualifiers along with some of the best rising teams in the country. See where things stand heading into the opening weekend for many of the nation's top teams.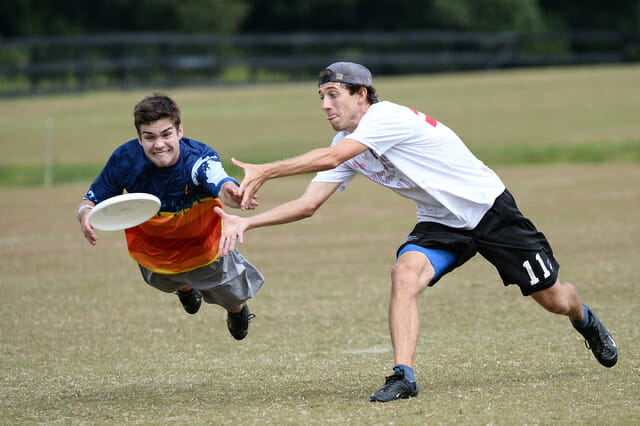 BALTIMORE — As exciting as it was to have excellent televised access (and an ever-increasing and active Twitter presence) to the US Open this past weekend, two facts stood out: the best teams in the nation were all attempting to tune up for their much-anticipated trip to Worlds, and the wind made it difficult for both players and spectators to really get a feel for what teams were capable of. Everyone showed some weakness, well-illustrated by this gem of a tweet from the Riot vs Brute Squad final on Sunday:
It was a clear reminder of how drastically the wind can change the game and signified a potential opening for some new faces in the final stages of bracket play in Frisco this October. A little wind, some unpredictability and determination, and we could see a breakthrough. Those upset contenders will compete this weekend at the Chesapeake Invite.
Just One Peak
A distinct advantage if you're a team a few pieces away from taking out one or more of last year's top four teams: you won't have to peak twice this season. This looks particularly nice for teams with great competitive experience already this year. GOAT have their impressive second season run as the Toronto Rush to amplify team cohesion and experience and Sub Zero have an impressive US Open performance in the books.
Weaknesses in the top four open squads may also be exploited by a set of other Chesapeake contenders, notably a PoNY squad that will feature battle-tested players from both the AUDL and MLU and have their own impressive wins from last year to fuel their urgency.
While Bravo, Sockeye, Revolver, and Ironside square up their crosshairs on Lecco, the top competitors this weekend will begin with their sights on only one goal: the National Championships.
Is Sub Zero Ready to Be the Best?
Sub Zero made their first big statement this year by blasting Sockeye out of bracket play at the US Open. Commitment to around swings and trust in cutters from an excellent handler core allowed the Minneapolis squad to beat Seattle at their own fast-paced game. Though they were overpowered in semis by a scary-athletic Johnny Bravo team later that day, Sub Zero opened this season ready to make a statement in the upper echelons of the Triple Crown Tour. As the only team to arrive at the Chesapeake Invite having just played in the US Open, Sub Zero's 6th seed overall and third seed in their pool seems underrated at best.
Sub Zero's return to WAFC's Chesapeake Invite (newly selected this year as the Pro-Elite Challenge) will be a slightly early anniversary of their last visit, when they completely stunned the club scene with a win over Ironside in the finals to cap a 6-1 weekend. Their performance was highlighted not just by their title win, but by eking out close games over other nationals-bound contenders. More exciting still, a Minneapolis berth to bracket play at last year's Invite was barely secured when they fell to GOAT by a single point, just close enough a loss to creep into the semis on point differential.
Unfortunately, this may not be the weekend to see what they can do, as they will be traveling to Virginia very light. Nick Stuart, Simon Montague, Eric Johnson, and Grant Lindsley are among those out this weekend.
Pool B: Chesapeake Group of Death?
Even with a thin-rostered Sub Zero, competition in the B pool should be very intense. The pool is topped by Chicago Machine (who have the 2-seed overall), who will be trotting out their notable roster additions this weekend to improve after just missing the top end in Frisco last year. Chicago may be the favorite at the tournament, but will have to fend off a number of teams on the rise.
Pool B is rounded out by perennial (but yet-to-be tested) Atlanta powerhouse Chain Lightning, a 2nd year Michigan High Five team that is fresh off a tournament title at No Surf , and Washington DC's Truck Stop. Each of these last three teams have something to prove. Chain is entering a new era without Dylan Tunnell, High Five has a berth in Frisco to secure after a disappointing 2013 Regionals, and DC looks to scrub a dismal 2013 nationals performance from their memory.
Chicago Geared Up For Big 2014
Chicago Machine has been bubbling near the semis surface for years now, having reached quarters in the last two years after quality regular seasons. This may be the year Machine truly raises their level.
Armed with a handful of key pickups, including some of the best talent from Madison Club, along with the coaching of Ron Kubalanza, Machine is deeper than ever. They have gotten even taller and more threatening downfield with the addition of 6'4″ Pat Shriwise, and the added depth enables the team to put players in more natural positions on the field.
With their new roster, they should be considered the favorite at this year's Chesapeake Invite, especially considering the losses Doublewide has taken in the offseason.
Doublewide Ready For New Approach?
Austin Doublewide, the tournament #1 seed, is no longer the team that won a national title in 2012. Last season, they lost most of the Florida contingent that helped take them to the title, but brought in Tyler Degirolamo and Alex Thorne to help them defend their championship. This season, the outflow has been even greater.
Not only have Degirolamo and Thorne headed back to Pittsburgh, but long-time Doublewide stars Mike Natenberg, Kiran Thomas, Kevin Richardson, and Kurt Gibson won't be returning. Aside from Gibson and Richardson, most of those players played heavy minutes for the Dub offense, and the team will have a lot of work to do to rebuild their rotations.
That's not to say the team isn't still quite talented. Big name players like Will Driscoll and Jeff Loskorn still pepper the roster, and offseason pickups include Alexander Brammer and veteran Ryan Purcell. The team is focusing much more this season on a team-oriented system, rather than trying to isolate star individuals in their offense. They'll get their first crack at the new style this weekend.
Truck's Tryout
DC and New York: two East Coast cities that have two semi-pro teams apiece. When it comes to record and performance, however, DC wins out. While the DC Breeze and NY Empire have been locked in a tight run towards the AUDL playoffs with equally talented teams, the DC Current locked in a commanding regular season atop the MLU's Eastern Division and are headed to the Championship game next weekend to face the Vancouver Nighthawks. The New York Rumble, on the other hand…not so much.
With both the Breeze and Current dialing it in for the playoffs, the DC elite scene has been afforded little time to focus on preparation for the Triple Crown Tour. Players close to the team have confirmed that the Chesapeake Invite was the only logical time to schedule a tryout tournament that would jive with both semi-pro schedules, and so the DC squad will certainly feature some unlikely and/or unknown components as they look to make their final decisions. While this is perhaps a risky move against already-solidified teams that have a notable head-start on practice time, it remains to be seen whether their pro experience, particularly those players that make up the core of the unstoppable Current, will translate back into club competition.
Can GOAT Fight Through Saturday?
Not-so-quietly in the other pool, Toronto's GOAT will also look to translate two nearly-perfect regular seasons (the team lost its first game ever last weekend to the Montreal Royal in a meaningless regular season game) in the AUDL into a strong club performance. Will that be happening at the Chesapeake Invite? Perhaps not.
The AUDL's Toronto Rush are set to take on the Philadelphia Phoenix in a final regular season AUDL game on Saturday, in Philadelphia at 12:00 PM. About half of the GOAT roster — including Mark Lloyd, Cam Harris, and Thomson McKnight — will be at the Rush game and won't play with GOAT on Saturday. The team will go from about 15 on Saturday to 24 on Sunday, as much of the offense joins the team for the final round of pool play. Adrian Yearwood will be out all weekend.
Regardless of the on-field personnel, GOAT is always a tough matchup. Last year at the Pro Flight Finale, GOAT somehow found a way to win three straight games on Sunday with almost no subs on the sideline to take home the tournament title. It should be interesting to see how GOAT does on Saturday with an eerily similar roster to the group that took down Ironside, Sockeye, and Doublewide at the Pro Flight Finale.
Lloyd told Ultiworld they hope to be in the hunt for a spot in the bracket on Sunday morning, when reinforcements arrive and the team faces Ring of Fire in the final pool play round.
Refreshed Ring Ready For New Start
In the offseason, Raleigh Ring of Fire overhauled their leadership and merged with area 2nd team Cash Crop. They head into the Pro-Elite Challenge ready for a fresh start.
For basically the first time this season, the entire Ring roster will be on the field together, as the New York Empire transplants meet up with the team in Virginia. New coach Mike DeNardis is eager to get the team together; given the size of their roster, they may well have an advantage over many of the teams sending skeleton crews or still gearing up for 2014.
DeNardis said the team will keep it simple and focus mostly on making good decisions and adding some dynamism to their offensive attack. Ring is young and a bit inexperienced at the club level this year; expect typically fiery defense but some bumps on O.
Will PoNY Stay Hot In 2014?
At last year's Pro-Elite Challenge, hosted at Terminus in Atlanta, PoNY came away with all the buzz after stunning Chain Lightning in the final of their home tournament. PoNY will look to recapture the magic they found in the regular season last year as they begin their 2014 campaign in Leesburg.
The team has some fresh faces, but a lot of continuity on the offense, which still includes standouts like Markian "Muk" Kuzmowycz, Robbie Gillies, and Chris Mazur.
A rough season for the MLU's New York Rumble, which featured many on the PoNY roster, does raise some concerns about New York. They'll have work to do as they open up against Doublewide and Ring of Fire in pool play. They won't have a lot of room for error on Saturday — a couple quick losses and their semifinal hopes could be dashed.
The team has added a lot of youth this season — including John Geraghty (American), Billy Katz (NYU), and Sean Childers (NYU) — who will join rising stars like Albert Alarcon (Rutgers).
Much like it will be for many of the teams at Chesapeake, this will be the first look at PoNY.
Florida, Finally United
Florida United comes into 2014 with high expectations after the announcement of their best roster in years. With true buy-in from around the state and all of the major college programs, this year's team looks truly united — and word from those close to the team is that they really are meshing better than ever.
Though they went winless at last year's National Championships, they put up good games on PoNY, GOAT, and Ring of Fire; on paper, they're better this year.
They'll open their weekend with an up-and-comer battle against Michigan High Five that could be important down the road towards bid allocation.
They will be missing Cole Sullivan and Chris Gibson this weekend, but will have most of their college-age stars in tow to kick off the season.
Chain Sticking With The Long Ball
Expect Atlanta Chain Lightning to stay true to their mantra: chicks dig the long ball.
Despite a shifting roster, including the loss of long-time Atlanta star Dylan Tunnell, Chain's Frank Wooten says the team is doubling down on their well-known deep game this season. Expect to see a lot of Byron Liu and Elliot Erickson heading to the endzone on shots from Mark Poole and Jay Clark.
The team has brought on a number of athletic, college-aged players — including Sam Little (Georgia), Austin Taylor (Alabama), and Brian Moore (Alabama) — to add to the explosiveness of their defense.
We'll see how Nicky Spiva and the Atlanta crew handle the tricky pool B.
The Rest Of The Field
Columbus Madcow, Michigan High Five, and Palo Alto Boost FC round out the bottom of the field. Of the three teams, High Five — who had an outstanding regular season last year — is most likely to make a push towards the top of the field. High Five looked poised to make Nationals last year before losing their last two games of Regionals — first to Machine in the final, and then to Madcow in the game-to-go.
Madcow, though, looks to have taken a step back this year with the loss of Mitch Cihon and a number of other veterans.
Boost FC (formerly Boost Mobile) went 3-3 at last year's Pro-Elite Challenge, with wins over Johnny Bravo, Sub Zero, and Rhino. After an undefeated Sectionals, they struggled at Regionals, falling to Revolver, Streetgang, and Sprawl and missing the semis despite coming in as the four seed. They hope to rediscover their winning ways this season.
BETTING LINES
Odds to win the Chesapeake Invite/Pro-Elite Challenge
Machine +150
Doublewide +180
Ring of Fire 2/1
GOAT 3/1
High Five 5/1
PoNY 5/1
Florida United 7/1
Chain Lightning 7/1
Sub Zero 10/1
Truck Stop 15/1
Boost FC 30/1
Madcow 50/1