The Vancouver Nighthawks and DC Current meet in Philadelphia this weekend to decide who will take home the 2nd MLU Championship trophy. Tad Wissel previews the competition.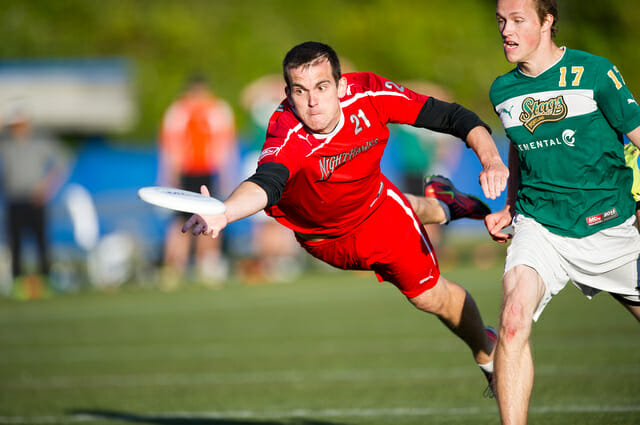 It's tough to look at the MLU championship matchup and pick a winner.
There's no interleague play. There's no common opponent. Vancouver and Washington DC are 2,898 miles apart. There's video on both teams but the tape and the turf are two different things.
The best indicator might be a 13th place game at Club Nationals between Vancouver Furious George and Washington DC Truck Stop (both pro teams have 18 players rostered from those club squads), though that was a meaningless placement game nine months ago.
There may not be a ton of evidence to project victory for either team, but when these two teams meet at PPL Park in Philadelphia on Saturday, the lack of familiarity won't make either shy about getting to know one another.
DC Sans Kolick
We're in the weird crossover period between professional and club Ultimate. DC's star handler Alan Kolick is the most high profile victim thus far after breaking two bones in his wrist on a defensive bid while playing for Truck Stop at Chesapeake last weekend. The injury is on his non throwing hand but will require surgery, thus ending his season.
Kolick was the Current's most efficient offensive starter (14 goals and 30 assists). He will be seriously missed on Saturday. Without the crafty lefty there will be plenty of points to make up.
"I'm probably going to have to bring Sean Keegan back around the disc more," DC Current head coach Keven Moldenhauer said. "We've been pushing Sean down field. Sean is similar [to Kolick] in that he makes quick breaks and can go up and down the field." No doubt on that. Keegan can square up and break any mark or sprint down the field with cheeky give-and-gos.
Eddie Peters, who started the season on offense before becoming a fixture on the DC defense, will likely also see more offensive time. Lloyd Blake may see increased time handling on the O line.
Keys
With 64 total points in the regular season Vancouver's Brendan Wong was named the MLU scoring champion earlier this week. He might not be on SportsCenter each week skying a crowd of dudes of laying out chest high but when you beat the previous scoring record by 16 points, you probably don't have to. Look for a mix of DC players taking turns guarding Wong.
Morgan Hibbert, Vancouver's defensive ace and the MLU Western Conference Defensive Player of the Year, played a jaw-dropping 17 of 21 points in the Western conference final against Portland. "He's an animal when he's out there," Current captain Daniel Kantor said of Hibbert. "He can change the flow of a game pretty quickly." All it takes is that one big block from a heart and soul guy like Hibbert to get teammates fired up. DC has won a lot of 50/50 situations this season with their athleticism but they'll need to be aware of where Hibbert is on the field before hanging anything deep.
DC has an army of defenders. Delrico Johnson finished 5th in Defensive Player of the Year voting and five other Current defenders received votes. David Cranston and Daniel Kantor will be a big part of the game plan for stopping the Vancouver offense. Dominique Gibson and Brian Marshall have come on strong in the second half of the season — look for them to have strong games as well.
Travel
DC will bus to Philadelphia as a team sometime Saturday.
There are no direct flights from Vancouver to Philadelphia so most of the Canadian squad will have to connect in Dallas. It's probably not going to feel like a home game for the Nighthawks.
Injuries
DC will be without Alan Kolick but everyone else should be available.
Vancouver will be without D line cutter Marc Seraglia but will return veteran offensive handler Kirk Savage (infection) and D line handler Joel Bellavance (ankle).
The big question for DC…
Is their system is good enough to overcome the loss of Kolick?
If not, it won't take long to figure out.
When you lose a stud like Alan Kolick, one guy coming off the bench isn't going to fix the problem. But make no mistake – the cupboard isn't bare. DC is deep and talented. Keegan and Peters are great players who have handled at this level before. They'll be able to take the missing touches, and the Current will need to use it's depth to fill in while those two are back by the disc.
Head coach Keven Moldenhauer attributes his team's success to preparing themselves without getting wrapped up in the minutia of over-analyzing an opponent.
"This year the sole focus was 'this is our objective, this is what we're trying to get accomplished' in terms of how I want the offense to run, how I want our defense to play – and If that yields a win, that's fantastic. Obviously, as a coach we're going to game plan and we're going to have certain matchups assigned, but in terms of the players perspective, we're really focused on us."
The new mindset has paid off for the 10-1 Current thus far.
The big question for Vancouver…
Can their O line handle the DC defense?
It hasn't been a cakewalk for the Nighthawks in the Western Conference. This team was 2-4 at one point. While the Current have played one do-or-die game, Vancouver has played… more than they would have liked.
"Let's be honest, our O line has been a little up and down," Nighthawks head coach and general manager Andrew Lugsdin said. "They've scored a lot of goals this year. We've had games where everything's working and they're on fire, and we've had games where some things don't go right initially and that throws off their confidence and gets them a little off kilter."
Since the rocky start the Nighthawks' O line had been more consistent until problems again resurfaced in the conference final with Portland. That can't happen again in Philadelphia if the Canadian team is to take home the title.
"Our season's been on the line for a couple games down the stretch but they've come through," Lugsdin added. "I think they're ready for this challenge."
Like DC's offense having to adjust to life without Alan Kolick, it should be apparent from the first few points which Vancouver offense flew across the country.
This has the potential to be a legendary game. Vancouver is battle tested and has some serious star power. DC has taken care of business all year and is formidable even without Kolick. Both teams play great defense and both teams won one point games in their respective finals to get here. East vs West. What more could you want?
The venue looks great and will provide a great showcase for for the sport.
There's something else that's going to make this game interesting. I asked Moldenhauer if DC had any tricks up their sleeve. Maybe a defense they'd been holding back or waiting for the right time to use.
"There's something that we have set up," he said. "I'm not going to tell you what it is but I will tell you that there's something set up that the guys all have their job to do. Multiple emails and diagrams have gone out. It'll definitely pop up at some point. It's special for them. Not by my design. My assistant coach Will Smolinski put it together. It's beautiful."
Get to your seats early.
Notes
…Here's an neat little nugget… Since the DoG era 12 of the last 14 open club winners have been from the West Coast. We'll see if that translates to the pro game on Saturday…
…Somewhere in my conversation with Keven Moldenhauer he mentioned Vancouver historically having great throwers. He's right. As a college freshman I watched Disc 1 every single day and I have the glorious Jeff Cruickshank thumber when Furious played Jam in the 2/3 game at Northwest Regionals in 2004 etched in my mind permanently. Oddly enough,Jeff Cruickshank is the assistant coach of the Nighthawks…