Germany's Bad Skid has been preparing for WUCC 2014 for five years. Can they continue to rise in prominence at the international level?

Many teams plan ahead. Some are eager to make a run at a National Championship this year or next. Others take a two or three year outlook on rising to prominence. For Germany's top Men's team, Bad Skid, preparation for the 2014 World Club Championships — what the team says is the biggest tournament in its history — began five years ago.
To understand Bad Skid, you have to first go back to its 2007 founding. At the time, there were multiple clubs in the Heilbronn region. The area teams, many of which housed some of the top German youth players at the time, joined forces to form Bad Skid, with an eye on winning in Germany and beyond.
The team had modest beginnings: a seventh place finish at German Nationals in '07, then a 3rd place finish in '08 along with an 11th place finish at the European Championships. A slip back to 7th at German Nationals the following year set into motion a new determination that has brought Bad Skid to prominence as one of the top European sides.
"We had a big change on our team after 2009," said Bad Skid captain Cristoph Köble. "We started to get very motivated and focused."
That shift rocketed Bad Skid to the forefront of Europe. After a 6th place finish at German Nationals in 2010, they won the tournament in each of the last three years. They also added two fifth place EUCF finishes, and a 3rd place finish last year. Despite all the success, since 2009, they've really had their eyes on Worlds this year in Lecco, Italy.
Bolstered by an experienced roster that has been refreshed with some top youth talent — four players on the roster played on the U19 team and six played last year on the U23 team — the team is more talented than ever. Some of the veterans have been playing together for over ten years. That has helped Bad Skid develop an identity and chemistry that has secured them among the European elite. They come into Worlds as the 10th overall seed.
6′ 2" Holgen Beuttenmüller, whom Köble called the "best cutter in Germany," is the offensive lynchpin for Bad Skid. He's dangerous with Nico Müller, a gifted thrower, delivering the disc.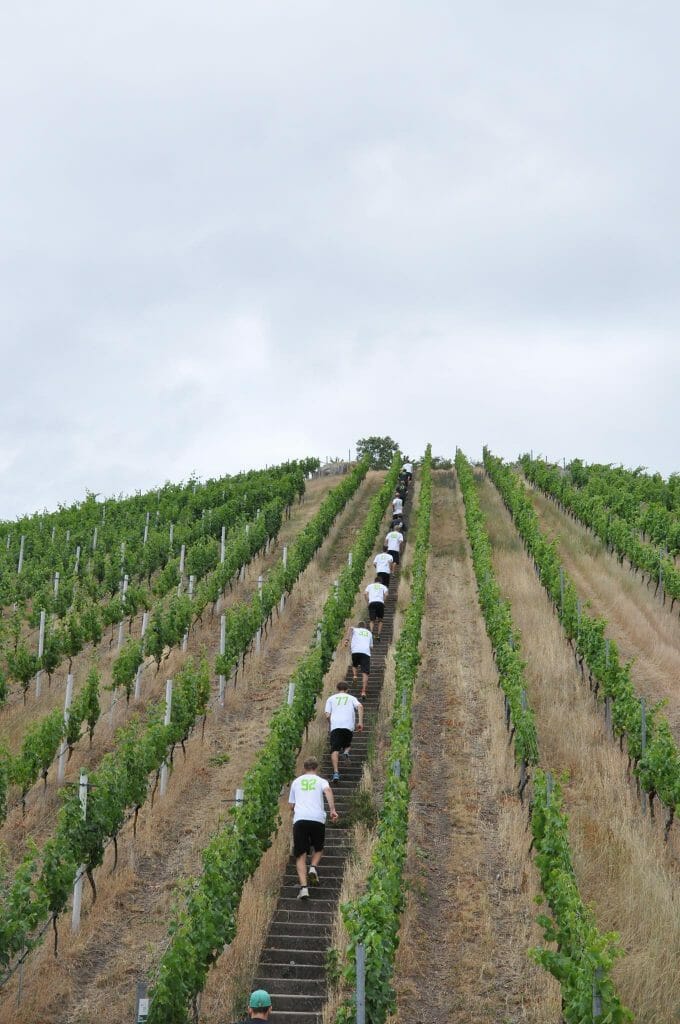 The homegrown club — the team has no outside pickups, unlike many WUCC squads — sticks to basics strategically, often running standard horizontal and vertical sets and letting the individual skills of their athletes shine through. Defensively, they tend to stay with a tough-nosed man-to-man — Köble says it is their best look — but they do have a variety of zones to mix things up. They get big contributions on the defensive side of the disc from ex-NexGen player Phillipp Haas (Truck Stop '13) and Köble.
Bad Skid, in top form, is probably the second best team in Europe behind the UK's Clapham, the defending European champions. They lost to Swiss champion Freespeed at XEUCF last year by one in the semis, but beat them 17-11 in a friendly WUCC warm-up over the weekend.
That close loss at the European Championships, though, suggests a possible weakness of Bad Skid: they play to the level of their opponents. They seem to have a penchant for close games, regardless of the quality of the opposition.
"Most of the time it's not the pressure of the defense why we lose those games; it's on us," said Köble.
They lost on double game point to Freespeed at XEUCF. They lost on double game point to a French team in the quarters of this year's London Calling. They beat UK's Chevron on double game point in consolation brackets at the same tournament. And they beat the UK's EMO in the fifth place game, you guessed it, on double game point.
At this year's Windmill Windup, again Bad Skid stumbled late. They couldn't ever get over the hump against national rival Heidees and fell 15-13 in the semifinal.
Most, if not all, of those teams should, on paper, lose — and many lose handily — to Bad Skid.
But they also play up to top level competitors. They nearly beat a strong US team in the finals of the 2013 Windmill Windup. They've been in big games, but never seem to bring home the prize. They will play well for most of the game but fall short in the final points.
"It's difficult. In some of the games where we aren't favored, we get to the point where we lead by one or two points late in the game," said Köble. "But we miss some coolness to go on playing the same game that we did before."
Bad Skid hopes to reach the quarterfinals of this year's WUCC, where they are likely to face a top American side. There's no question they have the talent to do so — it's a matter of whether or not they have the mentality.
They will surely come in confident after defeating Colony (Australia), FAB (Switzerland), and Freespeed — the 6th, 9th, and 11th seeds, respectively — at a warm-up tournament this weekend in Germany. But that big win when it counts still seems elusive for Bad Skid. They hope to find the magic touch next week in Lecco.