After a dominating US Open performance, Riot seems primed to return to the their championship ways. Very little roster turnover and early preparation has them looking like the early season favorite.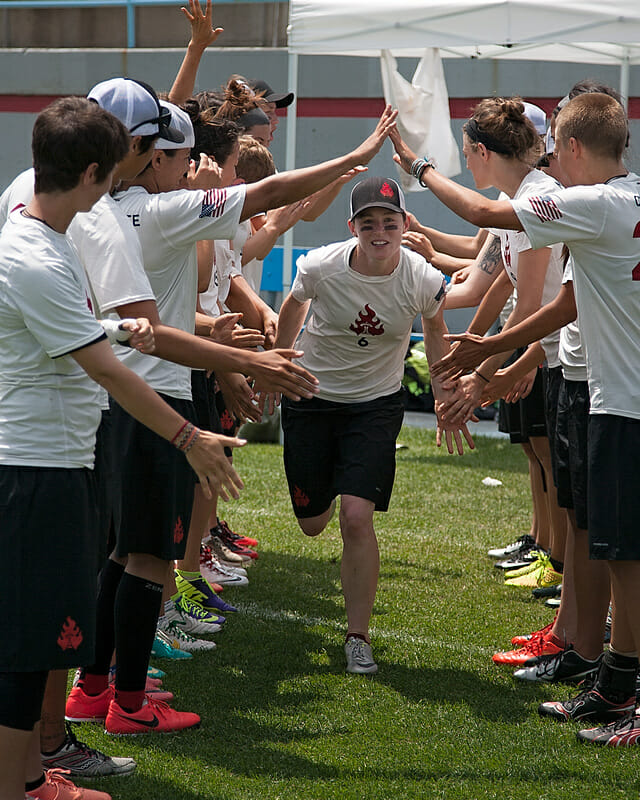 Each season is its own journey.
That mantra is as close to a universal truth as we have in our sport. Cliché be damned, we all experience it, year after year, as rosters change, games are played, injuries are managed, and seasons unfold in unique ways.
For Seattle Riot, it's true of 2014, and it's exciting. The year prior didn't go as planned, but new opportunities present themselves in this incipient season.
But maybe it is a little less true for Riot than virtually any other team. In many ways, 2014 is just the back nine for Riot, and they are teeing up for a blistering run.
Picking Up Where They Left Off
It takes a keen eye to spot the difference between the 2014 Riot roster and last year's; 23 names crossover. Of their three rookies, one has already donned the Riot jersey before (just a couple years ago), another battled against Riot as a cornerstone of an elite opponent, and the last is a hardworking grinder that fits in with the Riot scheme. Rookie might be a bit of a misnomer.
That pays off in so many ways. Obviously, it means less teaching and integrating: most of the team knows the playbook, knows the attitude, and knows their teammates. It also means that there is a foundation, which is not to be overlooked. 23 (or even 24) of these players have already been practicing together on chosen areas and this year's focuses can be stacked on top of the layers in place. And it means the team can look back at 2013's lessons nearly to a woman.
"We spent a lot of time on fundamentals last year," says captain Alyssa Weatherford, "so this year we were able to start with a little bit more complex and brainy stuff."
One of the team's few bits of turnover is on the sideline – and the film room – where the team lost Coach Ben Wiggins and long-distance video coach, Mike Lawler. While the capable Andy Lovseth has stepped in to fill the void, the phantom of the 2013 season acts as the assistant coach, offering reminders and tips — and reinforcing abstract ideas with concrete examples.
The Riot micro-communities system also makes a return. In this system, the team is divided into smaller groups that do in- and out-of-practice activities together, each one featuring a member of the team leadership.
"It's also our feedback system," adds Weatherford. "It came from the idea of having more peer leaders on our team, instead of just our captains and leadership. They really promoted the idea that everyone on our team can be a leader in a different way."
The team has attributed some of their early season success to utilizing this system of management and relationship-building. The results are impressive.
The Early Otter Gets the Oyster
Riot currently occupies the top spot in both the Triple Crown Tour rankings and Ultiworld's Club Power Rankings. That's on the back of an undefeated and primarily unchallenged victory at the US Open, a dominant showing where they were by far the most consistent and polished outfit. Along the way, they beat Traffic, Scandal, and both Brute Squad and Fury twice, making them 15-1 this season.
"I felt like our offense did look a little bit more polished," says Weatherford.
Riot's 2013 would far exceed most team's goals; for them, it left something to be desired. US Open yielded two losses, including a hefty 13-7 defeat at the hands of Scandal in the semifinals. That same Scandal team would dismantle Seattle on the public stage in the national semifinals. It was only the third time since 2003 that they failed to make it to the club championship finals.
With WUCCs on the horizon, Seattle got a jump on the season, finalizing their roster and beginning organized practice in April. Combined with their minimal roster attrition and well-established program, the new US Open champ has been springboarded forward. They have a lot of momentum as they head to Lecco, where they'll be a favorite to take home Riot's second World Championship.
Conquering the World and the Nation
In order to come home with two Gold medals, Riot will have to keep trending upward, but there's plenty of reasons to believe beyond their start to the season.
Back in the fold are some of Ultimate's most talented and effective players. Sarah "Surge" Griffith continues to make her case as the world's best player, and continued to do so at the US Open. Calise Cardenas is a cutting machine, racking up yardage and goals in an undeniably consistent fashion. Rohre Titcomb, Katy Craley, Gwen Ambler, Hana Kawai, Shannon O'Malley, Alyssa Weatherford, and Charlie Mercer all offer starpower in their own rights. Kelly Johnson was one of the most impactful players in club last season. The roster is jampacked with the division's premier talent.
Their lack of turnover is even more pronounced when the three players returning from major injury are taken into account: Titcomb, Weatherford, and Sarah Davis. Those three make up a high volume of touches in Riot's handler core, and Titcomb doubles as one of the best defenders they have. Callahan finalist Callie Mah may be out for the season with an ACL injury, but so much firepower is rejoining the squad that their performance this season is bound to outpace last year's.
"We were able to just pick up where we left off," says Weatherford.
The extra competition at World's should only sharpen their game, giving them three tournaments with high quality competition throughout – plus Northwest Regionals – before the Club Championships in Frisco, TX. With an early start, bolstered roster, and a higher level of preparation than ever before, things are lining up for Riot. It's been a long time coming.