Revolver won a tight game against Johnny Bravo and Sockeye blew out Colony in the WUCC semis.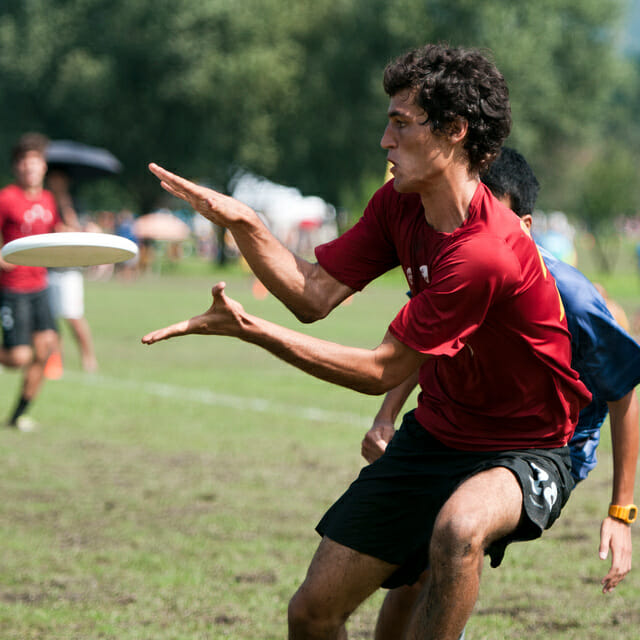 LECCO — Coming into the 2014 season, it was fairly clear that the early favorites to win the USA National Championships were Revolver — the defending champions with dynastic ambitions — and Johnny Bravo, the rising team jampacked with star power.
It was only fitting, then, that they faced off in the finals of the US Open. And it was only fitting that they met again in the semifinals of the World Ultimate Club Championships.
Both matches were exciting and exceedingly close. And Revolver continues to maintain their grip on the top spot with back to back wins. Today's game, though tight, was not an instant classic — it was a grinding defensive battle decided by thin margins.
Despite notching two first half breaks and going up by three at 8-5, Johnny Bravo struggled from the point forward, allowing Revolver to tie the game at eight and eventually falling behind at 11-10. They would not lead again, and Revolver took the game 16-14.
"I think we made the decision to ratchet up the defense," said Revolver coach Mike Payne about the shift in the game at 8-5. Revolver's offense also stabilized — though it turned the disc over a number of times, it did not concede another break.
Play began in the offense's favor, with both teams holding twice without a turnover. Bart Watson hit Jimmy Mickle twice to open the scoring for Bravo.
Revolver forced the game's first turnover on the next point, when Jordan Jeffery got up to knock away a hanging Watson huck. But Revolver promptly turned it over the other way on a huck. Brett Matzuka aired one out to Sean Keegan, who laid out to put Bravo up 3-2.
On the following point, Bravo's defense struck after a scary moment when Revolver's Cassidy Rasmussen had to be carried off the field. (He would return later in the game, unscathed.) After some patient work by the D line's offense, Mickle hit Jackson Kloor for the game's first break.
Bravo extended its lead to three after Henry Konker attacked a hanging huck. Kurt Gibson took over the point and hit Kloor for the 8-5 lead.
After an easy Revolver offensive point, Beau Kittredge made his presence felt defensively with a big sky block on Mickle. The Revolver D line looked sharp, and Sam Kanner hit new Revolver pickup Alex Evangelides to get back within one.
Both teams turned it over once on the following point, then Watson turned it over deep once again. Kittredge waited patiently underneath until he found a seam to the endzone and caught the game-tying score.
Revolver continued to ratchet up the pressure on the following point, but couldn't stop Sean Keegan from finding Gibson for the 9-8 halftime lead.
Though Bravo was ahead, the game held a different complexion than it had at the beginning of the game. Revolver's marks and dump defense were much stronger after a slow start, and Bravo's offensive possessions got increasingly challenging in the second half.
Marcelo Sanchez hucked to Rasmussen to open the second half scoring for Revolver, and Revolver took their first lead when Bravo's Brett Matzuka turfed an up-line flick. Kittredge hit Ryo Kawaoka to put Revolver up 11-10.
Watson hit Mickle with a beautiful deep shot for their third connection of the game, but Revolver stayed in front after Chris Kosednar made a beautiful crossfield throw to Kittredge, who dished into the endzone to Rasmussen.
A long, grinding offensive point for Bravo ended in a hold, though Revolver was just inches from some blocks. Tim Morrissey just missed a block for Bravo on the next point.
Revolver sealed the game after a poor throw from Nick Lance was blocked by  Zach Travis. He went on to complete the bookends with a break score to put Revolver up 14-12. Though Johnny Bravo had two chances to tie the game on their final two D points after blocks from Jack McShane and Henry Konker, their defensive line couldn't convert. Kittredge assisted and then scored on the final two Revolver points.
"Possessions on defense are always difficult to come by," said Johnny Bravo captain Ryan Farrell. "If we go break-break, we win the game."
The game really did feel that close. Had Bravo made just one more play — perhaps to go up by four at half, tie it up late, or avoid one bad turnover — they may well have won. But Revolver again showed off their depth, maintaining better defense over the course of the game and wearing down the Bravo lines.
"I think we have a deeper D line than anyone in the world," said Payne.
Still, to say that Revolver is deeper than Bravo is a stretch. Bravo trots out line after line of top position players, including many of the world's very best. They may not quite be there yet, but this game shows that they are just a few adjustments — and maybe a lucky break — away from a big win. "I feel like we just got out-executed," said Farrell. "I'm still super comfortable with the personnel."
He did admit though that they need to have better composure, particularly on the D line's offense. "I think they have keyed in on our deep game better than any other team," he said. "We still want those shots, but we just want them to be better choices."
The loss stung Bravo, who had one goal coming here: beat Revolver. And the game is just one among many on the road to the USA National Championships. The team's know they will see each other again, and they're ready for another battle.
"I told [Revolver] in the spirit circle that they're the champions until we chop their fucking head off," said Farrell. "And that's all we want to do."
***
The other semifinal was a laugher as Sockeye (USA) defeated Colony (AUS) 17-4. Though the game started close, with the teams tied 3-3, Sockeye started swarming everywhere on defense and punished the mentally unprepared Colony for the rest of the game.
"That was the first game where all seven players really locked on," said Sockeye captain Tyler Kinley. "There was no safety valve."
Sockeye routinely had multiple defenders underneath Colony hucks, and they played almost perfect offense in the second half (despite the offensive line only seeing the field once).
"We didn't have the composure we needed," said Colony captain Joel Pillar. "Maybe we had a few too many beers last night. We were a bit too relaxed."
Many of the Colony turnovers were what Pillar said was "perceived pressure;" there were a handful of totally unforced turfs. And Sockeye was hungry for not just a win, but a big win.
"We were screaming the entire game," said Kinley.