Revolver repeats as World Champion in Lecco with 17-15 win over Sockeye.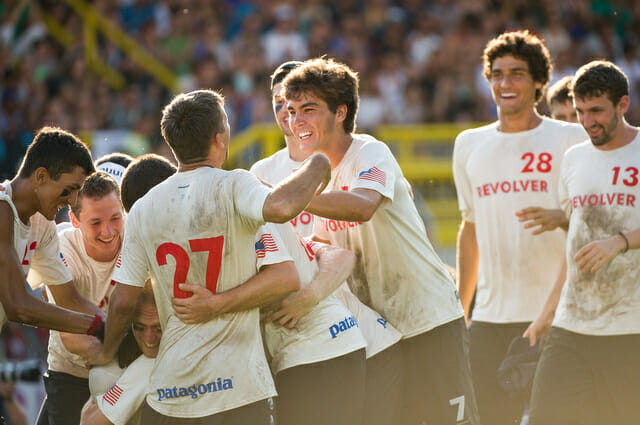 LECCO — With a strong offensive performance, San Francisco Revolver defended their world title from 2010 in Prague with a 17-15 victory over Seattle Sockeye in the final of the 2014 World Ultimate Club Championships.
Beau Kittredge had four goals and an assist for Revolver, leading the team to another major victory. Revolver rookie Simon Higgins added three goals and two assists, looking right at home in the Revolver system.
The game never quite reached a fever pitch, despite good performances from both teams.  An at times sloppy first half gave way to a very clean second half and Sockeye was never able to close down Revolver's lead. Revolver got just two breaks in the game and Sockeye one. There were no breaks in the final 14 points of the contest. Revolver had just one turnover in the second half.
"When you have two teams like that that know each other so well, I think that level of efficiency can happen," said Revolver coach Mike Payne.
Despite playing without normal offensive line starter Ashlin Joye, Revolver's offense didn't look particularly challenged by Sockeye. They annihilated any zones that Sockeye threw at them and generally looked comfortable handling Seattle's transitions from junk to man. The offense had some bad turnovers in the first half — two poor throws by Kittredge, a Chris Kosednar turf — but rarely were the mistakes caused by Sockeye's defense. The offense was nearly perfect in the second half.
"Sockeye doesn't always buckle down and play man defense at the start of the point," said Payne. "I think we were prepared mentally for head fakes and looking people over."
Revolver got the game's first break after Mike Caldwell had an uncharacteristic drop on an unpressured in cut near midfield. After working back and forth, Eli Kerns found Russell Wynne for the 5-3 Revolver lead.
Sockeye got it back to even after a Kittredge huck to Cassidy Rasmussen was just a bit too far out in front. Rasmussen laid out for the disc and got his hand on it, but couldn't sustain the catch through the ground contact. Sockeye quickly attacked deep to Julian Hausman who dished to Matt Russell to tie the game at six.
Sockeye had a number of other chances to break in the first half. The Revolver offense coughed the disc up on four points; Sockeye could only convert once.
"We have a saying: 'Be quick but not greedy,'" said Sockeye captain Danny Karlinsky. "Both our offense and our defensive line offense got away from that. And just a few mistakes can alter a game." Sockeye had a number of unforced errors, particularly looking deep, in the first half.
It's hard not to look back on some of those missed opportunities and imagine a different game. After Kosednar turfed a disc looking for Higgins, Sockeye had the disc immediately in the red zone. But Adam Simon short armed a totally unpressured backhand swing and gave it back to Revolver. Kittredge laid out in the opposite endzone for the score and the 7-6 lead.
"I think the difference in this game is conversion with our D line offense," said Karlinsky.
Revolver would give themselves all the cushion they needed when Zach Travis again came up with a huge block. He had the decisive block and bookends score yesterday against Johnny Bravo to put Revolver ahead 14-12. Today, he laid out on a BJ Sefton in cut and got a critical block that led to Revolver's only break of the second half.
"We had run them apart and they were tired," said Payne, praising Travis — "the wolf" as he's called by his team — for his timely defense.
But it was the offense that won Revolver the game. It is rare, even with the best offenses in the world on the field, for two breaks to be enough to win a game.
It was no surprise to see the big names — Kittredge, Rasmussen, Robbie Cahill — making plays. But Revolver newbie Simon Higgins stole the show.
"He's starting to draw Beau's defenders," said Payne, "which is important because it makes it even more easy for Beau to get open."
Higgins, who played college ultimate with Las Positas in California and club with the mixed team Polar Bears before joining Revolver, said it's been hard work to get integrated into the system. "It wasn't easy to start off adjusting to a faster pace game," he said. "But I don't have to do as much as I did in the past."
At 6'4″, he is an obvious deep threat and found the endzone a lot this week. But he also creates vacuums for his teammates to cut into. Payne said he shows naturally "incredible timing and spacing," but that he needs to improve his speed to become a truly dominant player.
"Beau is kind of a mentor and role model for me in his play style," said Higgins. Look out.
Danny Karlinsky was the star for Seattle, making all the right decisions and tallying four assists and a goal (as well as a pair of hockey assists). The rest of the Sockeye offense also had a strong game. The offense only turned the disc over on three of its points; Revolver made them pay on two of those.
For Revolver, they continue their reign atop the elite men's ultimate throne, having won World Clubs in 2010 and 2014, Worlds in 2012 playing as USA, and three of the last four USA National Championships.