Seattle Riot beat San Francisco Fury 17-15 to win the 2014 World Club Championships.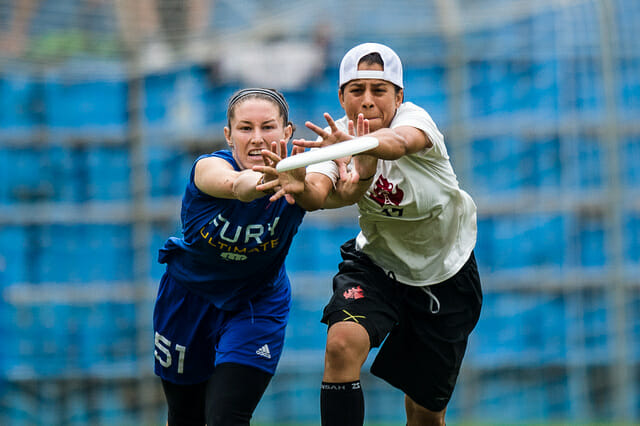 LECCO — For the first time since 2005, Seattle Riot defeated San Francisco Fury in a major tournament, winning the 2014 World Championship with a 17-15 victory in the final.
With a patient offensive attack and strong defensive line offense, Riot was in control from the start. Though the game remained close throughout, Riot never trailed and held at least a one break advantage for most of the game.
"I don't feel like it's quite real yet," said Riot captain Alyssa Weatherford after the game. Weatherford is one of a number of key Riot players that has returned to the field this season after battling injuries last year. Now in her eighth season on Riot, she has never before beaten Fury in a critical game.
"We only have one player left on our roster who has beaten Fury: Shannon O'Malley," said Weatherford. "And she's not here with us this week."
Riot played their best ultimate this week on the biggest stage. Sarah "Surge" Griffith was dominant all game, but particularly in the first half where she had two goals and two assists. Gwen Ambler was the star of the second half, coming up with some huge throws and some great rundowns on hucks.
Fury trailed early, giving up a break to fall behind 2-0 after a Lakshmi Narayan huck to Lisa Pitcaithley hung up too long and was blocked away by Riot's Charlie Mercer. Each team finished a somewhat plodding first half with two breaks.
The second half, though, was wildly entertaining. A Griffith block and bookends score opened the scoring, giving Riot a critical one break advantage at 10-8. After holds from both teams, Fury's Claire Desmond made the play of the game after tipping the disc in the air under pressure from the defense before making an amazing second effort layout grab to secure the score.
After a smooth offensive point for Riot, it was Desmond making the highlight reel again, this time with a posterizing sky grab over Griffith.
Hana Kawai added to Riot's lead with a pretty inside flick to Kelly Johnson for a break after a Fury huck to Narayan went out of bounds. That goal made the score 14-11, the largest Riot lead of the game.
Riot kept swinging the disc back and forth against Fury's sagging man defense and waiting for plays to develop. They ultimately allowed just one break in the second half, when Fury's Maggie Ruden intercepted a hanging swing pass and later scored to make it 15-14 Riot.
A bizarre moment late in the game: Fury thought the game had ended at 16-14 because of the cap, and Riot started to celebrate. After some discussion with the game advisers, it was determined that the cap had gone on at 15-14, meaning the game would be played to 17. So players sent seven out to the lines as the crowd chanted "One more point!"
Fury held on a long, six-turnover point as Lisa Pitcaithley — who was a big contributor for Fury in this game — hit Gen Laroche to give their defense an opportunity to tie the game.
But it wasn't to be. Riot's offense was tentative and conservative, but they worked slowly up the field with great spacing and patience. Dominique Fontenette dished a short backhand to Rachel Bradshaw for the win.
"In February, people said, 'We want to win Worlds; we want to win Nationals,'" said Riot coach Andy Lovseth. "And they've backed that up with the work."
While of course excited, the Riot team was relatively subdued considering that they had just won a World title. That could be because they view Worlds as just a step in their 2014 journey. "We never talked about it as Worlds, then Nationals," said Lovseth. "It's Worlds and Nationals."
Fury coach Matty Tsang said it was clear that Riot had been working hard in the run up to Lecco. But he was happy with Fury's performance as well, seeing it more as a great game between two very even teams. "We would have played the same game even if we won," he said.