Chicago Heavyweights is jamming the ring with fighters from up and down the list of contenders. Can anyone unseat the undisputed champion, Chicago Machine?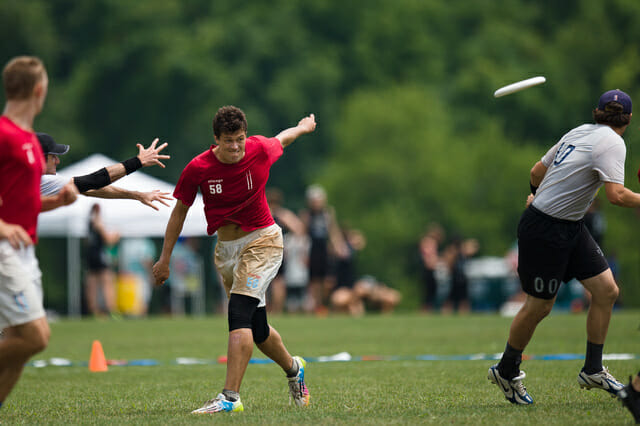 This year, the attending team list in Chicago truly packs a punch. The annual Chicago Heavyweights Championship added some more heavyweights in 2014, as a strong group of Tier 1 and Tier 2 participants are set to battle it out in Rockford, Illinois.
Chicago Machine will be in attendance as usual, but in addition to a strong core of Midwest squads like Madison Club, Michigan High Five, and Columbus Madcow, they'll have to face New York PoNY and Washington DC Truckstop, as well as a horde of Tier 2 teams from around the country.
The Contenders
Defending champions of their "home" tournament, Machine is the team to beat here once again.
The Chicago squad has won Heavyweights in dominating fashion the last few years, cementing their position as number one in the Great Lakes —  and indeed in the Midwest in general — only a few short weeks before Regionals. This year, however, while Sub Zero is not in attendance, they'll have to deal with two teams from the East Coast.
Machine is the favorite for a reason. Their roster is very deep, only strengthened after their Madison Club additions in the offseason. A matchup with these players and their former Madison team would provide a very interesting battle indeed.
A.J. Nelson, Jonathan "Goose" Helton, and Bob Liu are standout stars on a heavy offensive line, which provides matchup nightmares at every turn, while Walden Nelson and Kevin Kelly lead a strong defensive unit. Ron Kubalanza, at the helm as player-coach, will continue to strategically guide them through the waters.
However, the squad won't be entirely at full strength.
"We should have our full roster in attendance for CHC," says captain Kevin Kelly, "but unfortunately a handful of our players have had injuries of recent and a likely going to be leaving us without 4-5 guys. One of whom is Greg Slover who broke his foot and is going to be out 6-8 weeks."
Even with a few injured players, teams are going to be hard pressed to slow Machine down. For many, eyes will be on Chicago to see what works well against them and how other rosters look to strategically deal with matchups. While they've proved they can make mistakes (see their early Chesapeake loss to Chain Lightning), Vegas has its money on this team taking home the Heavyweights championship belt.
The storyline then is: how will Machine live up to these expectations? Machine has been looking to break through into the elite of the elite — the top five in the nation — for a few years now, and will focus hard to not stumble here. The other top teams will undoubtedly be targeting them for an upset.
"I think expectations are high for us going into this weekend," says Kelly, "but that's not something we can control at this point and it's not something our players are thinking about in any way. It is business as usual. We are solely going to focus on the things that we can control."
Pride of New York (PoNY)
PoNY also brings in high expectations and will make the trip to Chicago, believing this as a tourney they need to win if they want to make a legitimate run at the Pro Flight.
PoNY has had a strong, if not spectacular, early season already, collecting wins against Doublewide, GOAT, Ring of Fire, and Truck Stop. However, they were upset early at Chesapeake by Madcow, during a game where they failed to execute. PoNY was then eliminated in that tournament by Machine, a thumping loss in which they looked like they had no business being on the field. They lost the third place placement game to fellow Elite Flight team Ring of Fire. Ring would also go on to knock them out (on double game point) at Colorado Cup.
Their record is respectable, but PoNY, a team looking to break into the top eight this season, needs to step it up a notch.
Led by captains Milo Snyder, Andrew Wilkes, and Chris Mazur, PoNY is one of the smarter teams in the game. They used poachy handler looks to great effect in their quarterfinal battle with Ring in Colorado, and proved their grit each step of the way. They don't have quite the big name rosters as other teams this season, but they still find ways to win one-on-one matchups.
Sitting at number nine in the current power rankings, and overshadowed by some of the flashiness in this World's year, PoNY looks to take care of business in Illinois. This should be a bellwether tournament for where they stand heading into the Series.
Washington D.C. Truck Stop
If the top two teams are looking to break into the elite, Truck Stop is still looking for the right to be in the conversation.
The team has been to two tournaments thus far and, though they number more losses on the year than PoNY and Machine combined, they've all been tight games with open lines.
"So far this season, we have had a lot of really close games," explained coach Will Smolinski. "Only two have been decided than more than two breaks.  To date we have played some great Ultimate but have yet to play a full game – we have either start strong and fade or start slow and come back."
Chesapeake was used in part to tryout players, solidify roster roles, and learn about the team's chemistry; Truck Stop still came away with some impressive wins over Sub Zero and Chain Lightning. Conversely, every loss in that tournament was by two points or less, even with open subbing throughout the tournament.
Similarly, at Colorado Cup, Truck Stop lost some close ones while taking their own share of tight wins.
Consistency, therefore, will be what is needed now. This will be one of the Elite Flight squads that is vulnerable to attack from below and they will need to take care of business against any lower ranked seeds to prove they are a Nationals lock.
Key star Alan Kolick broke his wrist at Chesapeake, no question a blow to the team, but they have an extremely fast and fit core, especially with intense, tight defense. Many of Truck's players shined in the MLU this year and could be set to put it all together late in this club season. Jeff Wodatch and Peter Prial are monsters when they need to be. It will be this team that hopes to take down PoNY in semis, after having lost to the New York side on double game point in Colorado.
"We know the potential of this team and are looking to show that success in the pro seasons was not a fluke," Smolinski said. "At Heavyweights we are looking forward to a more normal rotation of players, playing two good halves against top tier teams, and putting ourselves in a position to win our Region."
Madison Club
There is definitely something to prove from this Madison Club squad.
Largely unmentioned in the Nationals conversation, except when their former players on Machine are discussed, Madison is not a force to be dismissed so lightly.
This group still has a ton of talent on the roster, cemented with a strong core of Hodags, including Callahan nominees Brian Hart and Colin Camp, as well as Wisconsin coach Hector Valdivia. This squad, just like Machine, has a lot of players gaining experience and confidence from a successful AUDL squad — defensive standout Peter Graffy seems to be the name that popped this year — and they have years of Nationals experience to back them.
Madison is known for their tough defense and they aren't afraid to huck. They won the San Diego Slammer in convincing fashion, adding that championship title to their resume, had a solid Colorado Cup with tight losses to PoNY and Rhino, and are usually the team that fights Machine in the Heavyweight finals.
Mad Club's goal is to pop into that top ten ranking by running the table and winning the tournament, and they'll have a full strength lineup to do so.
"A couple players have nicks and bruises from tournaments and practices," says Bill Everhart, "but 25 out of 26 of our players will be suited up for Heavyweights for the teams best tournament attendance yet this year. Returning after absences at Colorado Cup are our O-line anchor Andrew Brown, squirrely D-line handler Danny Stuligross, and two of our big men, Chris Wilen and Pat Donovan."
The question this year is whether they can get back to the finals of this tournament,with the addition of a few other top contenders. To do so would be critical for their own bid situation, which isn't secure in a region that hosts the always dangerous Sub Zero.
If they do make finals, they'll have a chance to battle their old teammates and show that they should not be counted out of teams that will be in the mix in Frisco.
Columbus Madcow
Like Truck Stop, Madcow's results lack consistency.
Effort isn't short on this squad, and many of the players have Nationals experience and have been tough matchups in the Ohio Valley for years. So far this season, Madcow has been to Chesapeake and Colorado Cup and has been in some tough fights. But fighting hard isn't the same as putting it all together to win.
Colorado Cup, especially, must have been frustrating: while they came away with a close victory against Florida United, their five losses were all by four or so points. Close, but not close enough.
Both tournaments have to be labeled as disappointments and missed opportunities. Last year, Madcow needed to rob regional foe High Five of their bid to sneak into National competition and a second bid will be needed again this year, unless the this team can find a way to beat Machine, which looks unlikely. That means victories against other Nationals-level competitors, especially those who sit second or third in a region, or at the very least, close losses to top squads.
The rankings currently have Madcow outside the wildcard slots; this tournament is perhaps their last big chance. If they can bring it together to upset one or two of the top teams, the fight for a bid will continue. If not, they may have to be cheering on their rivals from Michigan, in hopes that Madcow can once again play the thief come Regionals.
Michigan High Five
The team from Michigan made a lot of noise last year earning themselves a strength bid; however, they lost that bid at Regionals to a well-prepared Madcow team.
This year they haven't made quite the splash, but have had solid results in their battle to establish themselves. Chesapeake was an up and down tournament with a few good wins, including one over Truck Stop and an early victory against Sub Zero.
However, Colorado Cup was a rough competition for High Five as they came away with only one win (against Inception) on the weekend. Even more troubling was that some of their losses came to opponents that they had previously beaten; other losses were by wide margins.
The worry for High Five is that as they join the top twenty and matchup more and more often, other teams will be able to identify their key players and strategies and begin to pick them apart. It's a common difficulty for any new team seeking to establish itself; the first year is as a group of unknowns, but afterwards, tendencies and strengths are quickly analyzed and a sophomore slump can set in as other teams counter.
High Five, like Madcow, needs quality victories to eke out extra bids for the Great Lakes Region. With Machine sitting so strongly at the top, the fight will be for second once again. Ideally, both squads finish strong enough to steal a second and third shot to Nationals, but the battle at the bottom of the wildcard rankings is always so tough that this is a high ask.
The Best of the Rest
The Tier Two table at this tournament is always filled with Sunday Regionals competitors, and this year is no exception with name upon name of middleweights seeking to come away with an upset victory.
Teams from the East Coast, Midwest, and Southwest are descending on Rockford looking to prove their own mettle against each other and the upper teams.
Prairie Fire out of Kansas will be the most interesting to watch as this team started the season with an absolutely punishing record and look to prove that they belong up in Tier 1 with the big boys. They are also currently ranked #2 in the USA Ultimate rankings — securing an extra bid for their region — so eyes from all over will be watching (and many hoping) whether Prairie Fire can hold onto their bid.
"The ranking is nice," says Joe Nickels, "but it's totally overblown at this stage. TCT has made it more difficult to compare results between the proven teams and teams like us, who are trying to break through. The rankings don't really matter until September, and even if we do earn a bid, we have to hold it at Regionals."
That being said, Prarie Fire wants to earn their bid and prove their place. "Our regular season goal is to earn a bid for the Region," said Nickels. "We certainly have an opportunity to do that at CHC. Our focus for this tournament is the same as the first two (Two-Finger and Huckfest): Communication and Execution. If we run our sets and concepts well, and adapt to game conditions, we're confident we can beat any team there."
Pittsburgh's new club team, now known as Temper,  can also fall into the interesting up-and-comer category, as the best of Pitt's college team — both current players and alumni — once again come together to fight in the Open Division. This is a new squad, replacing Oakland (a one-time Nationals qualifier themselves). Temper has lots of wins against lower tier competition — this weekend should help us place them into the
Similarly, Philadelphia Patrol is a new open group from the east, attempting to establish itself in a city of the AUDL Spinners and the former base of Southpaw. Garuda, Dire Wolf, and Kentucky Flying Circus also are heading westward looking for big wins.
Space City, H.I.P., and PLEX will make the trip once again from Texas, joined by Sprawl from the Southwest and Inception of Colorado, as will StreetGang of San Diego, and there will be the horde of the Midwest including the Motown Champs Bro Cats.
All in all, this secondary field is probably the deepest it has ever been and while new big names come to the tournament looking to shine, there will likely be at least one of these squads in semifinals come Sunday as these teams will challenge. In a new Triple Crown world, this tournament represents an old, all-comers style tourney and should be fun to watch.
The Main Billing
The field is set, all that's left is to sit back and watch the fights.
Machine is the real heavyweight contender this year and should win, but will they cruise to knockout victory, or be humbled by the assaults of their foes in route?
Similarly, which of the other teams will prove that they are at the top level and belong in the championship match? Which lower team will prove they belong in the ring with the top fighters? We're about to find out.