With just one bid, Southwest Regionals could just be a formality for the defending National and World Champions San Francisco Revolver. But a cast of hopefuls will look to rewrite the script.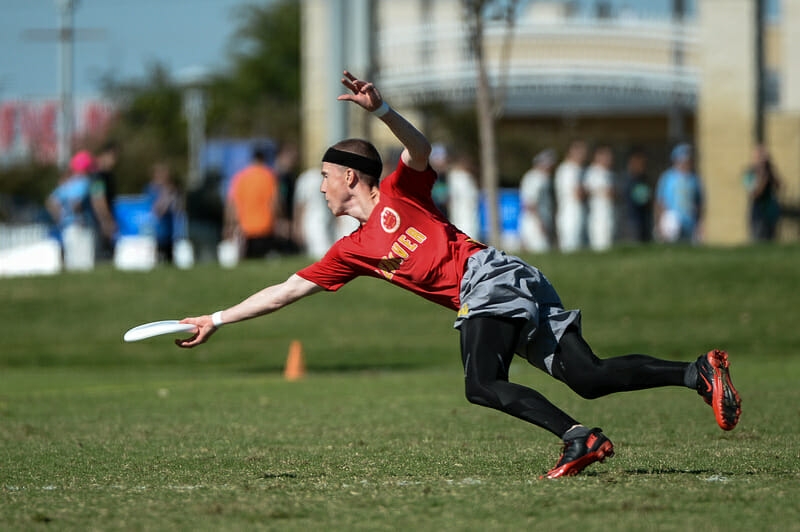 For many years, the Southwest Region in the Men's Division has largely been a story of a towering behemoth and a bunch of hopefuls vying for number two.
Even before the reshaping of the regions in 2012, the Southwest was basically Denver's Johnny Bravo, and the rest. Now it's San Francisco's Revolver, and the rest.
2014 will likely be no different.
What will be different, however, is that this year just a single team will be granted the opportunity to advance to Nationals.
To be fair, it's tough to imagine any other squad being able to pull off the upset of the year and prevent the defending National and World champions from even getting the chance to compete at the Club Championships. Really tough.
But it's not impossible.
A number of the hopeful squads have put together some solid wins over the course of the season, the Santa Barbara Condors in particular. So a crazy surprise isn't entirely out of question.
In order for such a shocker to happen, though, the lucky team will need to pull out their best showing of the season (or maybe of the past few seasons) to walk away from Morgan Hill, California, victorious this weekend.
Here's a look at the top contenders:
San Francisco Revolver
Needing little introduction, Revolver is the clear favorite to take the region and continue its program's excellence.
Coming off a world championship in Lecco, Italy, just last month, however, San Francisco could potentially still be recovering from the grueling international tournament. As was evidenced by their fifth place finish at Pro Flight Finale a few weeks ago, Revolver are not immune to the effects of temporary ultimate overload.
Admittedly, a regular season tournament simply doesn't raise the same stakes as one that could eliminate them from national contention — not to mention the fact that the Emerald City Classic featured most of the best teams in the country whereas Southwest Regionals has no other team in the top 16.
Revolver's cast of stars — Beau Kittredge, Ashlin Joye, Cassidy Rasmussen, Robbie Cahill, rising star Simon Higgins, the list goes on — knows what it takes to win tense elimination games. They should have little trouble getting back to Nationals.
Still, if they're not careful, Revolver could find themselves in a few close games and in need of some strong play to ensure they head back to Frisco, Texas, to defend their title.
Santa Barbara Condors
With the exception of possibly Minneapolis Sub Zero and their absent players during the second half of the season, the Condors may be the most-snubbed team in the country by the final USA Ultimate rankings.
But unlike Sub Zero, not only does Santa Barbara have solid regular season results to back up their case, but they also don't have a team at their general level from which they might steal a bid. Sorry, Revolver doesn't count.
After an impressive Colorado Cup, where they finished third after landing big wins over Washington D.C. Truck Stop, Michigan High Five, and Sub Zero, the Condors looked to be on track to having a second bid locked down for the Southwest. But a somewhat underwhelming West Coast Round Robin, where they suffered losses to Los Angeles Renegade, Palo Alto Boost FC, and Portland Rhino, ended up pushing them all the way down to 20th, leaving the region to battle over one bid.
Luckily for Santa Barbara, they appear to be in the best position of any other squad to show up big on Sunday.
San Jose Spiders ballers Mark Elbogen, Michael Kiyoi, Jeff Silverman, and Tyler Bacon — along with key 2014 pick-ups Husayn Carnegie, Lu Wang, and Brian "Stig" Nguyen — will play pivotal roles in their run this weekend.
Though they've yet to beat a team in the top 10 this year, let alone the winner of the regular season, they'll likely have their shot.
Palo Alto Boost FC
2013 was a tough year for Boost.
They had qualified for their first-ever Nationals visit the year before. They had a promising regular season with big wins over Johnny Bravo, Sub Zero, and Rhino at Club Terminus. Then they fell apart at Regionals, losing to San Diego Streetgang and Phoenix Sprawl for the first time all season and finishing tied for fifth.
This year has been a similarly difficult one to read. Despite solid victories over Toronto GOAT, Michigan High Five, and Streetgang, they were blown out in a handful of games by teams like Raleigh Ring of Fire (3-13) and New York PoNY (5-13).
While a 9-10 record on the season where they finished 11th at Chesapeake Invite and 9th at Colorado Cup doesn't send out the most positive signals, their occasional peaks and clear potential make them a dangerous opponent no matter the situation.
With multiple players on the San Francisco Dogfish, San Francisco Flamethrowers, and Spiders rosters and a solid core of contributors that has been playing together for a good number of years, Boost FC remains a well-rounded squad with a wide variety of weapons.
They'll just need to figure out how to focus all of those weapons for a full weekend in order to return to the show.
San Diego Streetgang
It's been a while since Streetgang has been the solid #1 contender in the Southwest.
Only a few years ago, they could be relied on to secure the second bid to Nationals, dropping to Bravo but holding their position against the rest of the region. Since then, they've been fighting to regain that footing.
They split their games at Colorado Cup, going 3-3 and just missed quarterfinals on a double game point loss to Madison Club in prequarters, before finishing 10th.
Unfortunately for the San Diego team, they got rocked at Chicago Heavyweights. A nice win over Truck Stop was overshadowed by losses to Columbus Madcow and Philadelphia Patrol. They finished 1-4. Streetgang's Sectionals performance, however, points to a potential upswing. They bested Condors in pool play, only to lose to them in the finals; both were close games.
If they can get some early momentum like they did at last year's Regionals and land a key pool play victory, they have the power to slip their way into the finals and give their young San Diego runners (the team is packed with UCSD talent like Trevor Purdy) a chance to rise up.
The Longshots
As surprising as it would be to see Condors, Boost FC, or Streetgang pull out the upset over Revolver, it would be even more shocking if a lower seed like Sprawl or Renegade or anybody else managed to come out of nowhere.
Though each have an impressive win over a region rival—Sprawl over Streetgang at San Diego Slammer and Renegade over Condors at West Coast Round Robin—it would be something to see any of the bottom four make a deep run through the bracket.
While smart money sits on Revolver escaping without too much trouble, there's still a good chance of some exciting, tense ultimate in store for the region this weekend.