Three strong teams. Just two bids to the National Championships. North Central Regionals will be a battle.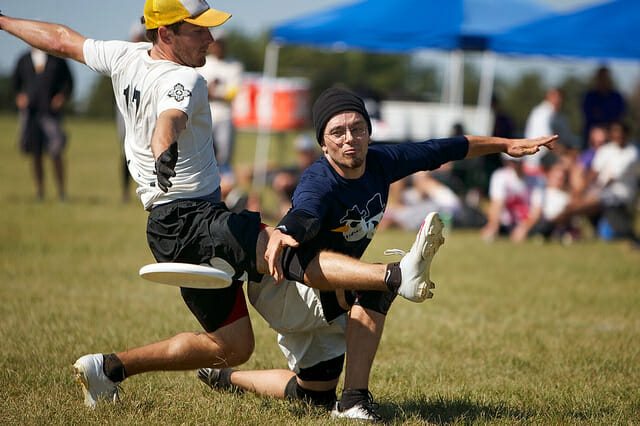 The North Central Men's Regional tournament may be the most exciting in the country.
Two bids are in hand, but three teams dare to be called the elite: Madison Club, Kansas City Prairie Fire, and Minneapolis Sub Zero.
Madison has something to prove after missing Nationals last season and having three of their players abandon the club to play this season with Chicago Machine.
Prairie Fire hopes to finally silence the doubters and prove that this season hasn't been an anomaly — that they deserve both their ranking and to be in Frisco.
And Sub Zero is the wildcard. Picked by many as a dark horse semi-finalist this season, their regular season has been inconsistent due to missing players and sacrificing results for improvement. No one has been able to get an accurate read on their potential.
North Central Regionals is always a dog fight, and this year there are three fierce hounds fighting over two prime cuts of meat.
Madison Club
On paper, Madison is the top team in the region.
"Overall the regular season was a huge success for us," says Bill Everhart. "We won two tournaments and helped our region get a second bid."
San Diego Slammer was the first tourney win, an opener replacement when the squad wasn't invited to the Chesapeake Invite. At Colorado Cup, the group broke seed, but still had mixed results.
Yet it was Chicago Heavyweights where Madison really shined. The team played in many close games (in a tournament shortened by weather), gaining experience, and eventually fought their way through to the championship game against Chicago. Despite a crop of strong teams from outside of the Midwest in attendance, it was once again the two local teams meeting up in the final.
For Madison Club, it was a great opportunity. They had worked their way through the bracket and were set to take on Machine in a game they couldn't wait to play. Riding high, they used a compact zone and some intense play led by Brian Hart to land the upset win, proving their doubters wrong and ensuring a critical second bid for their competitive region.
RELATED: Madison Club Makes The Statement Win Of The Season With Upset Of Machine At Heavyweights
The bid system worked for Madison Club. But the path won't be easy. There are two tough teams also fighting for the two tickets to Texas that they'll have to contend with, not to mention the numerous other squads hoping for the upset.
And things haven't always been smooth.
While Madison has had success, they've also had struggles. Sub Zero has been regional champion since the realignment and Prairie Fire has proven they can hang tough (losing only on double game point to Madison at Heavyweights).
Although Madison comes in at #9 in the final rankings, there is no simple path to Frisco for them. These Madison players know exactly what's at stake, as they remember very well what happened last season and the disappointment of falling just short.
Last season, Madison's season was frustrating to the extreme. Regular season inconsistencies kept the squad out of the top sixteen in the rankings, denying them a wildcard. With only one bid the North Central, it came down to the Regional final to determine who would head to Nationals.
Sub Zero — led by Nick Stuart, Simon Montague, and Grant Lindsley — had been absolutely dominant all tournament, and was able to overmatch the Madison squad in key phases of the game. Madison was unable to slow down their opponent on defense and watched Sub pull away to win 15-10.
Madison is ready for revenge. "Our goal for Regionals is to win the tournament for the first time since 2009," says Everhart. "Having the tournament close to home near Milwaukee definitely helps."
The host of Wisconsin Hodags and other local players — including standouts Colin Camp, Peter Graffy, and Brian Hart — are ready to assert, once and for all, that they belong at Nationals.
Minneapolis Sub Zero
The phrase "Let sleeping dogs lie" comes to mind concerning this club team this summer.
Over the past few seasons, the team from Minneapolis has been good, but it has been hard to get a read on just how good.
In 2013, Sub Zero seemed to surprise a lot of people at Club Nationals with their strong performance, and they followed it up with a strong 2014 U.S. Open that made them once again a favorite sleeper (if there can be such a thing) this club season.
Long called the dark horse, people don't think of Sub Zero when picking Nationals quarterfinalists, but they are always that forgotten team that shows up to peak at the right time.
With players like Lindsley, Montague, and Eric Johnson on the squad, they move the disc quickly and have the athletes who can make big plays.
But after their hot start, the inconsistency has returned and the public enthusiasm has waned; a lot of people may have forgotten about Sub Zero this summer. Missing players have partly been the cause.
"Last time we essentially had our entire team was the Sockeye game at the US Open," said captain Tom Murray.
Simon Montague has missed every tournament since the US Open in early July, due to work and then a flight cancellation for Colorado Cup, as has Nick Simonelli with a bum knee. Philip Bowen, a rock for the team in the past, has been unable to help the team this year as he has been too busy.
Take a look at their vacancies at the Chesapeake Invite, which fell the weekend immediately after the U.S. Open: Julian Childs-Walker, Tom Murray, Nick Stuart, Simon Montague, Galen Ryan, Eric Johnson, Ben Feldman, and Harper Garvey due to injuries, illnesses, and other commitments. Pat Jensen was also injured that tournament and has been unable to play since.
Colorado Cup also saw the team without Montague, Lindsey, Moore, Gill, and Jensen.
Such losses are obviously critical during the regular season. What's more, it means that this team's potential is still largely unknown, and they can once again, just like last year, find their stride in the postseason.
As far as the goal of a strong regular season goes, Sub Zero concerns itself more with growth and improvement, rather than with results.
"Performance-wise, I'd say the US Open was successful," said Murray. "The other tourneys we struggled more than I would have liked, but we really weren't concerned about results during the regular season, more our mentality [and] attitudes and finding ways to improve. "
The result of this, however, has made headlines lately: namely, that Sub Zero has not earned a strength bid to Nationals for their region. Madison Club and Prairie Fire have ensured that there will be two trips to Texas, but Sub will have to steal one if they wish to head to Frisco.
Still, they aren't worried.
"Honestly, if you told me the North Central region would earn two bids at the beginning of the year, I would have been happy…so I'm happy," said Murray. "We mentally prepared for one bid this year, so two is nice. Given the way Heavyweights and the Pro Flight Finale shook out, I'm not surprised by the current rankings, and I don't think we have the results to argue our way up much higher. We know our ceiling is higher than 18th in the country, and look forward to finding that ceiling in the coming month."
Sub Zero will have a full roster, including the entire offensive line, back together for the first time in months, which should prove to be an incredible boost. They are wide awake and they find themselves strong as they move forward; it wouldn't be surprising to see them back on top of the region.
Kansas City Prairie Fire
Sub Zero isn't worried about the bid situation, but maybe Prairie Fire should be.
Many people are picking them to be left out of the top two, but the team is positive despite the challenges that await.
"Having two bids is way better than one, but Regionals is always a dog fight regardless," said captain Joe Nickels. "The second bid is a great opportunity for this season, and ensures the top three programs in the North Central will be eligible for [Triple Crown Tour] events in 2015."
The team from Kansas is confident and ready to roll. They have had people doubting them all year long: to have that continue in the postseason is nothing new. Their results speak for themselves and they have earned the excellent ranking that awarded them the strength bid. Prairie Fire rightfully believes they, too, should be considered a contender.
"The regular season was certainly a success," said Nickels. "Last year, our region only had one bid, and we came up one point short of Top Select. This year, we had to make the most of our schedule despite not being invited to any TCT events."
Even with a young roster, Prairie Fire was able to do very well. The team enters the tournament with only three losses all year by a combined total of four points (a one point loss to Madison Club, a one point loss to Michigan High Five, and a two point loss to New York PoNY). They also dominated their Sectional tournament with ease.
Prairie Fire 2014 is a good team. But are they good enough?
Madison Club and Sub Zero are two worthy opponents that have had more success in recent years. Both squads have also benefitted from playing in tougher tournaments across the season and facing off against highly ranked opponents.
While Prairie Fire had a very dominant regular season, Heavyweights was really the only time where they were able to play other opponents ranked in the top 25. Many of their wins (often blowouts) came against lower-level competition.
Prairie Fire is excited for each and every game, looking forward to facing off against some talented and respected opponents and doing their very best to disrupt those squads' game plans. In their mind, the two bids aren't the focus: playing at the top of their game is.
"The format ensures that there is no easy road to Nationals," said Nickels. "If you want to be the best, you got to beat the rest."
The Best of the Rest
The North Central features a solid cadre of Tier 2 teams that can always prove to be a threat.
City Park Ultimate of Iowa City features some strong University of Iowa players and alums; should the weather be inclement this team will thrive, as the squad is very skilled in zone.
St. Louis' CaSTLe features some of the best players in the Missouri and southern Illinois regions. It has some players that will be matchup problems for even the top three.
Minneapolis T.C. Imperial defeated Madison Club B for the Sectionals second place game and they have strong, tall athletes and good huck games that can put points on the board quickly; they will be in contention for the fourth spot in the region.
Every game will be competitive, but it will be a big surprise to see any of the top three drop a contest to anyone below them. The question for this group is: which of the lower squads will break through to semifinals?
Three Teams for Two Bids
This will be a very exciting tournament to watch. There are three capable teams
Sub Zero, hiding in the shadows, has to be expected to spring forward in a big way in their first postseason tournament. Their threshold for greatness is higher than the other two. It may not be easy, it may even include an early loss or eked-out win, but they'll find a way to make it to the regional championship.
So it could come down to Madison against Prairie Fire. Both teams have excellent storylines and have honestly earned a trip, but one of them is staying home. Experience often wins out in these situations, which means that Prairie Fire, despite their #11 ranking, could be left out of the Nationals field yet again.
Your turn to pick: Who you got?