Prairie Fire reached their first-ever Nationals with a blowout win over Madison Club as Sub Zero cruised to another Regional title.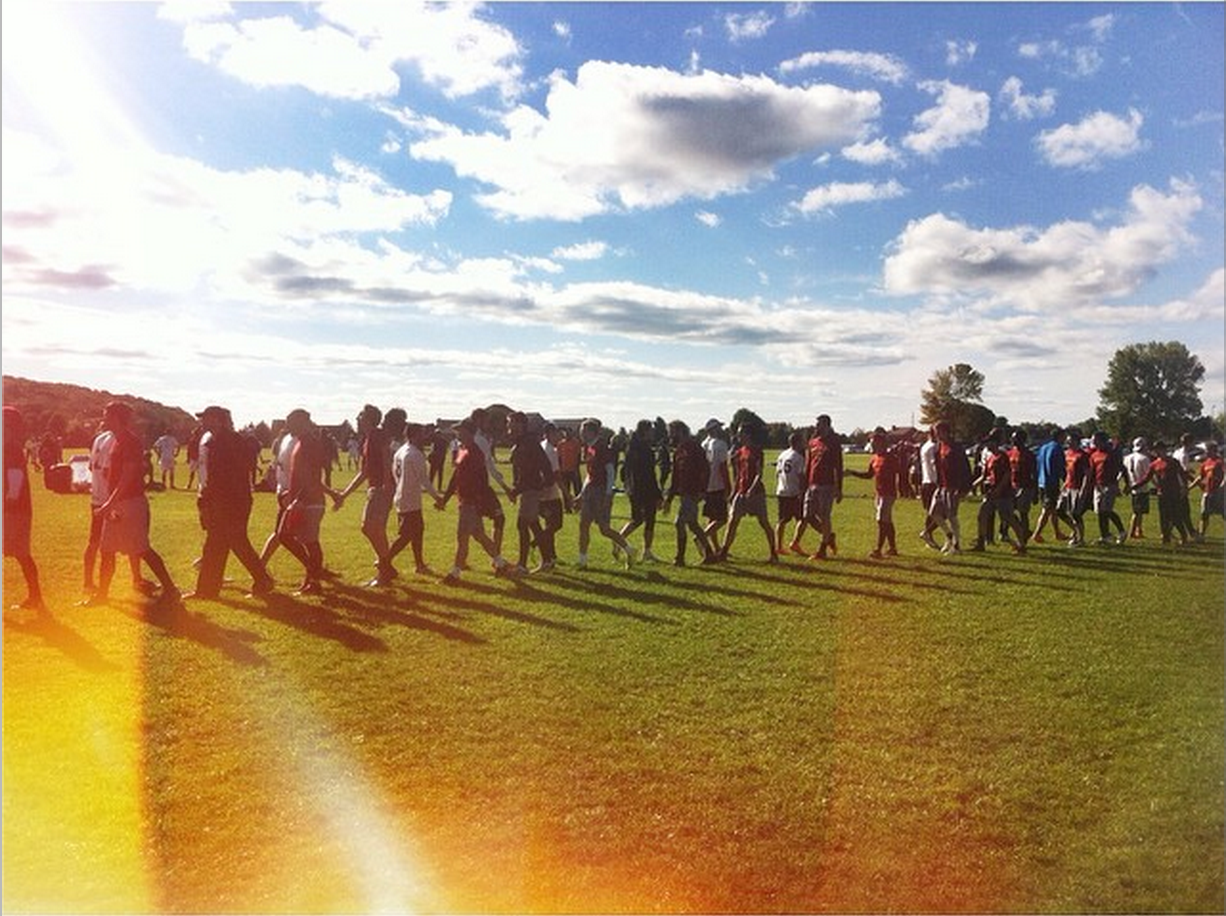 HARTLAND, WI – For three straight years, Kansas City Prairie Fire's hopes were dashed by incumbent regional powerhouse Madison Club at the North Central Men's Regional.
For three straight years, Prairie Fire grinded and improved and made buzz of their potential to make Club Nationals just to meet the same executioner at the end of each season, including last year's heartbreaking 15-14 loss in the semifinals to Madison.
No more.
While Minneapolis Sub Zero ran the table with a full roster and a juggernaut offensive attack to secure the first bid to Nationals, Prairie Fire not only upset Madison in a come-from-behind victory in adverse weather on double game point 13-12 in the semifinal, but then beat their rivals again 15-6 blowout in the 2nd place game-to-go.
For Madison, the losses were crushing and total, nearly erasing the memory of an otherwise outstanding season.
For Prairie Fire, it marks the end of a daunting underdog narrative, and their official arrival on the national scene.
Fire, Fire Burning Bright
Prairie Fire did not attend a single TCT event this season, played competitively against every opponent they faced, and were still situated on the outside looking in despite being the #2 seed at regionals; they were largely considered the third best team behind Sub Zero and Madison in a two-bid region, despite earning a bid for the region.
None of that mattered.
"Our focus all year has been staying in the moment, and focusing on what we can control," Prairie Fire captain Joe Nickels said. "Especially in the postseason, it doesn't matter what you did. It's what you've gotta do now."
Continually on elimination Sunday, Prairie Fire demonstrated their ability to adapt and renew their energy and focus no matter the score or conditions. Down 7-3 to Madison in the semifinals, handlers Joe Young, Brett Hidaka, and Abe Coffin repeatedly put their team in advantageous positions, not allowing the weather to restrict their offense's intentions nor their ability to attack deep. Hidaka, in particular, played like a man possessed, rocketing all over the field and unleashing quick-strike backhands that put Madison's defenders on their heels.
Prairie Fire made it a priority to engage their big playmakers Valley Renshaw and Team USA U-23 baller Jay Froude downfield, but if those shots weren't available, they worked the disc into break-side space with great timely cuts by Aaron Duff and Zach Hunter.
"Our player roles are pretty well defined so guys knew what to expect coming in," Nickels said. "Returning six guys from last years' O-line certainly helped in pressure situations."
Against Sub Zero, their offense was especially impressive. Froude (2 assists, 2 goals, 2 blocks) looked like he was hitting a springboard when elevating for the disc, and continually making what Nickels referred to as "eye-popping plays."
"I had a great day of ultimate on Sunday," Froude said. "It seemed like everyone was just clicking together. If I made a great play somebody else would step up and match it. I try to bring energy and hype to our team. We are at our highest level of ultimate when everyone is involved. Getting a great layout D or huge sky seems to get the ball rolling, and when it is, we are a very tough opponent."
Even their opposition took notice.
"They started off the game by hitting some pretty impressive hucks and some really well placed break throws, especially given the wind during finals," Sub Zero captain Jon Gaynor said.
Even though they lost in the final, Prairie Fire carried over their tenacity into the second place matchup with Madison. They prepared for this particular game, this particular matchup, all season, and it showed.
"Our morale and intensity were on another level, and Madison couldn't match it," Froude noted.
Everything broke in Prairie Fire's favor, and they were especially effective in 1-on-1 matchups off of Madison turns. Numerous times, Madison would commit a turnover, only to have Prairie Fire moments later convert for a break score, putting the game out of reach early.
"There's no doubt that Madison drives us to be better," Nickels said. "Our games have been extremely tight the last two years, so a 15-6 victory was totally unexpected."
What is expected going forward is Prairie Fire's continued ascension. The team is chock-full of young and hungry players, and they feel like they're just starting to tap into their potential as they head to Nationals.
Staying Frosty
Some people call Sub Zero an enigma heading into Nationals due to their sporadic attendance and consequent results from the regular season.
Those people have not witnessed Sub Zero's offensive line at full strength.
Anchored by the precise and creative handling of all-region standouts Grant Lindsley, Eric Johnson, and Simon Montague, the Sub Zero offense gave up only one break in their finals matchup with Prairie Fire, despite the effects of the wind and a wet disc.
Their set plays out of the vertical stack were remarkably well timed for their relatively few tournaments together, and, in particular, Montague (5 assists, 1 goal) put on a show with his throws to downfield targets like Johnson (2 assists, 4 goals) and the athletic Nick Stuart (3 assists, 2 goals).
The top-end talent on Sub Zero can match up with anybody at Nationals, but what remains to be seen is if their developing players can step up into larger roles on the bigger stage. Gaynor was quick to point out his confidence in Harper Garvey, Andrew Moore, and Alex Trautman in particular.
"I have been thrilled with the growth and improvement of our younger and newer players to the team," Gaynor said.
Looking ahead to nationals, Sub Zero has reinserted itself in the discussion as a possible semifinals squad with their impressive victories all weekend. Their continued cohesion as a team and flair in playing style situates them as an outlier going into Frisco.
Some of that tightness can be attributed to their hard work and talent, but it might also be due to the fact that most players were sporting skintight spandex pants and jauntily cheering their infamous "frrrrrrrrrrrrrosssssssssssttttttyyyy" chant at any opportunity.
"Without getting too specific, our goals at Nationals include combining a strong mustache game with the tightest tights in Texas," Gaynor said.
"If we can do that, the results will take care of themselves."
Madison's Fall
Madison entered regionals as the #1 seed in the tournament. They earned a bid to Nationals for the region with their impressive body of work this year, and felt deserved in securing a spot in Frisco.
"We felt confident going into all games against Sub Zero and Prairie Fire this weekend," Madison captain Bill Everhart said.
But after falling just short 11-13 to Sub Zero in the first game of pool play on Saturday, they set themselves up for a difficult semifinal against a determined Prairie Fire squad.
To make matters worse, Madison not only faced a tough opponent, but also debilitating weather, as a strong crosswind mixed with rain made every throw and catch a struggle for both teams.
After pulling to an early 7-3 lead in the first half, the offensive line for Madison began to tighten up and restrict its movement with the disc as the wind pushed harder. This led to a series of unforced errors and throwaways that Prairie Fire was eager to capitalize on, pulling back within one by halftime at 8-7.
Of note, Madison standout Brian Hart had to leave the field briefly after injuring his hip on a huge diving grab, and never quite looked the same for the remainder of the game.
The second half was marked by attrition. The score seesawed back and forth, each team exchanging the lead four times as play turned sloppy on the slick field. Knotted at 12-12 with the hard cap on, Madison's Peter Graffy's pull went out of bounds 15 yards outside of their own endzone, and never came back in. This set up an easy score for Prairie Fire, and left Madison reeling with a series of "what ifs" heading into their backdoor games.
Madison took care of business against CPU 15-6 and TC Imperial 15-10 to set up another opportunity at securing a bid in the second place game.
But again, it just seemed as if nothing could go Madison's way. The game opened with Prairie Fire boosting a huck that stayed in bounds just long enough for Hidaka to make a toe-dragging bid along the backline. The play immediately energized the team, as everyone on Prairie Fire stormed the field before continuing their torrid pace for the rest of the game.
Conversely, Madison's first possession ended on its first throw, as Andrew Brown's open side flick went right through the clapping hands of Jordan O'Neill, and Prairie Fire quickly converted the break.
Soon it was 3-0 Prairie Fire… then 8-2…12-4…finally and mercifully ending at 15-6. For a team like Madison that has been carefully preparing for this tournament all season, the loss was staggering.
"It's too early to think about goals for the off season," Everhart said. "It's tough to think about frisbee after a letdown like this and thoughts in the next few days won't be the same after some time to process the season being over."
Photo via Steph Rupp's Instagram.