The Mid-Atlantic is back to multiple bids for the first time since 2011, yet Truck Stop -- the reigning champ -- does not feel like a lock to advance.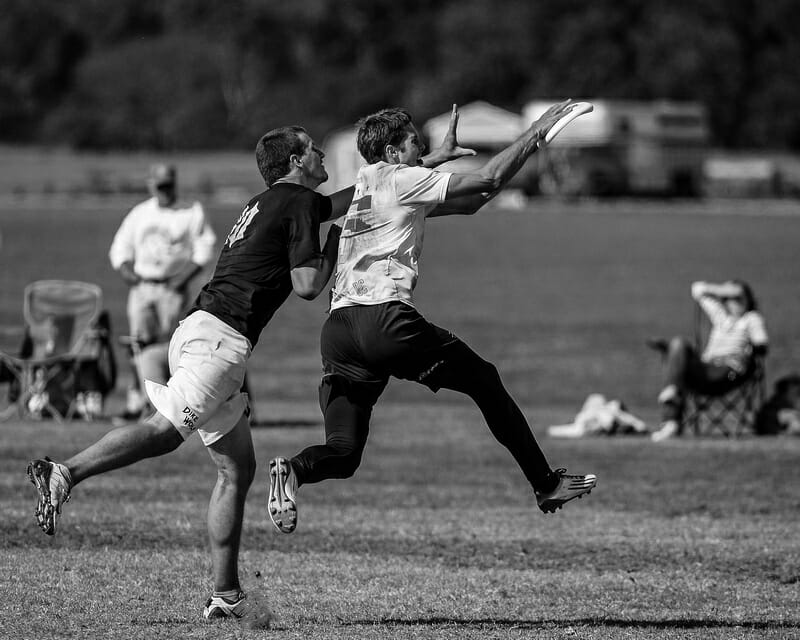 Disclosure: The authors, Simon Pollock and Tad Wissel, play for RUNTIME and Dire Wolf, respectively.
Four teams from the Mid-Atlantic men's division went to the National Championships in 2011: Raleigh Ring of Fire, Philadelphia Southpaw, D.C. Truck Stop, and Pittsburgh Oakland. Since the regional redraw, Ring was relocated to the Southeast, Southpaw disbanded, and Oakland called for a page-1 team identity rewrite. The lone bid to Nationals in 2012 and 2013 went to Truck Stop, little resistance standing in their way.
Now, in 2014, the landscaped has changed and Truck Stop have a perilous road ahead. Ring still burns fiercely in the South, but the challenge of dealing with the re-structured Raleigh squad will fall on the shoulders of Atlanta's Chain Lightning. Oakland, on the other hand, emerged from the writer's room with a fresh script, reborn under the moniker Temper. Ready to flip said script on Truck Stop, the Pittsburgh men battled their way into a strength bid this year. Not to be outdone in the reinvention department, the pieces of Southpaw have been glued back together as Patrol. Philadelphia cruised through the bracket at Founders Sectionals, losing only to Temper.
With a shaky record against other elite squads, Truck Stop now have a target on their back as Temper will surely look to upset them for the one seed, while Patrol, Dire Wolf, Medicine Men, and a few others will hope to wrestle away a bid from either of the top two seeds. The title and trip to Nationals has undoubtedly belonged to Truck for the last two years, but this weekend they're going to have to earn it.
Truck Stop buckles down in September
Truck Stop's last appearance was not their best. Over the soggy and abbreviated Chicago Heavyweights weekend, D.C. turned in a 2-3 record, losing to Machine, Streetgang, and High Five, while notching wins against Patrol and Madcow. After CHC, Truck took a rest on Labor Day and returned fresh to practice in September, ready to iron out inconsistencies and set their sights on Frisco. "The team is playing the best it's played," said captain Jonathan Neeley. "Our [recent] practices have been the most intense and the most vocal. You can see the energy more and see the level of involvement."
A big focus at those practices has been the Truck Stop offensive system, one which may occasionally resemble the system run by the MLU's D.C. Current.1 Neeley noted that Truck's offense, like the Current's, will move the stack actively throughout the point and forces players to "think about space differently."
We can expect to see no shortage of movement from the Truck offense this weekend, especially in the backfield. While Truck look to big targets like 2014 pickup Peter Prial (formerly with Boston Ironside) downfield, they will benefit heavily from the return of handler Alan Kolick, whose season was limited by an injury to his hand during the Chesapeake Invite. Kolick's tireless work behind the disc is a nightmare for dump defenders and his return is sure to be a boon to Truck's on-field production and overall morale. The offense struggled in both Colorado and Chicago without him, and Kolick will be instrumental in consistent delivery of Smolinski's system this weekend.
Defensively, Truck will continue to try and frustrate opposing handlers. "We've designed a dump defense scheme that helps us keep the pressure up," said Neeley. More than generate big blocks, the d-line will look to create errors with sticky reset defense that nags at opposing throwers. "We know that the turns might not come until the third or fourth time you match up on a guy," Neeley noted.
They'll have to execute confidently at every level when they match up against Temper, the reinvented Pittsburgh squad that earned themselves a higher national ranking than Truck Stop at the end of the season. Though they are preparing to deliver their best game to all challengers this weekend, D.C. is well aware that the road to the title this weekend goes through Pittsburgh. Temper's stars, almost all of whom have won titles in the College Division with Pitt, are lead by Alex Thorne and Tyler Degirolamo. "You have to be aware of how big a threat Tyler is down field," said Neeley. "I don't think he's un-guardable , but he's a huge factor and any smart team would know that."
More than anything else, Truck Stop will return to Poolesville this weekend with something to prove after their up and down performances throughout the regular season. "We want to defend the regional title, we want to make a statement that we're still the top team in the [Mid-Atlantic]," said Neeley. "But more than anything else, we want to show ourselves that we're the top team."
Temper looking to shed its Oakland reputation
Oakland isn't Oakland anymore. Meet Temper. What's the difference? Unlike the Pitt-exclusive three year run of Oakland, Temper had open tryouts for the first time ever (yielding five roster spots to players that have no affiliation with Pitt). Their coaches, Stu Kellner (Metro East All-Region in 2007) and longtime Pitt head coach Dave Lionetti, are universally respected. Oh, also, Temper picks up Tyler Degirolamo and Alex Thorne after the duo played the 2013 season with Austin Doublewide.
This Temper team is stacked with college talent. There are college All-Region players up and down the roster. Even two Coach of the Years. It's a typical embarrassment of riches for Pitt.
One thing Temper does lack is quality games.
Somehow they didn't go to Chesapeake Open. Instead, Temper went to a tournament in Kentucky and handily took the title over a field of teams that failed to finish in USAU's end of season top 50. They then went to a rainy, abridged version of Heavyweights, where they beat PoNY and had a statement win over regional rival Patrol. After just two tournaments and five games against nationals-caliber teams, the series began.
Yet that may have been all they needed. Temper's regular season results earned the Mid Atlantic a strength bid. After taking care of business at Founder's Sectionals, they sit seeded second and slated to advance.
As you can probably guess, their game is a lot like Pitt's. Dumps in great position to move the disc then striking up line right away. Stifling man defense. They will create open deep looks and huck. D lines that are looking to fast break on a turn. If you force their handlers down field they'll cut up a storm. Then there's the standard hit parade of name brand college players making big time plays…Pat Earles, Max Thorne, Trent Dillon, and 2014 Callahan nominee and Ultiworld Player of the Year runner-up Marcus Ranii-Dropcho.
Success at the college level doesn't always translate to success at the club level, but Temper has more been there/done that guys than you might expect. Aside from Thorne and Degirolamo who earned a trip to Frisco last year, there are nine other players on the roster that qualified with Oakland in 2011. Temper also gains former Pitt standouts Rob Dulabon (Truck Stop) and Eddie Peters (Slow White), as well as a few other alums with club championship experience.
At a glance, it might not look much different than the Oakland of old. It's still a team comprised primarily of Pitt players. But Temper isn't just a collection of college all stars, it is a practicing club team that holds open tryouts. That's not what Oakland was.
Temper isn't just something for Pitt guys to do during the summer. They're not going to bag the final game of a round robin in their own backyard. This team won't be intentionally throwing games at Regionals. That was Oakland. This is something different.
It's tough to overstate how important coaches Stu Kellner and Dave Lionetti have been to this team. They're exactly what this team needed from a coaching standpoint. There's a lot of talent on the roster. That can be a tough thing to manage while trying to play Pete Rose as player/captain. Kellner and Lionetti are highly regarded by their players and it shows. Expect them to have Temper prepared and focused.
Philly Reunited
After losing in finals to Truck Stop for the only bid to Club Nationals in 2012, Philadelphia's Southpaw disbanded. Their roster was dispersed through the mixed division and various other mid level open teams. There would be no united Philly representation in 2013.
This left a great imbalance in the force of the Mid Atlantic.
A year later, after a full season without a big combo team in the men's division, a group of six players identified themselves as the brass for the new premier open team in the Philadelphia area. The band was back together.
Patrol's results are interesting. They are very comfortably the third seed at this regionals. In the regular season they've only lost five games, but to the teams you don't want to lose to (0-1 vs Truck Stop, 0-2 vs Temper). Likewise, they've handed losses to all regional competition seeded below them, beating both Dire Wolf and Garden State at Sectionals. They've maintained.
The roster has some familiar Philadelphia faces like Jake Rainwater, Dave Brandolph, and Dave Baer, who are all back from the old Southpaw squad. Colin McIntyre, a pillar of the Michigan Ultimate scene (Overhaul) for years, is a big veteran pickup.
Can they break through and challenge for a club championships berth in their inaugural season?
There are going to be growing pains with any new team. Chemistry aside, new teams need more time to make cuts. Patrol only had two regular season tournaments after they released their roster on August 1st. That doesn't leave a whole ton of time to gel.
Patrol is as good in the air as anyone in the Mid Atlantic, with Rainwater being the biggest downfield threat. They've got some great stay at home handlers like Brandolph, Ross Littauer, and McIntyre who can all reset the disc with ease or take a pop out and send a huck deep. There's some good depth on defense. Former Lancaster standout Matt Esser is rostered and appears to be healthy.
When Patrol met Temper in the finals of Founders Sectionals the deep shots were flying and Patrol was not overwhelmed. Temper took the game 13-10.
Philly likely benefited from the three week gap between sectionals and regionals. More time on task. More time to get familiar with teammates.
If Patrol has learned to play with each other – the way the Philly teams of old like Pike and Southpaw did – they'll have a shot.
Dire Wolf and Medicine Men looking for upsets
We've covered the top three seeds; the combined history of those programs sheds a good deal of doubt on the arrival of anyone else from the Mid-Atlantic in Frisco. Two teams, however, lurk just below Philadelphia Patrol at the four and five seeds: Pittsburgh Dire Wolf and Baltimore/D.C. Medicine Men.
Dire Wolf, long a regional contender seeking greater glory, has had a decent season for a select flight team. They've exerted dominance in matchups against classics teams, defeated Boston's Garuda at Colorado, and at Founders lost only to Temper and Patrol… at the same score, 11-13. For Wolf, those two close scores resemble their struggle to push their success to the next level — Wolf is just a few points away from a making big statement about their program.
Wolf are not the sole contender looking to give the top three some trouble — they're joined by Medicine Men, who have definitely been here before. If it feels like Medicine Men has been doing this forever, it's because they have. The DC team is now in its 15th season. That's nothing short of incredible. Truck Stop raids the region's local and mixed teams of top players almost annually and the Medicine Men never seem to bat an eye (Delrico Johnson being the latest to defect).
Even when they weren't playing well at season's start , Med Men still set the table for themselves nicely, beating Garden State at Boston Invite, which as we now know had major seeding implications. After a tough summer and with a lot of players finishing seasons with professional teams, Med Men has started putting it all together – like usual – and broke seed to win the Capital section.
If you believe in the hot team, don't sleep on Med Men.
Waiting in the wings
Deeper still, at the six and seven seeds, are Town Hall Stars and Garden State Ultimate. Town Hall, a smattering of both current and past University of Maryland talent, are most akin to a teams like what Oakland was. Chemistry and camaraderie abound, giving this College Park team a quick and measurable advantage over club teams that are unable to gel and find their rhythm. Town Hall, despite an on and off history, have put together a nice set of wins, including a tournament title at Nucci's Cup that saw them beat Garden State 15-13 in the semifinals. Their lone loss on the weekend came at the hands of Richmond Floodwall, 11-10. Unfortunately, Floodwall is exactly who Town Hall Stars will play first this weekend, a rough draw in the double-elimination bracket.
As for Garden State Ultimate: the boys from Jersey have a lot of weapons. This is a fast, athletic team with a healthy mix of players: Several guys from Rutgers just coming off of college nationals. Veteran leaders like Ari Weitzman and Frederik "Frecka" Brasz who have been playing at a high level for a long time. Some New York talent like Alon Brown and Isaac Saul. YouTube phenom Marques Brownlee.
GSU has had some great games and put together nice tournaments, like Chicago Heavyweights, but has flubbed opportunities against regional competition. Young, hungry teams like this make the best spoilers at regionals.
Could the top seeds slip up? 
It's teams like the four through seven seeds that make a second bid exciting. In a double elimination bracket, each game will be meaningful from the outset on Saturday, and an unfocused showing from either favorite, could quickly put Truck and Temper in rough spots to defend their Frisco-trip in a two/three game on Sunday. Truck enter this tournament with a record of in-game inconsistency that challengers will want to take advantage of. Temper, though they have two tournament wins under their belts, are almost untested when it comes to top talent. The region has been thirsty for a second bid for two years — expect these teams to fight tooth and nail for those scraps.
Notes
– It's worth mentioning that John Doe, who enter this weekend with the eighth seed, made an appearance in last year's regional semifinals. A team of veterans who like to run sly junk defense, it wouldn't surprise us to see Doe hold out longer in the bracket than their seed suggests. Then again, they have lost to Medicine Men once, and Town Hall Stars twice, without banking any other strong regional wins. This team is hard to identify.
– When you watch Patrol you realize pretty quickly that team is NOT Southpaw. A lot of the same guys but everything else is very, very different. They still have great players and have a great shot to qualify. It was the lockstep method, the rigid structure, the left… left… left-right-left way about the Jeff Snader-coached Southpaw team that made them different than…anyone, really.
–EXCLUSIVE: Alan Kolick Reports to Truck Stop Practice For the First Time After Wrist Injury!
---
Truck Stop share creative minds with the D.C. Current. Truck Stop's head coach is Will Smolinksi, also the defensive line coach for the Current. Keven Moldenhauer, a Truck stalwart and former captain, is also the Current's head coach. ↩