With just two bids for three strong teams, Northeast Women's Regionals has shades of 2012, when Bent was sent home early.
­­­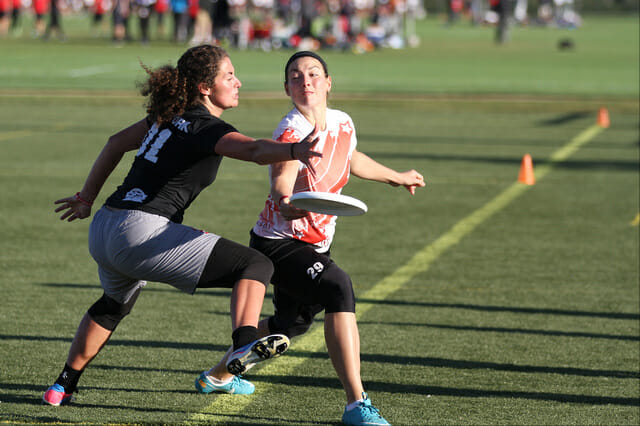 Brute Squad and somebody else.
Unless some sort of "Miracle on Grass" performance takes place, that's who will make it out of the Northeast region. Boston's Brute Squad made a definitive statement at the Pro Flight Finale last month, where they cruised to a tournament and TCT regular season victory. That likely leaves New York BENT (ranked 9th) or Toronto Capitals (16th) to duke it out for the second qualifier.
Way back in June, Capitals and BENT went head-to-head twice at the Boston Invitational, earning one win apiece. BENT won the crossover game against Capitals on Saturday, but then looked tentative and unprepared in bracket play, dropping successive games to Brute Squad and then Capitals. The Toronto crew, in contrast, looked full of promise. Their Boston Invitational roster featured 12 rookies, as many of their star players were still fulfilling commitments to WUCC teams or Canadian club teams.
BENT on the rise
As the regular season progressed, BENT slowly and steadily found their legs. They edged Ozone for fifth at the Chesapeake Invitational (Brute Squad won that tournament, too, while Capitals were knocked out in pre-quarters.) However, their NGN-broadcast quarterfinal game against Molly Brown revealed soft defense and a choppy, error-prone offense. Simple mistakes like letting Molly Brown throwers get the power position or miscues between players on offense gave Molly Brown an easy 13-8 victory.
A month later, BENT redeemed themselves at Colorado Cup where they faced off with Molly Brown again, this time in the final. Clearly having learned from their mistakes, their person defense was high pressure and generated turns. BENT debuted a handful of new zone looks that stifled Molly Brown's deep game. Ultimately, Molly Brown squeaked out the 13-11 win, but BENT felt good about the tournament.
"In Colorado, we started to realize where people could fit in. We focused on offensive movement there, after losing some big receivers from last year," said co-captain Cara Brown. "We were missing a lot of our handlers, including Liz Middleton, but we really did well despite the absences."
Colorado Cup was BENT's last tournament prior to Regionals. According to Brown, it's been a productive six weeks of practice: "Defensively, we've been trying to work on some of the newer junk defenses," she said. "Just getting a lot of reps in, working on stuff we want to perfect. On offense, we're focusing on what to do in the red zone."
A long stretch of focused training might be just what BENT needed heading into this weekend. Their influx of young talent has rejuvenated the team spirit, but initially they struggled to find their rhythm. Following Colorado Cup, spirits are high and BENT is a team gunning for the top spot in the Northeast. With plenty of time to hone offensive sets and specific plays, all that remains to be seen is if they are mentally ready to fight back under pressure.
Brown thinks they are: "This year's vibe has been fantastic. Having only two bids has not even fazed us in the slightest. A previous BENT or a less experienced team would get a little freaked out, but…our goal is to go in there and win."
A Rocky Summer for Capitals
The Toronto Capitals have had a drastically different trajectory since the Boston Invitational. They sent a skeleton crew to Chesapeake in order to fill TCT requirements, and even their Pro Flight Finale (PFF) roster was missing number of players that will be in Devens this weekend. Going into PFF, the Caps had only two weekends of practice with their 2014 roster. With little time to prepare, they came in a disappointing last place. Even worse, team captain and one of Canada's premier players, Kathryn Pohran, was lost for the rest of the season due to injury.
"We wanted to perform better at PFF and earn a third bid for our region. It was a tough tournament for us. We felt we were in most games until the half and then we broke down. Having one of our captains go out with a season ending injury did not help our mental game," said co-captain Darcy Drummond, via email.
It would be wrong, however, to assume this means they'll be unprepared for regionals. Many of the Canadian club teams that come together to form Capitals share similarities in their playbooks, making the transition from opponents to teammates easy. The Capitals also have plenty of ultimate wisdom at their disposal, with many of their veterans having played in and/or coached Canadian national and youth teams. This experience and familiarity allows the Capitals to make efficient use of the last half of the summer.
Come Saturday, what we can expect out of Capitals is a smart team featuring a few longtime, athletic standouts – headlined by the dynamic Drummond – and a contingent of enthusiastic and energetic rookies. Their current trajectory might seem unsteady, but Northeast teams have learned not to underestimate the Toronto team based on their regular season. Experience has carried them to a first or second place finish in the region each year since 2009. Pohran's absence and possibly the distraction of WUCC leaves them a bit more vulnerable this year than in past years, but they'll certainly be in the running for a trip to Frisco.
Brute Squad Stays Focused Through Regular Season Success
The other contender for a bid to Nationals is, of course, Boston Brute Squad. Their regular season performance has made them all but a lock for a top finish and maybe the #1 seed in Frisco. They went undefeated en route to major tournament victories at Chesapeake and the PFF and have defeated every Pro Flight team at least once. They've earned two wins each over 2013 nationals finalists Scandal and Fury. Still, while outsiders might consider Brute Squad a shoe-in, they are making no assumptions.
"We don't want to be in a different mental state," explains co-captain Courtney Kiesow. "Winning PFF just gives us a little more confidence, and a little more trust, but we always talk about going into a tournament with no expectation. Just play point by point and game by game."
That unassuming attitude is largely a product of coach Mike Zalisk's leadership, which fellow co-captain Becky Malinowski points to as a big component in their team's success this year.
"Mike's attitude and coaching style is basically like, 'never enough.' He'll be happy with what we've done, but then asks more. He's the real emotional leader of the team," Malinowski said.
In addition to Zalisk's coaching, a major facet of Brute Squad's success this year is their malleability. Athletic talent has certainly bolstered their roster, but more importantly, their players are flexible. Good teams have a number of defensive sets that they can run through to keep opponents guessing; Brute Squad has more of a continuum.
"Our D line is very adaptable," observed Malinowski. "We don't have specific names for all of our defenses, they can just adapt."
Still, Brute Squad will be approaching regionals with that Zalisk's "never enough" attitude. Despite a dominant showing at PFF, including a 15-7 finals win over Riot, Kiesow believes there is work to be done.
"We have to work on our offensive consistency. And on reducing turns, both on O and D," she observed. But she did add, with optimism, "I think if we continue on our trajectory, we'll be ok." For regionals, "ok" will be an understatement. In past regional tournaments, Brute Squad has had vulnerable moments. A 14-12 win over BENT in 2012 was a nail-biting way to earn the 2nd and last nationals bid that year, and their matchups with Capitals are almost always close. This year, though, Brute Squad has found their stride as a unit, and look unstoppable. The trophy is theirs to lose.
Battle for Select Status
With only two bids to nationals this year, bubble teams have mostly pride as a motivator. Brute Squad, BENT and Capitals have proven, year after year, that they are a cut above. Still, many of the Select teams in the region should put up some strong fights.
In fact, the 2014 Northeast women's regional tournament is the largest Northeast regional tournament to date.1 This actually makes the fight for Select flight status (and accordingly, access to Elite-Select tournaments) an interesting one, as the Select flight is capped at four teams per region. Montreal Nova grabbed the fourth bid to nationals last year, although they finished winless there. Ottawa's Stella placed fourth in 2011 and 2012, challenging BENT to an 11-15 semi-finals game in 2011. Boston Vice and Connecticut Baywatch each won their sections as well. Portland Swagger played Vice to a close game at Sectionals and is definitely at their level. Two of these five mid-tier teams will be relegated to Classic status for next year.
***
At every level, the Northeast Women's Regional tournament should be a thriller for fans. The Select teams will be fighting hard to maintain access to TCT events next year. BENT is practiced and fit and has the desire and mindset to advance. The Capitals have experience and a history of doing well, but a lot to overcome regarding roster flux. And Brute Squad is looking better than they have in several years, with a fluid, calm offense and stifling defensive looks.
---
In past years, up to 15 teams have participated, but the numbers were bolstered by college squads. This year, 14 of the 16 teams are practicing club teams. ↩