The top seeds took care of business at Great Lakes Regionals.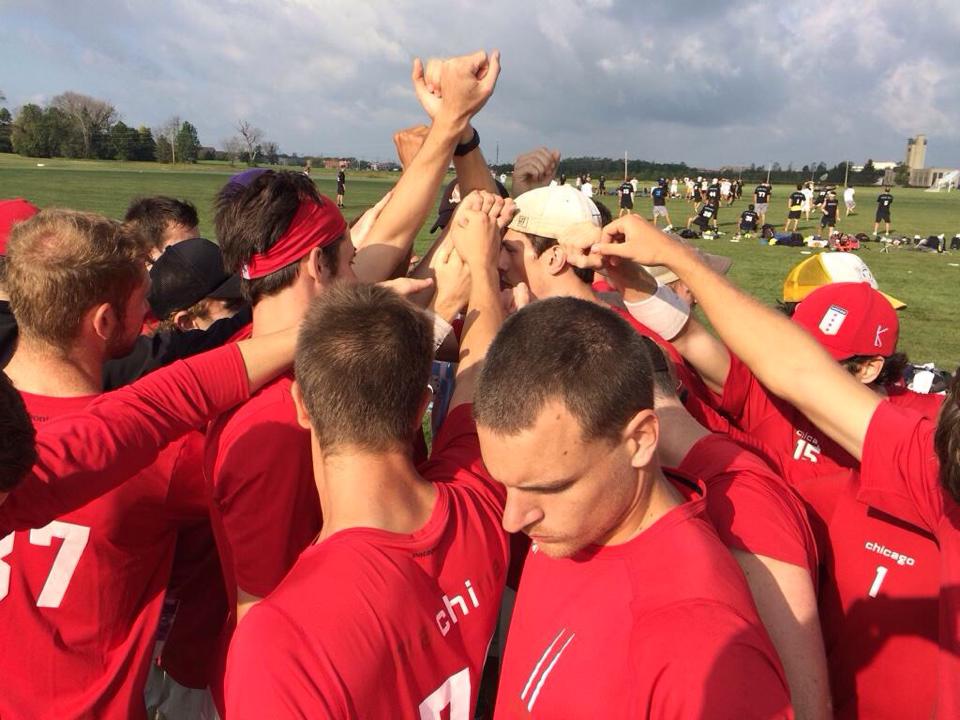 WESTCHESTER, OH — As teams descended on Westchester this past weekend for the Great Lakes Regional Championship, the excitement around the tournament, and indeed the country, was muted. Chicago Machine, the overwhelming favorite to win the region, looked to have a stranglehold on the title and the one bid to Frisco.
Yet as Saturday and Sunday dawned, each day windier than the last, and games became close and hard-fought, there was at least some hope for an upset. A few even imagined a possibility of a closely contested game to go to Nationals.
This was not to be the case. Chicago Machine, if anything, only cemented their status as a team to be reckoned with come October.
For the rest, it became about fighting for pride and position as the tournament unfolded.
Upsets Await?
Saturday saw warmer weather than the region had seen in a week, along with bright sunshine, and gusty conditions. The tournament was buzzing early, as in the first round it appeared one of the top teams was going to fall to an upset.
Columbus Madcow was surprised out of the gate by a strong Enigma team from Dayton; in a fierce, mostly upwind-downwind game, Enigma played without fear. They challenged their in-state competitors and hoped to knock them off early. Enigma built a strong lead, mixing zone and man looks and capitalizing on mistakes from Madcow to earn some upwind breaks.
The score stood Enigma 11- Madcow 9 in a game to 12 and most fans thought the wind had already helped create the first upset. But Madcow deserves a ton of credit for their grit and determination. They scored an offensive point going upwind to make the game 10-11 and then broke downwind to tie the game at 11's, forcing double game point. The final point featured Enigma going downwind on offense, but they made a huck turn and Madcow didn't lose the disc again, winning 12-11.
Enigma, drained by the game, would lose to a confident Black Market before pulling a one point win away in their final pool play game against Jurassic Shark. They would then win their pre-quarter before facing Machine in quarterfinals and losing to Haymaker in the lower bracket to end their solid tournament.
The upsets — hoped for by many of the second-tier teams — didn't materialize in the first round. They never really showed up at all.
Taking Care of Business
Later that day, Madcow would have another close call. After beating Jurassic Shark handily, Black Market, the team out of the suburbs of Chicago and recent Sectional champion, went stride for stride with the previous Nationals qualifiers.
Black Market, with some excellent throws from their top handlers, could move the disc well in the wind, hucking even against the gusts–and the cutters were close enough downfield to force turnovers. Black Market broke early on before Madcow recaptured to put it back on serve at half with Black Market leading. Madcow turned it over on almost every offensive point and Black Market got their chances; they had several possessions on the goal line but simply couldn't put them all in.
This game was tied at 8-8, first to 10, with Black Market receiving the disc and going downwind. Yet Madcow again stormed back to avoid the upset, finishing with a strong upwind huck and then another huck on a downwind point to end the game. Down the stretch, Madcow executed better when it mattered.
Around the other pools, Michigan High Five, while seeming to struggle a bit early, took care of business as their athletes showed their prowess in their second halves. The fourth seed Athens Bro Cats also had tight games early before finishing strong; they went undefeated in pool play as well.
Close matches for the top seeds and the windy conditions made some question whether Machine, who was missing Dave Wiseman and Greg Slover for the tournament, would also struggle to put away their competition, but this simply wasn't the case.
Machine was dominant on Saturday; besides a few long points where they were forced to a battle (which they almost always won), the players looked polished and confident, despite the conditions. They cruised to three victories with only minimal stress and moved on to quarterfinals and bracket play.
Going to Seed
Close calls and close games on Saturday made things exciting for a brief period of time, but in the end, the top four seeds had all gone undefeated and were guaranteed a bye and a free pass to quarterfinals.
The conditions were even windier on Sunday, becoming more variable and cross-wind for the majority of fields. The closest quarterfinal was Bro Cats' victory over Beachfront Property of Chicago 12-10. Beachfront played strong on the weekend, avenging a Sectionals final loss against Black Market and took the 5th place game over Haymaker and the Select Flight status that came with it. Besides this close quarterfinal, the other top seeds won very comfortably and the top 4 seeds met in the semifinals.
The semifinal was Machine's best game of the weekend as they continued to prove how well they could move the disc. Even in these windy conditions, they smashed Bro Cats 15-3 and dominated all phases of the game, forcing turnover after turnover.
High Five, using their athleticism, also pulled away early, having a far easier time than Madcow moving the disc on offense and then putting stifling pressure on Madcow on defense. High Five ruled the skies all weekend long and really did live up to their elite athletic reputation. High Five took the semifinal over Madcow 14-7.
The Championship Game
In the 2013 Regional final, High Five put up a tough fight against Machine before coming up short; High Five then went on to lose their game-to-go to Nationals to Madcow.
This rematch, in 2014, was no contest from the beginning.  After a Machine-dominated first half, High Five largely traded points from there on out and the game finished 15-10. Machine is once again Regional Champions and is headed back to Nationals.
"It was very, very windy," said Machine captain Kevin Kelly in a post-game interview. "We took care of business on offense in the first half and got a couple of breaks early that gave us an arm's length lead, although there were a couple of long points due to the wind. They (High Five) were very good about cleaning up any throws caught up in the wind. They were hustling and making plays."
"We have a lot of good throwers on both the O-line and the D-line," said Kelly. "And we were very smart on offense, able to keep the disc on the high-side and stay smart with it, while defensively forcing the disc to some of their players in high-pressure situations on the trap-side."
Bob Liu, Tom Annen, and Walden Nelson were especially dominant, moving the disc to the break side early and often. Cutters like Goose Helton, Kelly, and A.J. Nelson also came up with big plays. Consistently, sideline spectators were impressed by the throws coming from both the handlers and cutters given the difficult conditions.
Machine likes to mix it up with man and zone, but preferred using smart man matchups to force the disc out of the hands of High Five's best throwers. After that, the athletes and defense from Chicago clamped down and got turnovers. Helton, especially, was impressive on defense; he was involved in all six breaks (5 assists and 1 goal).
In the end, Machine was just too much to handle and they won the battle.
As has already been written, High Five was the victim of an arguably flawed ranking bid-allocation system, and came up just short of a second trip to Nationals out of the region. After failing to claim the bid they earned last year, High Five watched a trip to Nationals slip away by a few ranking algorithm points. Still, despite the unfortunate circumstances and the knowledge that their season was probably over even before the tournament started, High Five fought admirably and with determination and pride.
Looking Forward
The top spots in the region still belong to Machine, High Five, and Madcow.
Teams like Enigma and Beachfront have shown they have new ceilings of potential and could be squads to watch in the future. Beachfront took the fifth spot, Haymaker 6th, with Enigma and Cleaveland Smokestack following to round out the top eight.
Bro Cats have asserted themselves as a top four squad in the region; their game for third against Madcow was interesting for its implications. Madcow proved they were still the best team in Ohio, but Bro Cats clearly have talent and could be a force moving forward, especially if they draw some of the younger talent in the state to their banner.
Machine may have silenced a few more doubters this weekend. Madison Club's victory at Heavyweights indicated that Machine might have been vulnerable in windy zone conditions, but they played strategically and confidently and showed they had no problems this weekend. The depth of this team, in particular, is unparalleled in the Midwest.
They should be the second seed going into the National Championships, but that isn't their focus. "The seeding honestly doesn't matter," said Kelly. "We've been a variety of seeds over the last few years and we know that's not what's important."
What Machine is more excited about is the competitive lull leading up to Nationals. "This represents three straight practice weekends for us leading up to Nationals," he explained. "And we haven't had more than two straight practice weekends all season long."
The decision to extend the season for Chicago by joining with Wildfire has has lengthened Chicago's season considerably. This has advantages — in that the team gets more training time and growth/development time — but also increases risk of burnout and injury, so the team added several off-weekends specifically for this purpose.
Now they'll have almost the entire team healthy and ready to go, working hard to tune up for their biggest competition in possibly the club's history; Slover should be the only player out of the lineup come October. Other teams will be preparing in similar fashion, many coming back to refocus after a season featuring a World Championship.
Get ready for October.