Two bids to Nationals. Two Pro teams. Can anyone in the South Central challenge Johnny Bravo and Doublewide?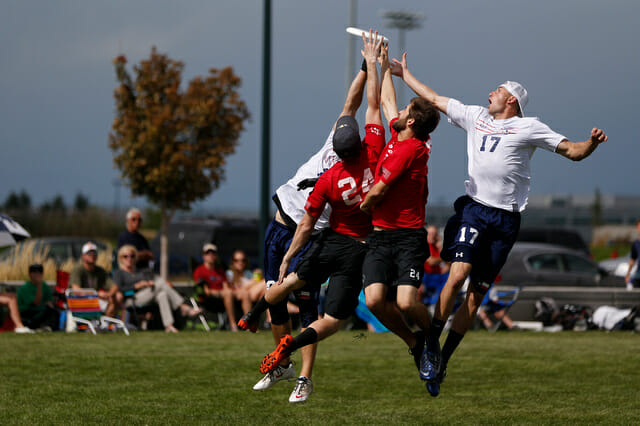 Since the emergence of the South Central region in 2012, Regionals has looked the same every year. Two bids. Two elite teams. Austin Doublewide comes in as the two seed but goes home the champion. Denver Johnny Bravo takes the second bid.
While this year looks very much the same — two bids, a Bravo one seed, and a very high likelihood of Bravo and Doublewide heading back to the National Championships — it has a different feel. Neither of the top tier teams is the same.
The second tier of clubs, which includes Texas teams Plex, H.I.P. and Space City Ignite, and Colorado's Inception, is looking better than ever this year. Each of them has the ability to make a Cinderella run through the bracket and maybe, just maybe, pull off an upset.
For Bravo and Doublewide, this weekend could be a great test heading into Nationals. Not only will they most likely get a chance to see where they stack up against each other, but they will be challenged by a host of young and talented teams hungry to beat the best.
THE TOP
Johnny Bravo (Denver, CO)
Hardly any team created as much buzz this past off-season as Johnny Bravo did. The addition of some big name players, including Kurt Gibson (Doublewide), Brodie Smith (Doublewide), Brett Matzuka (Ring of Fire), and Sean Keegan (Truck Stop),  to name a few, along with an already loaded roster of young talent: Jimmy Mickle, Nick Lance, Bart Watson, Ryan Farrell, Stanley Peterson and more, provided Bravo with huge expectations for the season. Many pegged this Bravo team as the preseason favorite to win it all.
But the road to Regionals has not been entirely smooth.
Bravo started the season off well at the U.S. Open in June. After winning the pool with a 5-2 record, including a beatdown of San Francisco Revolver, they beat a tough Minneapolis Sub Zero team in the semis to advance to the finals, where they lost to #1 seeded Revolver 14-12.
After a month of practice, the team competed at Worlds, where they again lost a close game to Revolver, this time in the semifinals. Though they at one point held a three point lead at 8-5, they could not maintain it, as Revolver closed the gap in the first half, and pulled away in the second. They were disappointed, of course, and now had to face the tough task of returning to the US and preparing for the Pro Flight Finale just a couple weeks later.
"It was the first time for a lot of us going through that transition from international travel," captain Ryan Farrell said. "The last couple weeks have been an exercise in resting and recovering, while still trying to be productive with the time we have together."
The fatigue definitely showed at ECC.
After a 2-1 start to pool play, losing only to Sockeye, Bravo proceeded to lose all of their games on Sunday. First in the quarterfinals to Machine, then to Revolver — who was upset by Chain Lightning — and finally to regional rival Doublewide in the 7th place game. They finished dead last.
The disappointment of ECC and the desire to win the Region — something Bravo has failed to do since the re-zoning in 2012 — have fueled the team heading into the weekend, according to Farrell.
This team, despite a pedestrian regular season (relative to expectations), is still the favorite to win the South Central. When Bravo is in form, they are an extremely hard team to beat. Absolutely loaded with athletes and talented throwers, Bravo can match up with any team in the country. Heading into this weekend the team is looking to improve their chemistry and solidify their playing style.
"We want to win the Region," Farrell said. "But Pro-Flight was a good example of the fact the we're still very much a work in progress…We struggled with our offensive spacing and decision making at Pro-Flight, which contributed to us not getting the results we wanted…Offensively our focal point will continue to be honing the dynamic that you see from teams who have been playing together longer than a lot of our guys have. It all comes down to decision making."
If Bravo is able to get to that level, this team is, without question, talented enough to win the region and make a run at the National title.
Doublewide (Austin, TX)
As many big name players as Johnny Bravo added last offseason, Doublewide lost more. It would be hard to argue that any club team in the nation faced as big of a roster turnover from 2013 to 2014. Missing from this year's squad are names like Michael "Tank" Natenberg (retirement), Kiran Thomas (retirement), Kurt Gibson (Bravo), Kevin Richardson (Plex), Valley Renshaw (Prairie Fire), Alex Thorne (Pittsburgh), Tyler DeGirolamo (Pittsburgh), and Ryan Bigley (San Antonio Presido).
That is an immense amount of talent and experience missing from the Dub sideline. Make no mistake, this year's team is much different from the teams who won the 2012 Club Championship and finished 5th last year.
The 2014 Doublewide will have to rely on its size and athleticism, of which they have plenty, to have a chance to beat Bravo in the regional final. This is a team with 17 players standing at 6'0 or taller. It's no secret that Doublewide will make some spectacular plays on discs in the air. Defensively, they use their size to throw some threatening zones, which can make it very difficult for opposing teams to move the disc.
But they also have to play through a huge lack of experience. Though some Doublewide veterans like Max Cook, Will Driscoll, and Jerrod Wolfe are still out there making big contributions, the team is packed with rookies. It has shown. Inconsistency has plagued Doublewide this season. Just look at their Pro Flight results: four blowout losses to Sockeye, Ironside, and Johnny Bravo. Two strong wins over Chain Lightning and Johnny Bravo.
Captain Jerrod Wolfe wants to use this weekend as an opportunity for his team to grow and improve.
"We definitely want to win the region," Wolfe said. "But our team is still so young we're focusing on getting better as a team. If we continue to grow and play our game, we're confident we'll make Nationals. We want to be peaking in middle October if that's possible."
Doublewide, mainly due to lack of experience, just hasn't been able to put it all together for a full tournament yet. They have shown flashes of greatness, but the lack of consistent play has hurt them all year. Wolfe also said that, when they don't play up to their potential, they look like one of the worst elite teams in the country.
"Our ceiling is still high, but our floor is much lower," he said.
They will focus on bringing a high level of intensity to every game. And there's no question about it: if they want to defend their Regional crown, Doublewide will have to play their best tournament of the year.
Just as important, the gap has closed between Doublewide and a few of the contending teams in the region. They can't afford to get away with a bad game against the second tier teams.
THE CONTENDERS
Plex (Dallas, TX)
After an exciting double game point win over Houston H.I.P. in the Texas Conference Championship, Dallas Plex is hoping to play spoiler.
Athletic and experienced, Plex has an impressive 22-5 record on the year. That can be taken with a grain of salt, though, because their competition has not been elite. Their only game against a Nationals level team — Prairie Fire — they lost 5-13.
The addition of former Doublewide player Kevin Richardson, who joined his brother on the team this past offseason, bolstered a team who finished in 5th place at last year's regionals.
H.I.P. (Houston/Austin/College Station, TX)
H.I.P. is one of the most fun teams to watch in the region. Always positive. Always having a great time.
Oh, and they are pretty damn talented.
Led by the Bennett brothers — Chris (formerly of Texas A&M), Mitch (formerly of Texas) and Matt (Texas A&M) — H.I.P. is composed of almost entirely of current and former players from the University of Texas and Texas A&M.
What they lack in size, they can make up for with sheer youth and speed. They also thoroughly enjoy playing the game, which creates a great team atmosphere and provides them with great chemistry.
H.I.P. may not take Regionals or ultimate as seriously as the top tier teams do, but don't be fooled, this team can flat out play.
It doesn't hurt when you have Matt Bennett, who has every throw in the book and consistently puts the disc wherever he wants. He put on a show at College Nationals in May and will look to keep it up at Regionals this weekend.
This is a team that you want to avoid if they are playing hot.
Inception (Denver/Boulder, CO)
Inception has consistently been the third best team in the region behind Bravo and Doublewide, though this year they come in as the 5 seed.
The Colorado Cup, a TCT Elite-Select Challenge, was a tough tournament for Inception. They lost five games by a total of 13 points, including a one point loss to Truck Stop and a two point loss to Condors, both of which were at Nationals last year. Earlier in the year, they lost to Madison Club 13-15. They have showed that they can compete with Nationals quality competition.
Their schedule this weekend does them no favors, however. They start pool play with back to back games against Doublewide and Plex — both teams they have not faced yet this year. If they finish third in their pool, they will most likely face H.I.P., who was vastly undermanned at Chicago when they faced off.
Their best shot to beat Doublewide will no doubt come in that first round. The Austin team has struggled out of the gate at tournaments this year.
If Inception want to make it to the second place game, they will have to forget the numerous close loses they have suffered this year, and grind out a few tough games to advance.
Space City Ignite (Houston, TX)
Space City come into this weekend as the 4-seed after beating H.I.P. in the placement game on Sunday at Sectionals. Earlier in pool play, SCU lost to H.I.P. 10-13.
Over the past five years, Space City has developed their program a great dael. They are an extremely hardworking and organized club. With three teams, SCU has been able to put their best players on one team, and develop the rest.
This is a team who studies they game. They watch film, and strive to get better each game they play. SCU does not have the talent or athleticism to compete with a Doublewide or Johnny Bravo, but you can be sure that they will fight to the end.
Ignite has high hopes for this weekend, looking to improve on a fourth place finish at last year's regionals.
OUTLOOK
The real battle in the region is for third place and top select status in the Triple Crown Tour. Even in a down year for Doublewide, they are — if they play to their potential — still a good distance from the challengers in the division. Johnny Bravo should see anything other than a Regional title as a failure.
Still, this is the best chance many of the Select teams have had in years to steal a bid — keep an eye on how Doublewide handles pool play.