Three bids always seems like plenty for the Northeast, but two years running the third place game has been very interesting. Could an upset finally happen?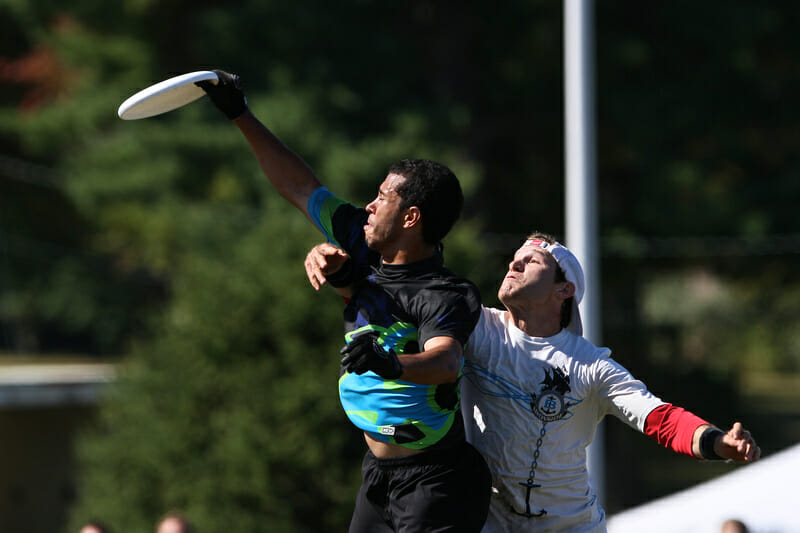 With three bids to Club Nationals up for grabs this weekend in Devens, Massachusetts, Northeast juggernauts Boston Ironside, New York PoNY, and Toronto GOAT seem poised to claim all of them.
But if recent history is any guide, none of these teams should feel totally comfortable booking their plane tickets to Frisco–at least not until Sunday afternoon.
Last year, after Ironside and GOAT locked up the region's first two bids, an upstart Boston Garuda squad gave PoNY a major scare in an instant-classic game-to-go. Only a thrilling comeback from a 13-10 deficit, punctuated by defensive stops on two Garuda game points, allowed PoNY to avoid a monumental upset with a 16-15 double-game-point victory.
Two years ago, Amherst Dark or Light gave GOAT some trouble in the 3rd place game before the Toronto side pulled away late.
Though smart money expects the Northeast to hold seed once again this year, Garuda and its fellow dark horses are salivating at the prospect of a second chance to topple the giants.
Boston Ironside
It's a glass three-quarters full and a quarter empty for Boston's top men's team.
Ironside's strong results this season–a semifinals appearance at the U.S. Open and a finals appearance at the Pro Flight Finale–easily justify the team's fourth overall ranking from USA Ultimate. In both tournaments, Ironside clearly established themselves as one of the favorites to win Nationals, notching wins over Chicago Machine, San Francisco Revolver, and four other teams currently ranked in the top 16.
And, perhaps more worryingly for the competition, Ironside's roster is once again loaded, with new additions Brian Garcia, Harvard super-sophomore John Stubbs, and UMass rising star Jeff Babbitt complementing a slew of returners including George Stubbs, Josh "Cricket" Markette, and Russell Wallack.
And yet….
For all their talent, Ironside's recent history has been littered with close calls and near misses. Dating back to their double-game point loss to Sockeye at the semifinals of last season's Club Nationals, Ironside is just 2-3 in elimination games, with their only two wins coming at a single tournament (the Chesapeake Invite).
Of course, there are tough losses, and then there's the Buzz Bullets game at Worlds this past August.
In a brutal quarters matchup with the Japanese side, Ironside made a litany of mental mistakes in its 17-16 defeat, turfing the disc mere yards from the end zone on double-game point. Buzz, benefiting from a questionable foul call against Brandon Malacek on the ensuing possession, then punched in the winning score.
To avoid a second straight season without silverware, Ironside will have to win Nationals for the first time in club history. Anything short of that will be, well, more of the same.
But they feel better than ever about their prospects. Stubbs has moved back to a more natural role on the defensive line, where he and Babbitt have been very strong in the regular season.
"We've really made an emphasis to try to upgrade on the defensive side," said Ironside coach Josh McCarthy.
A late-season addition of former Revolver stud Mark Sherwood certainly won't hurt. Sherwood was named San Francisco Revolver's defensive MVP in 2010 and finished fourth in the Callahan voting in 2008. He did not play club ultimate last year.
Ironside has also played most of the season with a partial offensive line. Danny Clark and Garcia were out at Worlds; Clark and Markette were out at the Pro Flight Finale. They are eager to get back on the field at full strength at Regionals. And they're extra motivated to retake the Regional Championship from GOAT, who became the first non-Boston team to win the Northeast in nearly 20 years.
"We haven't really talked about it, but it's got to be in the back of guys' minds," said McCarthy.
Toronto GOAT
Like Ironside, GOAT, the region's second Pro Flight team, enters the Series with a pretty hefty chip on its shoulder.
After a scorching 2013 regular season that saw them win Regionals and secure the second overall seed at Club Nationals, GOAT quickly and unceremoniously fell back to Earth in Frisco. With the bevy of available game film on GOAT, their Nationals opponents could make key adjustments, containing GOAT's high-octane offense with junkier defenses and more pressure on handler resets. GOAT's seventh-place finish was in fact a step backwards from their sixth-place finish in 2012.
This year, GOAT displayed similar levels of inconsistency, barely earning the region's third strength bid after sneaking into the top 16 in the final rankings. Despite strong wins over last year's National finalists Revolver (14-12) and Sockeye (12-11), GOAT is just 5-8 on the year –and 0-3 against its regional competition. In its two meetings with Ironside, GOAT failed to put up more than seven points on the board, albeit with depleted rosters on both occasions.
"I think what we realized is that they're pretty pissed off that we won Regionals last year," said GOAT coach Scott Hastie. "They came totally for the jugular this time."
"It's pushed us over the last few weeks," added captain Mark Lloyd.
However, GOAT's postseason squad will have much more depth than its early-season predecessor. After picking up longtime Vancouver Furious George captain Morgan Hibbert mid-season, GOAT added Clapham and Team Great Britain standout Justin Foord once again for the Series.
Don't overlook the addition of handler defender Aaron Liu, who moved to Halifax and also left Furious. Add in all-region candidates Mark Lloyd, Derek Alexander, and Adrian Yearwood, and this version of GOAT has the talent to play a Saturday game at Nationals.
Hibbert has been an immediate shot in the arm for the team, joining the team at the Pro Flight Finale. "He helped us with something we've had trouble in the past: slowing down the other team's number one deep threat," said Lloyd.
Hastie said Hibbert's veteran perspective has also helped them shape practice over the last three weeks. "He saw some things that we wouldn't have seen," he said.
With so many new pieces joining the team in the last month, you might expect the team to be concerned about fitting them all together. Not so.
"There's no worry about working on chemistry," said Lloyd. "It's more that we're excited to add that piece and see where it can take us."
They hope it can take them to another Northeast Regional title, for starters.
New York PoNY
Sitting pretty at #10 in the USAU Rankings, PoNY's looking to prove this weekend that it's a serious contender for a spot in the Pro Flight, even if a weekend run at Nationals seems a bit too lofty.
PoNY's resume is full of high-quality wins, with victories over two Pro Flight and six Top 16 teams — including an 11-9 win over a shorthanded GOAT side at the Chesapeake Invite. Their record is slightly less impressive, however, when examined in context.
Despite winning their pool at both the Chesapeake Invite and the Colorado Cup, PoNY failed to win an elimination game at any of their three regular-season tournaments. Their best finish, fourth place at Chesapeake, was dampened by their blowout loss to Chicago Machine in the semis. And at Heavyweights, considered to be a bellwether tournament for them heading into the Series, PoNY stumbled mightily with early losses to Pittsburgh Temper and Michigan High Five.
PoNY captain Chris Mazur says the team isn't concerned at all about those losses. They have been focusing more this year than over on development over results, and got a taste of having a "target on their back" at Heavyweights.
"There's not a single guy on our roster that can go into Regionals this year and say they haven't played when the team is in a high-pressure moment," said Mazur.
Still, it's hard to say where PoNY stands relative to its regional foes. On an individual talent level, PoNY still seems to be a step behind Ironside and GOAT. PoNY's offense runs primarily through all-around stars Chris Mazur and Jack Marsh, who are aided by a rotation of solid cutters including Robbie Gillies, Markian Kuzmowycz, and David Vuckovich. But they lack the star power of Ironside and GOAT, and their athleticism, even with young rising stars Alberto Alarcon and Billy Katz, might not be enough to match up at a Nationals level.
Nevertheless, barring an epic Sunday collapse (which they narrowly avoided last season) PoNY should earn its third consecutive berth at Nationals.
The Rest
The trendy pick to steal a bid here is Boston Garuda, especially in light of how close they came last year. But this year's Garuda is substantially different from last season's fourth-place squad. Coach Micah Flynn's side lost some key contributors, including star cutter Jeff Babbitt, who joined Ironside after a tremendous college season with UMass.
The remainder of Garuda's roster has a decidedly New England college flair. Rookie handlers Eli Motycka (Brown) and Nick Roberts (Tufts) will look to translate strong freshman seasons to club success. Garuda also managed to keep two of Babbitt's UMass teammates: former Ironside practice player Ben Katz and FOTY candidate Ben Sadok. Still, the infusion of young talent probably won't be enough against more experienced opponents.
The fourth-highest ranked team at Regionals is actually Ottawa Phoenix, the team that stunned the Buzz Bullets at Worlds. Phoenix has slowly improved as a team over the past few years and earned their strong seed with good wins over Big Wrench and Night's Watch at the Gotham Invite.
However impressive their win over the Buzz Bullets was, they just won't matchup as well with the taller and generally more athletic North American teams at Regionals. Phoenix beat Buzz with — as they put it themselves — series of well-placed jump balls against the shorter Japanese defenders. That advantage will not be there against Ironside in their possible semifinal matchup.
Still, Luke Phelan and the Phoenix roster have plenty of talent to challenge for the spot in the game-to-go. And, if the past two years are any indication, they'll have a shot if they get there.
Boston Big Wrench, which knocked off Garuda en route to winning East New England Sectionals, is mostly comprised of young talent and rising college stars, including a large Tufts contingent. But a major knock on Big Wrench's chances is the lack of quality opponents they've faced this season; their Sectionals contest against Garuda was their toughest matchup so far.
Still, they are a threat, especially in a game-to-go situation with one of the top seeds coming off of what is likely to be an emotional loss in the second place game.
There are other solid teams down the bracket — including Amherst Dark or Light, Maine Red Tide, New York Youngbloods, and Montreal Mephisto — but an appearance in the third place game probably represents their ceiling.