From here on out, every game counts.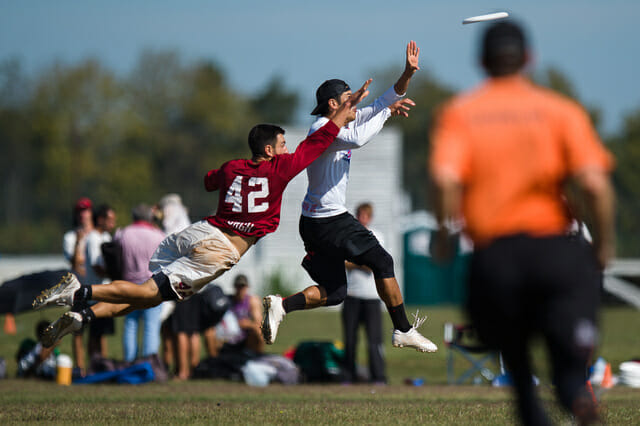 Pool play is done. No more room for error.
Prequarters matchups start bright and early tomorrow in the 9 AM round at the National Championships. Win and advance. Lose and you're out. Let's take a look at the matchups.
Ironside vs. Doublewide
Two of the greatest powerhouses in recent years will clash early Friday morning, perhaps earlier than expected, as Boston Ironside will take on Austin Doublewide in prequarters.
Both teams saw their star fall a bit on Thursday, with Ironside getting usurped by Denver Johnny Bravo and Doublewide dropping to Kansas City Prairie Fire in an opening round stunner. That is to say, both squads will be looking to erase memories of "coulda been" and set a strong tone for the rest of bracket play.
After smoking Atlanta Chain Lightning 15-9 and Vancouver Furious George 15-6, Ironside looked primed for their meeting against athletic juggernauts Johnny Bravo. A slurry of execution errors gave Denver a foothold that Boston was never able to take back.
But Ironside is such a seasoned team, it's hard to look too much into a single loss to a great opponent. With handlers like Brandon Malecek, Josh Markette, and Matt Rebholz, and versatile targets like George Stubbs, Danny Clark, and Will Neff—along with big additions like Brian Garcia, Mark Sherwood, and Jeff Babbitt—Boston is in no shortage of talent or experience.
Currently standing in their way are the young, but big and athletic Doublewide.
Though their opening loss to Kansas City didn't set the best tone, Austin quickly bounced back with a 13-10 win over New York PoNY and a near huge upset over San Francisco Revolver. The latter ended in a 12-13 universe point win for the defending champs.
Had Doublewide pulled that one out they would have taken the one seed and been gifted a much easier prequarters match-up in Vancouver Furious George.
Alas, the results were the results and now Austin will have to once again put together an exceptional performance like their near victory over Denver Johnny Bravo at South Central Regionals if Doublewide expects to advance.
Much of their top talent from the last few years have moved on to other teams, but Austin still have a wealth of athleticism and talent. Will Driscoll remains one of the most explosive deep threats in the nation. Max Cook, Jeff Loskorn, and Trey LesMastres act as a solid handler core and are aided by strong cutters in the likes of Jerrod Wolfe, Ethan Pollack, Rory Orloff and a handful of young ballers that have yet to make a big name for themselves but play like they're demanding one.
Ironside might remain the favorite, especially considering the last meeting between the two, where Boston routed Austin 15-9 in the Emerald City Classic quarters.
If Doublewide can gel like they have in their best moments of the season, such as their pool play game against Revolver on Thursday, however, they just might be able to pull off the huge upset and send the perennial contender packing earlier than they ever have been.
Boston will need to execute like they know how to do and not give Austin too many easy chances. Otherwise, it could be a long, grinding game.
Revolver v. Furious George
Despite a late round scare from Austin Doublewide, San Francisco Revolver finished the day unscathed. Thus setting them up for a favorable matchup against sixteen seed Vancouver Furious George.
Furious George will have a tough time matching up against a Revolver team that has yet to use Beau Kittredge for consecutive points (only playing seven points today). Likely to take the tough matchup, is Furious Captain Alex Davis. Davis spent the better part of the last round today covering Atlanta's Nicky Spiva and Tyler Conger, with some moments of success. Besides Smith, the player that could make the difference for Furious is Myles Sinclair. Sinclair lead Vancouver's D line throughout the day, a D line that will have to not only force turns on a world championship team, but be near perfect on break opportunity conversion rate.
As for Revolver, theres no real reason to change anything from what they did today. The Doublewide game was a real scare, but with about 12 mph less of wind for Friday they should have no problem working the disc up and down the field. The real goal for San Francisco is to keep Beau on the bench. This will require the same kind of game management skills that we're used to seeing from Cassidy Rasmussen and Joel Schlachet (Revolvers leading offensive contributor on Thursday).
If Furious George wants a chance at making some real noise in this game they'll have to be perfect, only because the weather looks like it will be.
Temper vs. Truck Stop
Coming into the weekend, few would have expected too much from either Pittsburgh Temper or Washington D.C. Truck Stop.
The two Mid-Atlantic squads have had lukewarm seasons, winning a few of their match-ups against lower tier teams and losing most of their ones against the higher tier squads. But much of that has changed at this tournament. That's why the two four seeds are facing off in prequarters Friday morning for the chance to further prove how wrong their doubters were.
Last time these two matched up, in the Mid-Atlantic Regionals finals, Truck Stop ran away with it and crushed Temper 15-7. Judging by Pittsburgh's level of play on Thursday, this contest should be much tighter.
Composed almost entirely of a contingency grown of the Pittsburgh En Sabah Nur college program, both past and present, Temper came into Frisco ready to light up some unsuspecting opponents. Opening with a big 15-10 over Raleigh Ring of Fire before suffering a tough 14-9 loss to Seattle Sockeye after initially hanging with them, Temper managed to hold off Toronto GOAT 15-13 to break seeds and take second place. Their primary core of Tyler Degirolamo, Alex Thorne, Max Thorne, and Pat Earles, all of which like to handle as much as they like to cut deep, have developed powerful chemistry over the last few years playing college and club together.
An arsenal of quick breaks, give-gos, and well-timed hucks put up often on trust, Temper gel together about as well as any team when they're clicking. They excel at using the break side and now how to change the angles on the field without hesitation.
Only a handful of miscues, many of which were capitalized on without delay, prevented them from staying with Sockeye. If they stay as fiery as they were on Thursday, this upstart team could very well find themselves in quarters.
Standing in their way are the surging Truck Stop.
They may only have earned one victory on Thursday, but their high level of play, maybe their best all season, hinted at a more fully realized Washington D.C. squad.
Alan Kolick and Markham Shofner are one of the trickiest duos out there and are capable of making big plays in situations most others wouldn't bother. A varied receiver core of Peter Prial, Jeff Wodatch, Chris Kocher, Calvin Oung, and Jonathan Neeley provide them with plenty to work with.
Had Truck Stop managed to take better advantage of some key break opportunities in their game against Minneapolis Sub Zero, they too could have earned the two seed.
Friday morning will give them a chance to remedy those mistakes. Expect a good number of hucks on both sides, with the team most able to connect likely to be the one to advance. If it's windy: advantage Temper.
Johnny Bravo v. PoNY
For Denver Johnny Bravo, the road to a national championship starts tomorrow morning against New York Pony. For Pony, they get an opportunity to lock up the upset of the tournament.
Johnny Bravo had an impressive Thursday, earning wins against Chain Lightning, Furious George, and the Pool D one seed Ironside. No team came within three points of beating Denver, and they show no signs of slowing down. The names are all there: Sean Keegan, Bart Watson, Kurt Gibson, Nick Lance, Brodie Smith, and Jimmy Mickle. For Pony to have a chance in this game they're going to need some help from the other side. New York hasn't proven yet this year that they can athletically compete with a team of this caliber, so they'll need all of the above players to make multiple mistakes. You can think to yourself how likely that is.
At last years Nationals, Pony appeared to be overmatched in pre-quarters by a good Chicago Machine Team. To much surprise, they brought that game to double game point (though they would lose). So of course it's possible, but Pony looks slightly down from last year, and Bravo could have the best roster they've ever had.
Again, on any given day anything can happen. But assuming Denver Johnny Bravo arrives focused and energized, Pony will need a miracle to pull this one off.
Sockeye vs. Rhino
In a rematch of the Northwest Regionals final, Seattle Sockeye and Portland Rhino will square off in prequarters Friday morning.
After their 15-9 drubbing of Rhino in that game, one could easily assume a similar outcome in this one, especially in the wake of Portland's 0-3 showing Thursday.
Yet, Rhino is the kind of team that tends to play out of their mind when they have no expectation to do so, and Sockeye is not without their occasional slip-ups (see: their losses to Vancouver Furious George and Minneapolis Sub Zero at U.S. Open). Seattle remains the favorite for sure, though, and a blowout is not out of the question.
But if Rhino can find their deep game and stay sharp when they're given break opportunities, this might be closer than one might think.
The two-man handler core of Dylan Freechild and Jacob Janin is among the toughest to guard in the country. They certainly have their turnovers, but when those two are running endless give-gos and quick breaks at their will, there's little defenses can do to stop them.
Additional weapons like Cody Bjorklund, Eli Friedman, and Timmy Perston also provide excellent firepower. When the team of young and springy athletes is at the peak of their game, it's tough to know how to slow them down. Their main problem has been finding a way to realize that potential for long stretches at a time.
Sockeye is in many ways the polar opposite.
Other than their meaningless loss to Raleigh Ring of Fire—meaningless because Sockeye had already secured the pool—Seattle's only loss by a margin of more than two points this year came in their curiously anomalous defeat at the hands of Minneapolis Sub Zero at U.S. Open.
In that game, they struggled to score upwind on both O and D. They have since then largely solved that problem.
Moreover, as their versatile performances at Emerald City Classic displayed, Sockeye have also developed their game more fully so that they no longer rely almost exclusively on small ball.
They still utilize deadly inside breaks and quick disc and cutter movement. But now they're more adept at adapting to shifting game currents and defensive sets.
Tricky handlers like Danny Karlinsky, Adam Simon, and Nate Castine excel at taking full advantage of killer targets like Joe Sefton, Phil Murray, and Matt Rehder, the latter serving as one of the most dangerous deep threats in the game. Perhaps even more impressive is their ability to use almost none of these weapons on any given point and still dominate. Case in point: they have yet to win a game by a margin of fewer than five points so far this tournament.
If Rhino can't find a way to put together maybe their best performance of the year, that trend is unlikely to change.
Chain Lightning v. Prairie Fire
After a surprising win over eight seed Doublewide, Kansas City Prairie Fire earned themselves an easier matchup for Friday morning. However, no one from Pool D is an easy matchup, including Atlanta Chain Lightning.
With the wind expected to be not as bad for Friday, there won't be anything to stop Atlanta's extremely efficient deep game. With handlers Tyler Conger and Jared Inselmann, the young arsenal of talent from Atlanta will stretch the field deep on Offense while getting some of the primary cutters rest. Enough rest to win this game with their D-Line. In their last game against Furious George, Chain swapped out seven players every D-Line in an attempt to remain unpredictable in their match ups. Prairie Fire is almost the opposite in that Abe Coffin and Valley Renshaw will likely be in the backfield for 85% of points. Plan on seeing multiple defenders rotating between covering one of the aforementioned two.
"We focused today on our investment in every play," said Chain Lightning's Jared Inselmann. "It took us a while to settle in, but all of our guys contributed, and we have the depth to go far." They'll need their depth to stop the Prairie Fire offense.
Kansas City Prairie Fire has a simple yet effective strategy. Use Abe Coffin and Valley Renshaw to distribute to our downfield athletes. Athletes like 6'3'' Christian Simpson who at times can be deadly with his throws as well as his downfield speed. The Prairie Fire O was extremely efficient in their first half against Revolver, only turning it over once before the point to take half. This could pose a problem for Chain, who at times today had issues generating D's.
For both these teams their most important factor is their Depth. Chain of course has a slew of talented players that are all used well. As for Prairie Fire, they'll have to find ways to distribute the disc to all seven players on the field in order to exploit the right match up.
Sub Zero vs. GOAT
In one of the more exciting prequarters match-ups, Minneapolis Sub Zero will clash with Toronto GOAT in what will likely prove to be an offensive display of prowess.
Though the winner will likely receive the unfortunate prize of getting to contend with San Francisco Revolver in quarters, the contest will nevertheless see two squads with somewhat confusing regular seasons finally receive their chance to erase some of their previously erratic play.
Sub Zero had an especially difficult season to read. After earning an impressive victory over Seattle Sockeye and putting together solid performances against Denver Johnny Bravo at U.S. Open in July, the rest of Minneapolis' regular season left much to be desired.
Much of their mid-season slump could be attributed to the missing presence of key cogs like Simon Montague and Grant Lindsley at tournaments like Chesapeake Invite and Colorado Cup.
With those pieces back, however, Sub Zero illustrated they can play with the best of them. Falling to Chicago Machine on double game point in the opening round after being up a break late, Minneapolis went on to knock off Portland Rhino 15-13 and Washington D.C. Truck Stop 14-12 to take the second spot in their pool.
Featuring Montague, Lindsley, Nick Stuart, Josh Klane, and Eric Johnson, their O line often looks unstoppable. It is by no exaggeration one of the deadliest combos in the country.
Their D line, on the other hand, commonly struggles to convert the turnovers it generates. Strong players like Julian Childs-Walker and Jon Gaynor provide anchoring. Without the help of an O line transfer like Johnson or Lindsley though, Minneapolis frequently finds difficulty in notching those breaks, particularly in the wind.
GOAT often has a similar problem.
Though stacked with prime talent like Mark Lloyd, Morgan Hibbert, Derek Alexander, Justin Foord, and Anatoly Vasilyev, Toronto too struggle with converting their break opportunities. These struggles led to their defeat at the hands of Pittsburgh Temper in a tight 13-15 match and played a big part in their 7-15 drubbing by Sockeye.
But if Toronto's Emerald City Classic semis appearance—made possible by a grinding win over Sockeye in quarters—is any indication, GOAT are capable of putting together a strong performance against anybody. They'll need to figure out a way to slow down Sub Zero's offense first though and make sure to hold their own offensive possessions. That means GOAT will have to continually work the disc on those tough break opportunities where their D line might be winded, instead of just trying to jack it up to Lloyd or Cam Harris or the like.
Minneapolis will need to employ a similar strategy of offensive focus and poised execution for their D line's O.
If they can manage to switch Johnson or Lindsley or Klane over to D line at the right times, and make good use of those switches, they might just get a chance to avenge their quarters loss to Revolver at the 2013 Club Championships.
Should Toronto dial in their huck game and keep the miscues in check, they might have their opening to prove that their AUDL success is indicative of the strength of Toronto ultimate as a whole, and not a mere pro league affair.
Ring of Fire v. Chicago Machine
Machine escaped an upset from Sub Zero in the first round of Thursday, and then because of the way the pool worked out, they only needed to beat Truck Stop to seal up the Pool B one seed. As for Ring of Fire, today was a day they'd love to forget.
Ring began their day with two back to back upsets, neither of which were very close. They did however manage to get a confidence boost with a win over Seattle Sockeye (who had already locked in their position). Still, any team for the rest of the week has a shot to win the Championship, but Raleigh will have to be near perfect to win it. Machine is seemingly more athletic, but the Ring of Fire woes didn't come on the defensive side of things. For every one break the Ring D punched in, the O line give up two more.
An obvious fix to this is players like Jon Nethercutt need to play better. You can't win against elite teams if you're giving them break chances every possession. The weather may be Nethercutt's best friend tomorrow.
Machine looked solid all Thursday. Their win against a good DC Truck Stop team was very convincing, although some may argue not enough of a challenge. The pre-tournament hype will get truly tested tomorrow when guys like Goose Helton have to go up against a stout Raleigh defense. More than likely Machines fundamentals and team chemistry will shine through, unless Ring can fix their problems over night.