Johnny Bravo made quick work of PoNY in the prequarters.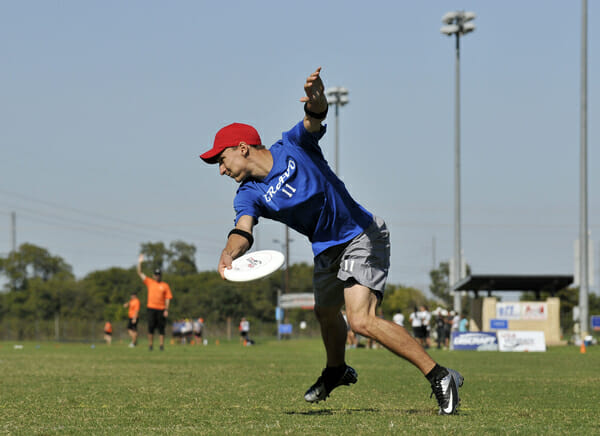 FRISCO — Although other top seeds faltered, Johnny Bravo was awake, prepared, and ready to play against PoNY in the prequarters. They game out of the gate hot and never looked back. In a 15-10 routing, New York offered no matchup for the clearly superior Denver side.
Bravo opened the game with a pair of scores, first with Bart Watson finding Kurt Gibson on offense, and then Denison Bechis securing the first break on a quick throw from captain Jack McShane. PoNy got on the board as Ben Van Heuvelen found Michael Brenner for PoNY to make it 2-1. Bravo allowed one PoNY score over the next five points, going on a 4-1 run to open things up at 6-2.
The mental effect of Denver's stars was evident in the middle of this scoring run. At 3-2, a high PoNY pull sailed out of bounds and Brodie Smith walked the disc to the brick mark. Bravo's offense downfield quickly formed an isolation for Kurt Gibson, all alone in the middle, and PoNY was forced to deal with a dangerous iso.
As the disc was tapped live, Gibson cleared hard and the stacked shifted to allow Bart Watson a wide open under, with Jimmy Mickle there for the quick continuation up the force sideline. Mickle pivoted down field and slung out a smooth flick, which cruised into the outstretched hands of a speeding Kurt Gibson. When a talent like Sean Keegan gets to play decoy in a play, opponents have a lot to cover.
PoNY found some success going over the top a few times during the first half, with throwers finding Markian "Muk" Kuzmowycz way ahead of his defenders, but New York were unable to convert a break during the half.
In the second half, PoNY's Jack Marsh found the end zone quickly, and shortly after New York found their first and only break of the game to make it 8-6. Bravo would allow just a handful more, as their tall defenders pulled PoNY throws out of the air and went right back the other way to score.
Kurt Gibson had four goals in this effort, and Jimmy Mickle showed his versatility with two goals and three assists. One of Mickle's assist was a role reversing huck to Bart Watson, who was ran the show in the backfield for Bravo's offense.
For PoNY Jack Marsh went both ways along with Chris Mazur to try and climb back into the game, but their defense could offer little resistance for Bravo.
"Bravo's a good team, they put the pressure on us, and we didn't handle it," said PoNY coach Bryan Jones after the loss. Bravo would have been a tough game for anyone in prequarters, and Jones was still focused and composed after the game. "We talked a lot in the huddle about how what we're playing for now is experience," noted Jones. "We have a young team, and we need to get that experience to be ready for next year."
Bravo will face Washington D.C. Truck Stop in their quarterfinals matchup, a draw that pits the overall fifth-seeded Bravo against a fourteenth seed Truck Stop.