A look at the Women's Prequarters round.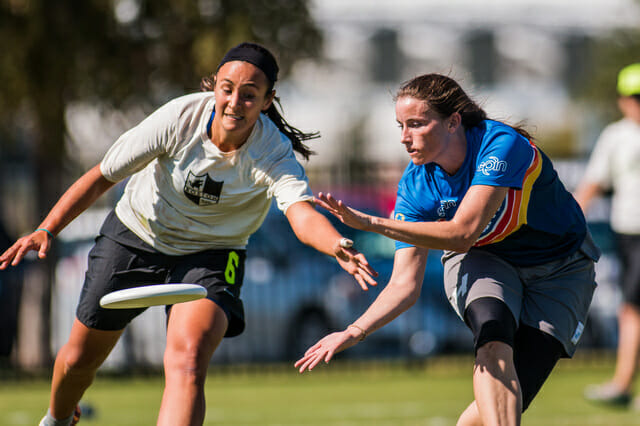 It isn't surprising that the Women's division prequarters went without an upset. Few games were contested and the higher seeded team won in every case. A couple of teams in the middle of the pack kept it exciting, and while the new format added weight to these games, the quarterfinals are as expected. The old "anything can happen" mantra is as true as ever, but the lower seeds will need to do something amazing to advance the heavily favored top seeds.
Scoreboard
Brute Squad 15-4 Tabby Rosa
Showdown 15-11 Heist
Scandal 15-7 Capitals
Traffic 14-10 Nightlock
Riot 15-4 Underground
Ozone 15-10 Nemesis
Fury 15-7 Green Means Go
Atlanta Ozone vs. Chicago Nemesis
In a rematch of last year's prequarters, Ozone battled against Nemesis for the right to move on to quarters. Atlanta went deep time and time again, and Chicago's failure to cover the long ball proved to be their undoing. Ozone got their revenge and advanced to quarters with a 15-10 victory over Nemesis.
Ozone's huck game meant they had to do something else well: convert in the red zone. All season, this team's red zone efficiency has been tied tightly to their ability to win. But continually, Mira Walker and Abbey Hewitt anchored the cutting for Atlanta red zone sets and found the spaces to score. Katherine Wooten's flick huck abused the Chicago defense.
The first half was fairly close, with Ozone up a break until they open the deficit to three with an 8-5 halftime score. Once they broke out of half to make it 9-5, Nemesis responded to bring it to 9-7. Their poor reset cutting – an issue all year long – bit them in some key moments, especially near the red zone. Chicago didn't fold, but Ozone started stringing together fluid offensive possessions and rounded the game out 15-10.
Denver Molly Brown vs. Portland Schwa
Last year, Molly Brown suffered a disappointing prequarters loss after a near upset against Scandal to close out pool play the day prior. This year, after a near upset against Scandal to close out pool play the day prior, Molly Brown found themselves trailing Portland Schwa, whose athleticism posed problems. Fortunately for Denver fans, Molly Brown battened down the hatches and took half and fought off Schwa's late attempts to advance to quarterfinals 12-10.
Portland jumped out to a 3-1 lead, surprising Molly Brown with their aggressive play. Mostly, it was Denver's inability to maintain possession that hurt them. But once they tightened up, Molly was able to rattle off five in a row to go from down 7-5 to up 9-7. Neither would break moving forward.
The trio of Dena Slattery, Tina Snodgrass, and Paige Applegate were huge for keeping Molly Brown in it early and pushing them late. Slattery had 6 assist and a goal, while Snodgrass tallied 6 goals; Lindsey Cross added 3 goals and an assist, all in the first half. Applegate got a couple of critical Ds in the red zone to give Denver the chance to come back. Jenny Tibbals and Malina Wiebe led the way for Schwa: Tibbals had 3 goals and an assist, while Wiebe added 4 goals. Sophie Darch's ability to provide resets was also key for Schwa.
Texas Showdown vs. Madison Heist
Heist was the only team to pull off an upset in Thursday's pull play games, and was tasked with doing it again versus Showdown. After a rough start, Heist was never able to close the gap. Showdown remained up two or three points the entire game until winning 15-11.
Showdown jumped all over Heist to start, working through their zone on the opening point and then breaking twice with some good D against the Madison deep game to make it 3-0. While Heist notched a hold and a break of their own to get it to 3-2, Showdown responded with a shot to Bex Forth and won a lengthy point to open the lead back up. Despite contributions from Emily Langland, Liza Minor, Robyn Wiseman, and Georgia Bosscher, Katey and Bex Forth kept Showdown from being overcome. Showdown closed out with a Kayla Ramirez bookends in a game Heist never led.