Scandal turned in an incredible defensive performance against Brute Squad in the semifinals, just like 2013 all over again.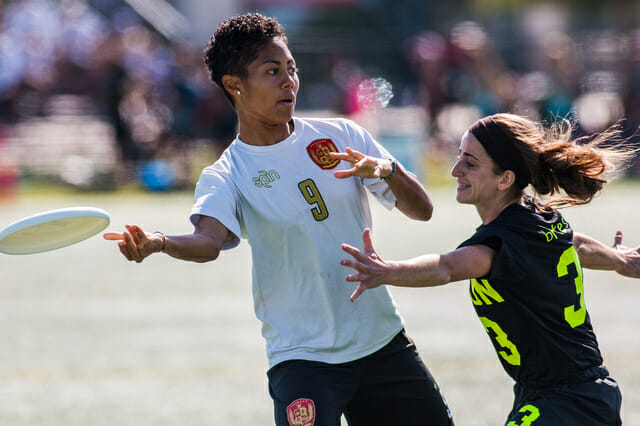 "It's the same exact script."
Scandal enter stage right. Come in with momentum from an impressive comeback victory over a Canadian team in quarters, preceded by a comeback win against Molly Brown to win the pool. Face a favored opponent that has impressed on their way to the semifinal. Completely crush them in a dominant statement performance.
After Scandal came back in pool play to top Molly Brown, Scandal Coach Alex Ghesquiere commented, "It's the same exact script."
New year, same script for Washington D.C. Scandal. They faced off with #1 seeded Boston Brute Squad in the semifinals on Saturday afternoon. It didn't take long for them to establish the defensive pressure that defined their run to a national title last year. The more pressure they applied, the more Boston retreated. The more Boston retreated, the more confident and aggressive Scandal got. They dominated Brute Squad from start to finish in a carbon copy of last year's semifinal, 15-7.
From the start, it was evident what Scandal was doing: aggressively playing high powered pressure man defense. After D.C. held, Boston was able to do the same, but the handlers were forced to grind out cuts and move their legs. The dividends were pretty immediate when Brute Squad had two turns, including a Paula Seville drop, that enabled a dump and swing break for Scandal to take a 3-1 lead.
"They certainly started off great. They applied pressure from the start," said Brute Squad coach Mike Zalisk after the game.
The next offensive possession lasted mere seconds for Brute Squad when Vicki Chang dropped a looping Opi Payne pull. The break score was elementary.
"We had a few miscues which allowed them to get their D on the field. It gave them the upper hand early. It was hard for us to battle back from there," said Zalisk. "The unforced errors, the dropped pull, that sort of stuff put us on the back foot from the start."
The mounting pressure from both Scandal and the situation never really let up for Boston. On their few successful offensive points, they were able to hit the first option and early continuations. But more often, throwers were forced through their full progression. It wore down their legs. And ultimately, it made breaks much easier to come by. Scandal's defensive unit scored on four of their five first half possessions, helping D.C. take an 8-3 lead into the half.
"We've got good defensive personnel to counter a lot of their playing style," said Scandal Coach Alex Ghesquiere prior to the match. "We're going to try and go one on one with them with a lot of man situations."
Allison Maddux, Sandy Jorgensen, Opi Payne, and Kimberly Beach led the way for Scandal's defense, making Brute Squad work for everything. Beach caught both of Scandal's first two breaks and Maddux, tasked with defending Brute's star handler Leila Tunnell, was a consistent source of frustration for the levelheaded thrower.
Scandal's dominant defensive performance is incredibly reminiscent of their semifinal last year, when they crushed Seattle Riot with the same sort of forceful presence, aggressive deep looks, and short field conversions. Maddux, Payne, and Jorgensen key elements in that game, too; Maddux caught a game opening Callahan.
Washington D.C. looked ready to handle the game from the beginning, while Brute Squad did not.
"They didn't seem fazed at all," said Zalisk.
Boston had never been there, but D.C. had already lived it. Down 9-3, Brute Squad finally gave some offensive cutters a rest and brought over their defensive line stars – Emily Baecher, Kami Groom, and Liên Hoffmann – to help on offense. It wasn't enough. Tunnell launched a backhand huck to the break side to Malinowski with plenty of room. Well, plenty of room if Sandy Jorgensen wasn't within a mile. She turned on her incredible closing speed, surprising Malinowski and getting her hands on an incredible D. Scandal broke to make it 10-3 and Boston seemed resigned to submit.
"We obviously didn't play our best game, we had some unforced errors, and they capitalized on them," said Zalisk. "They had obviously been here, and had that confidence."
Scandal had been there. Been there almost exactly. They're happy to reprise their lead role heading into the National Championship game.
Brute Squad exit stage left. Close curtains. Spot center on Scandal.