We've got a rematch.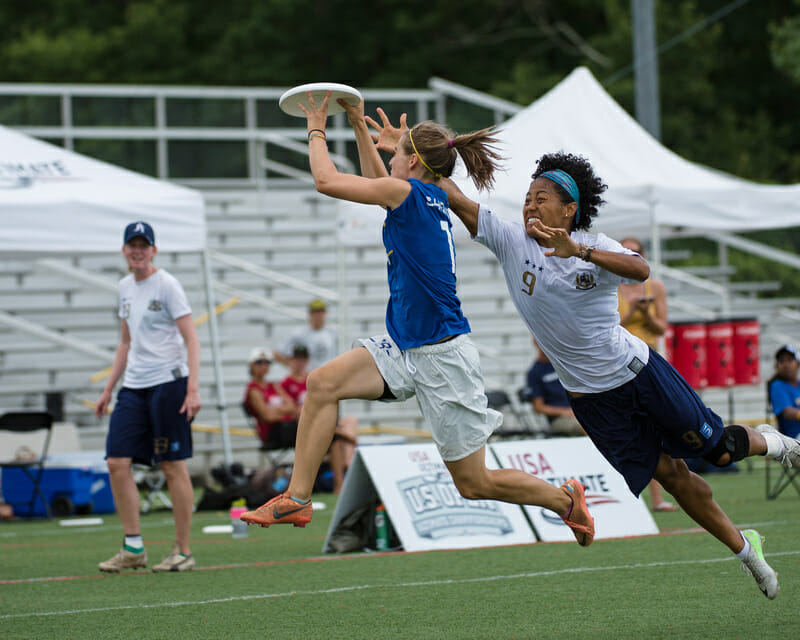 The Women's Division has, for so long, been all about the favorites. And the past two days in Frisco were no different: there was just a single upset between pool play and elimination play. The top seed from each pool advanced through prequarters and quarterfinals, entering the semifinals undefeated. And once there, the top two seeds looked primed to take the line in the final.
Then, two exceptional performances tossed the tournament a curveball.
First, Washington D.C. Scandal showed off what made them the best team at Nationals in 2013 in their semifinal against Boston Brute Squad. Their defense was destructive and disruptive from their first pull. Intensity was coursing through their sidelines and feeding directly into their lines. Brute Squad's offense was bullied almost the entire game and Scandal toppled the #1 seed in unchallenged fashion.
On a nearby field, the slugfest between Seattle Riot and San Francisco Fury was in full swing. The pair of dynasties were locked in high speed combat. Fury had opened with a break and Riot had lost Sarah Griffith to injury; Fury's Anna Nazarov and Riot's Kelly Johnson were displaying impressive poise and talent. The game was back and forth, neither team ever taking a big edge, and with nearly no room for error, it was Fury's defense that made the difference. Some lengthy points pushed the game's duration up against the cap, only upping the stakes and fraying nerves. It was exacerbated by the gathering noisy crowd that was thirsty for drama and action. They got their share as Fury held on the final point to win 12-10.
And just like that, #1 and #2 – the regular season Champion and the World Champion – had their Sunday afternoon schedules cleared. A rematch of the 2013 final became all that is left of the women's club season.
For the most part, that final represents all the important history between Scandal and Fury. They've matched up once this year – an emphatic win by Fury in one of D.C.'s worst performances of the year – and two times in the regular season the year prior. In fact, the teams have played seven times, and the only time Scandal has toppled Fury was in last year's final. San Francisco would probably trade all the other wins to get a do-over of Scandal's 14-7 Championship clinching victory.
And now Fury gets the opportunity to try again.
This time around, Scandal won't be a surprise. Coach Matt Tsang and his veterans know all about what Scandal can do and what they'll need to do to weather the siege that their defense rains upon offensive units. And there's plenty of motivation: if the glaring gap in the Fury trophy case wasn't enough, Sunday will be the last time Tsang guides Fury through a game from the sideline. Emotions will be high with Tsang's impending retirement.
Both teams are playing their best right now. Scandal's played numerous games pretty close, but when faced with their best competition in the toughest situation, they ramped it up to Championship level. Meanwhile, Fury beat a Riot team that had their number all year long. They did so with intelligent and hard working defense that forced an extremely talented team out of their comfort zone.
There's no shortage of stars on these rosters. Sandy Jorgensen and Opi Payne are known quantities with Scandal, but have been dominating these recent days. Meanwhile, Anna Nazarov and Claire Desmond terrify with their ability to make the right play at the right time. While it is unlikely both squads will just toss out person defenses – Fury will probably use a variety of poachy looks and zones to handle D.C.'s blazing team speed – matchups will play a key factor. Payne, or the hardworking Allison Maddox, is likely to give Nazarov a handful.
There will also be extra attention on Fury handler Alex Snyder. The living legend is coming off yet another injury and struggled mightily in last year's final. Her throwing talents are still elite and her vision unquestionable. But there's no way she forgot about the last time she saw Scandal defenders charging down a Frisco field at her.
When Scandal was crowned the champion, ending Fury's run of seven titles, it marked the end of an era. Fury can put a damper on that storyline or Scandal can begin a title streak of their own. There's little to make either team a favorite over the other. And maybe that's perfect. They get to settle it all on the field, a fitting end to a season that's been all about the favorites. The favorites can watch from the stands while the champions play.